Fredericton tickets on sale Friday!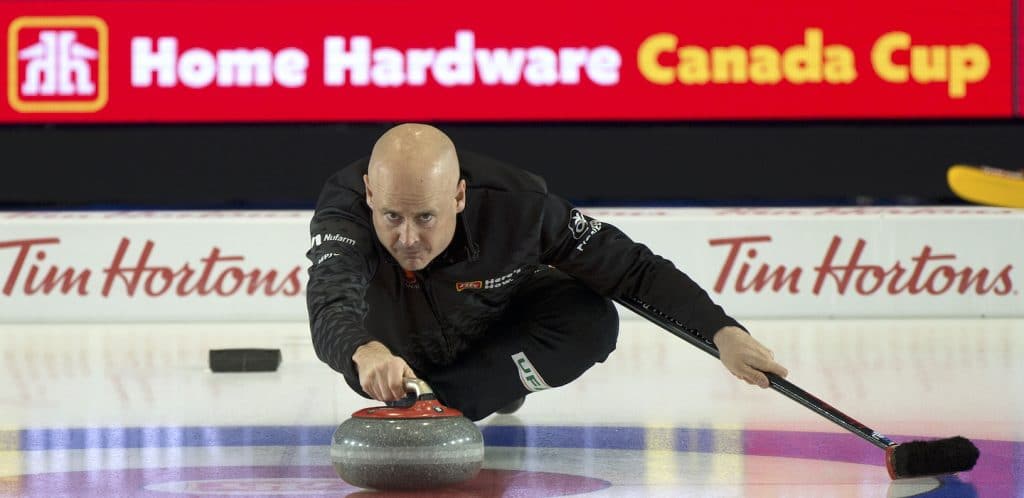 2020 HOME HARDWARE CANADA CUP TICKET Packages ON SALE FRIDAY
It will be a high-stakes shootout with dreams of Olympic glory on the line when Canada's best curling teams head to Fredericton this fall for the 2020 Home Hardware Canada Cup.
And on Friday, curling fans will get their first chance to grab their preferred seats at the Aitken University Centre as tickets go on sale at 10 a.m. AT.
The 2020 Home Hardware Canada Cup, scheduled for Nov. 24-29, will feature six men's and six women's (reduced from seven in 2019) teams chasing cash prizes, but the ultimate perk will be the berth into the 2021 Tim Hortons Roar of the Rings, presented by AGI, in Saskatoon that goes to the winning teams; the 2021 Tim Hortons Roar of the Rings will decide Canada's four-player curling teams for the 2022 Winter Olympics in Beijing.
The event will feature the top five men's and women's teams from the 2019-20 Canadian Team Ranking System as of April 13, in addition to the top-ranked non-qualified team on the 2020-21 CTRS standings as of mid-November.
Here's a look at what will be on sale Friday:
Full-event packages: A single ticket to all 14 draws; special early-bird rate $199 but only until April 15, 2020! Price will increase to $239 after the early-bird promotional period.
Weekend package: A new offer that includes a single ticket to all four playoff draws, on Saturday, Nov. 28, and Sunday, Nov. 29 – $129.
Wednesday, Nov. 25 Day Package is $59. Buy now and get a bonus ticket for Draw 1 on Tuesday evening, Nov. 26, for FREE!
Thursday Nov. 26, and Friday, Nov. 27 Day Packages are available for $59. Each includes a single ticket to all three draws that day.
Ticket packages will be available online at curling.ca/tickets, in person at the AUC box office and by phone at 506-453-5054. All ticket packages are subject to standard ticket service fees. Single-draw tickets will go on sale in the fall.
The Home Hardware Canada Cup is the event that most closely simulates the pressure and level of competition teams will face at the Tim Hortons Roar of the Rings, as well as the Winter Olympics.
At the 2019 Home Hardware Canada Cup, Toronto's John Epping and Ottawa's Rachel Homan claimed the men's and women's titles respectively.
Since its inception in 2003, the Home Hardware Canada Cup has been won by some of the country's most successful curling teams. On the men's side, Edmonton's Kevin Martin is the only four-time men's winner (2005, 2006, 2009, 2011), while Edmonton's Randy Ferbey (2003, 2004, 2007) is a three-time champion and Calgary's Kevin Koe (2008, 2015) has won twice. Glenn Howard of Penetanguishene, Ont., (2010), Winnipeg's Jeff Stoughton (2012), Winnipeg's Mike McEwen (2014), Winnipeg's Reid Carruthers (2016), Brad Jacobs of Sault Ste. Marie, Ont. (2018), and Epping (2019) have also emerged victorious.
On the women's side, Jennifer Jones of Winnipeg (2007, 2011, 2016, 2018) leads the way with four victories, while Saskatoon's Stefanie Lawton (2008, 2010, 2012), is a three-time winner. Shannon Kleibrink of Calgary (2005, 2009) and Homan (2015, 2019) have both won twice, while the other winners were Sherry Middaugh of Coldwater, Ont., (2003), Colleen Jones of Halifax (2004), Cathy King of Edmonton (2006), Val Sweeting of Edmonton (2014).
The 2020 Home Hardware Canada Cup will also offer world-class good times to be held at the World Famous Patch, located a short shuttle ride away at the Capital Winter Club — fans will have the opportunity to meet face-to-face with the athletes, enjoy live music, dancing, drinks and food, as well as interactive activities for the entire family.