Down to four!
Page playoffs locked and loaded at 2020 Scotties Tournament of Hearts
MOOSE JAW, Sask. – The stage is set. They're down to the short straws.
"We weren't really sure where we were in draw-to-the-button so we weren't exactly sure we were going to get top seed,'' confessed Manitoba skip Kerri Einarson, having only just put the finishing touches on a decisive 9-6 subduing of Rachel Homan's Ontario team at Mosaic Place.
"We just knew that if we won that game, we'd be into the 1-2.
"Feels great. We've worked really hard all week, really battled. I'm super-proud of my teammates. They make my job look easy."
Three teams finished at 9-2.
The draw-to-the-button finalized the pecking order, which is Manitoba, followed by the Wild Card entry skipped by Jennifer Jones, then Ontario and Northern Ontario fourth.
So the 1-2 game features an all-Manitoba match-up, Gimli vs Winnipeg, or Einarson vs. Jones, while the 3-4 is for Ontario bragging rights, Ottawa vs. Thunder Bay, or Rachel Homan vs. Krista McCarville.
McCarville's entering the final four in a decidedly positive frame of mind. An 11-6 dispatching of the surging Jones foursome in Friday's draw won't have done her team's self-confidence any harm.
They'll have to do the business the hard way, beating Homan and then steeling themselves for either Jones or Einarson.
"We're playing good and feeling good,'' announced McCarville. "And, of course, having that W tonight against a great team like Jen Jones is always a good feeling.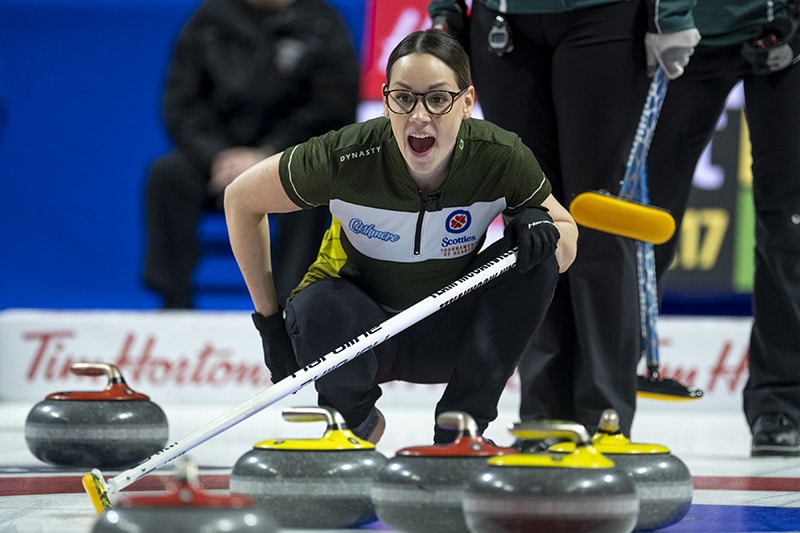 "Anything can happen. When you have one game, you're in or out. Doesn't matter what team you're playing. We could beat anyone and if we continue playing the way we are, I think we have a shot."
Jones was coming off another solid performance, a 12-7 victory over Manitoba on Friday's early draw.
"We knew where we sat. We obviously wanted to win that (Northern Ontario) game,'' admitted the six-time Hearts champion, post-loss. "It probably would've given us hammer but at the end of the day we were just a little bit flat and it's good to get some of the bad shots out of the way.
"We wanted to play in the 1-2 game but at the end of the day you just want to make final four. I always say it's not bad to play in a semifinal, either. Any time you can go on the ice, feel good and come off an win it's a good thing.
"Hopefully that'll turn around tomorrow. But I feel like we're throwing it good, have good speed and we're liking the ice and having fun, which is all that matters."
In other late-draw results, Robyn Silvernagle and her host Saskatchewan team (North Battleford; 6-5) ended on a positive note by beating Corryn Brown and B.C. (Kamloops; 5-6) by a 7-6 count and Canada, skipped by Chelsea Carey (Calgary; 5-6) handled Suzanne Birt's P.E.I. team (Montague; 5-6) 5-3.
The 2020 Scotties Tournament of Hearts continues Saturday with the the aforementioned Page playoffs, Ontario versus Northern Ontario at 1 p.m. (all times CST) in the 3-4 game and Manitoba vs. Wild Card at 6 p.m. in the 1-2 game.
Live scoring, standings and statistics for the 2020 Scotties Tournament of Hearts are available at www.curling.ca/scoreboard/
TSN and RDS2 (streamed on ESPN3 in the United States) will provide complete coverage of the 2020 Scotties Tournament of Hearts. CLICK HERE for the complete schedule.
For ticket information for the 2020 Scotties Tournament of Hearts, go to www.curling.ca/2020scotties/tickets/
This story will be available in French as soon as possible at https://www.curling.ca/category-all-posts-fr/?lang=fr