Semifinal-bound!
Ninth-end heroics elevate Ontario into Scotties semifinal
MOOSE JAW, Sask. – A restless wave of a ninth end it was. Back and forth. To and fro.
One-upping each other along the way.
"That's why we work so hard, so we could set ourselves up in that ninth end, and it paid off,'' said Ontario skip Rachel Homan. "My team was patient with me and we figured it out in the end.
"They supported me, believed in me and believed I could make a big one in nine. So we kept playing the end to try and get a multiple [score].
"(Northern Ontario) played phenomenal today and had the upper hand on us the whole game. Thankfully my team's patient with me and we figured it out in the end.
"We've shown we can win a couple of ways this week and that was a little bit hard on everyone's nerves, I think."
When it mattered, Homan, third Emma Miskew, second Joanne Courtney, lead Lisa Weagle, alternate Cheryl Kreviazuk and coach Marcel Rocque delivered.
A spectacular run double counted three for Homan, transforming a 5-4 deficit into a 7-5 lead heading home.
That proved to be the decisive moment in quelling quell Northern Ontario's Krista McCarville 9-5 in the 3-4 Page-playoff game at Mosaic Place.
Ontario and Homan's quest for a fourth Scotties Tournament of Hearts title now awaits the winner of the 6 p.m. 1-2 tussle between the Wild Card team of Jennifer Jones of Winnipeg and Manitoba's Kerri Einarson of Gimli, Man.
"We didn't get our rocks in the proper spots in the ninth end,'' lamented McCarville in the aftermath. "It kept building and building. They were sitting three for quite a few rocks in that end.
"We were trying to get one sucked in there. After my first one it looked good. When (Homan) was going down to call her first shot I thought: 'I'm liking how she's calling it.' Then Emma changed her mind and I thought: 'No! Not good …'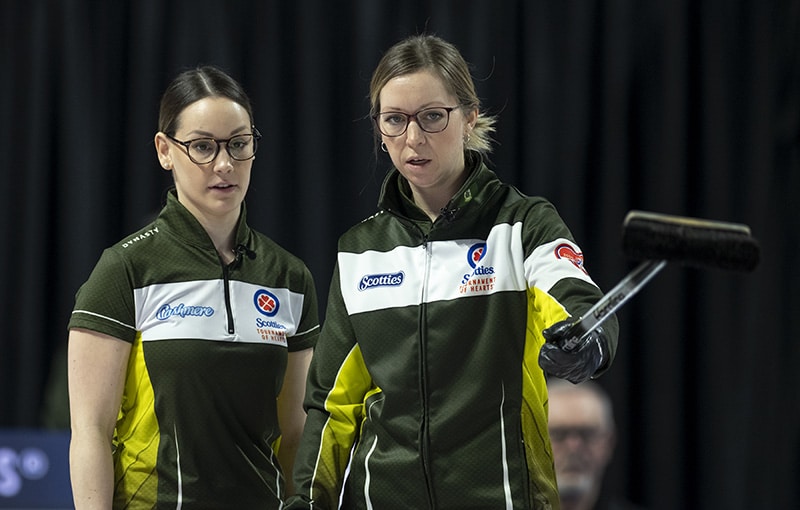 "I think if my last one in nine curled like a hair more, she doesn't have that."
Needing nothing less than a deuce to force an extra end, McCarville attempted a Cirque de Soleil shot of her own with the final rock in 10 but wrecked out front.
"When you're down two you've just gotta do what you can in the 10th. You're just holding onto every single shot.
"It was just that ninth end …"
For McCarville another disappointment at the final hurdle, having won bronze skipping Ontario in 2010 and Northern Ontario to silver in 2016, losing the 2016 final in heart-wrenching style, 7-6 to Alberta's Chelsea Carey.
"Coming into the playoffs you just want to play your best and have a good game, which we did,'' she sighed. "But it's disappointing because you think: 'When is my time?'"
Homan and Co. have probably been the most consistent stem to stern over the marathon that is the Scotties, feels this could once more be theirs.
"It's all about who shows up on the day,'' said Ontario second Courtney. "We'll debrief that game and see what we can sharpen up for tomorrow but definitely feel great.
"Just grateful to be here in the moment.
"This is what we play for. We love the butterflies and the nerves and being the only sheet out there and the crowd,"
"The most special feeling."
The 2020 Scotties Tournament of Hearts continues today with the 1-2 Page-playoff at 6 p.m. (CST).
Live scoring, standings and statistics for the 2020 Scotties Tournament of Hearts are available at www.curling.ca/scoreboard/
TSN and RDS2 (streamed on ESPN3 in the United States) will provide complete coverage of the 2020 Scotties Tournament of Hearts. CLICK HERE for the complete schedule.
For ticket information for the 2020 Scotties Tournament of Hearts, go to www.curling.ca/2020scotties/tickets/
This story will be available in French as soon as possible at www.curling.ca/2020scotties/nouvelles/?lang=fr