Scotties final set!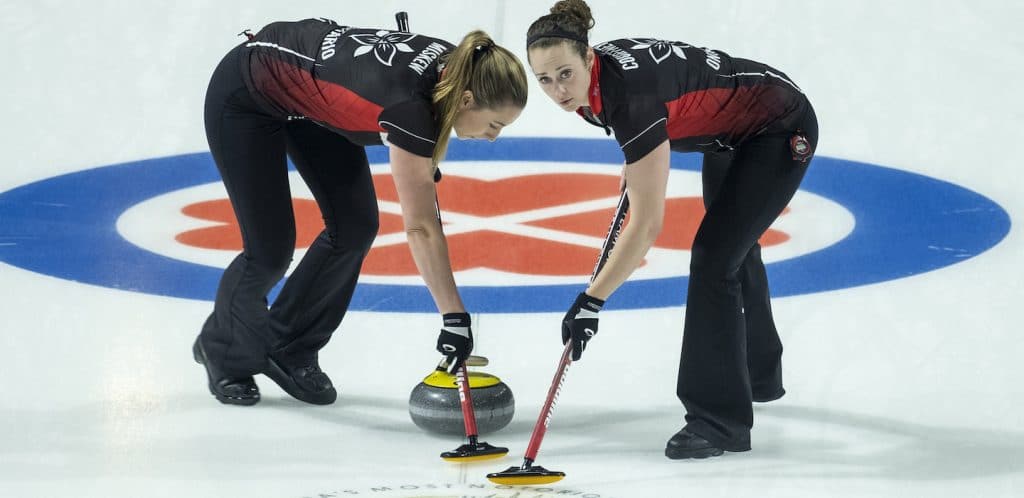 ONTARIO TOPS WILD CARD IN SCOTTIES SEMIFINAL, WILL PLAY FOR GOLD
MOOSE JAW, Sask. – Pitiless. Remorseless. Clinical.
There are few, if any, Get Out of Jail Free cards on Rachel Homan's Monopoly board.
When she and her Ontario rink spy an opening to grind a curling shoe directly down on your trachea, might as well kiss any hope of oxygen goodbye.
"You can't give up a steal of three against a team like that and come back very often,'' sighed Team Wild Card skip Jennifer Jones, neatly summing up an 8-3 Ontario victory in the 2020 Scotties Tournament of Hearts semifinal at Mosaic Place.
Meaning Homan and Manitoba's Kerri Einarson will vie this evening for the title, along with a $105,000 Scotties first-prize payout and the chance to head off to Prince George, B.C., next month and the don the Canadian gear at the 2020 Women's World Curling Championship, presented by Nature's Bounty Vitamins.
Oh, and there are other nice perks such as a guaranteed spot at the next Scotties in Thunder Bay, Ont., along with an invite to the 2021 Tim Hortons Roar of the Rings in Saskatoon that offers a trip to Beijing and the Olympic Winter Games in 2022 to the winner.
Applying pressure from the get-go at Mosaic Place on Sunday morning, Homan and Co. ruined Jennifer Jones's bid for a record seventh Scotties Tournament of Hearts title, a swipe of three on the second end establishing the game's plot-line.
"Definitely that was a crucial moment,'' conceded Homan. "But we've seen big leads all week and teams fight back so we made sure to keep the pedal down and played a really great game.
"I mean, Jen was a rock away from getting three right back so we had to keep making good shots."
Homan will tonight be endeavouring to erase the memory of an 8-6 loss to Alberta's Chelsea Carey in last year's Scotties final, a game in which Ontario uncharacteristically surrendered four over the final three ends.
"Every time you're in a final is an amazing opportunity,'' said Homan. "We lose big games. We win big games. But we're in them. So we're excited to be back and give it all we have tonight."
"You can never guarantee outcome,'' added Ontario third Emma Miskew. "Last year obviously stung but that happens. It's part of sport. If everything was guaranteed no one would enjoy watching it.
"We're just happy to be in this situation, playing a great team and hopefully it's a great game."
The chase for Jones to pass Colleen Jones and the record seventh national title was a wonderful storyline all week. It didn't happen but that doesn't mean the objective ends here and now.
Jennifer Jones likes the trajectory of her team.
"I'm really happy with our season,'' she summarized. "We've worked on a lot of things and I feel like we're all coming together and trending in the right direction, which I love. And having a ton of fun.
"We would've liked to have played better today and last night" — a 6-4 loss to Manitoba in the Page playoff 1-2 game – "but all in all, can't complain."
That said, regardless of his or her experience or level of achievement, the residue of defeat always lingers, especially when getting as close as Jones and Co. did this week.
"I am not a super-competitive person ' people don't believe that — except when it comes to curling,'' confessed Jones. "I really do like to win with the girls and to leave it all on the ice.
"It's hard coming off a loss. You always have perspective, I get to go home to my kids and that's always great.
"But we're on the ice, we want to win. It doesn't matter what we've won in the past, we're in the moment and we're as hungry as we've ever been."
The 2020 Scotties Tournament of Hearts concludes Sunday evening with the championship game at 6 p.m. (CST).
Live scoring, standings and statistics for the 2020 Scotties Tournament of Hearts are available at www.curling.ca/scoreboard/
TSN and RDS2 (streamed on ESPN3 in the United States) will provide complete coverage of the 2020 Scotties Tournament of Hearts. CLICK HERE for the complete schedule.