Crowd pleaser!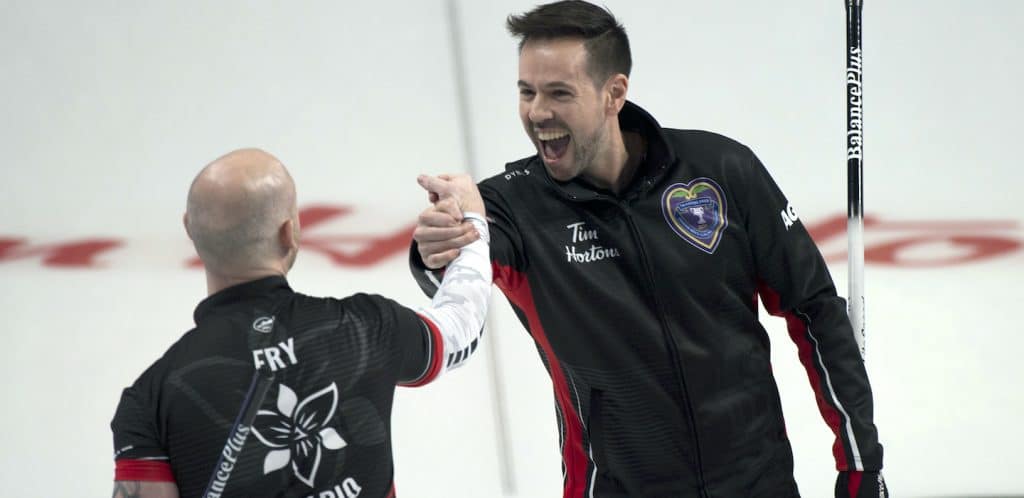 EPPING'S TEAM ONTARIO TOPPLES DEFENDING CHAMPS IN TIM HORTONS BRIER OPENER
KINGSTON, Ont. – Kevin Koe and Team Canada's bid for a second straight Tim Hortons Brier championship, presented by AGI, got off to a rocky start Saturday at Leon's Centre, dropping a tight 5-3 decision to John Epping and Team Ontario.
Both teams had some struggles with their draw weight, leading to early steals by each team, the first by Ontario in the second end when Koe's double attempt got only one Epping counter.
"Getting the steal early and taking the hammer away from them is big," said Epping, whose team has now won 10 straight games and had beaten Koe in the final of the Home Hardware Canada Cup in December.
Epping, third Ryan Fry, who picked up his 100th career Tim Hortons Brier win, second Mathew Camm, lead Brent Laing, alternate John Morris and coach Jim Wilson, gave that steal back in four to fall behind 2-1, but scored the only deuce of the game in five.
"You feel close if you're one down but if you're two down you have to take some chances and we were able to keep it close," said Epping, who had a near-sellout crowd in the palm of his hand at game's end.
It was a strategy-filled game with both teams fighting to get hammer for the key even ends but while Team Canada did that, they were behind 4-3 going into the 10th. Koe had a shot at a triple takeout that could have won the game but he only removed two and left one Ontario counter.
"You never know with Kevin Koe, he's a magician," Epping said of his nerves watching Koe in the hack. "You never feel safe until the rock stops."
Koe, third B.J. Neufeld, second Colton Flasch, lead Ben Hebert, alternate Ted Appelman and coach John Dunn out of the Glencoe Club in Calgary, blanked the ninth to have hammer in 10. Epping made a key double and Koe's try for a double takeout himself got only one, leading to him having to try the triple.
"That shot is inconsequential if I'm even close on my first; that's the one that cost me," said Koe. "I think I've for sure won this a couple of times losing my first game so I'm definitely not going to panic."

In the other opening draw games, Steve Laycock of British Columbia (Vernon/Kelowna, 1-0) beat Jamie Koe of Northwest Territories (Yellowknife, 0-1) 6-4; Brad Gushue of Newfoundland and Labrador (St. John's, 1-0) rolled past Jason Gunnlaugson of Manitoba (Morris, 0-1) 8-4 in eight ends; and Jamie Murphy of Nova Scotia (Halifax, 1-0) scored three in the fifth end and four in the ninth to beat Alek Bédard of Quebec (Lacolle/Boucherville/Glenmore, 0-1) 10-3.
Gushue, the 2017 and 2018 Brier champion, used hammer to score two in the second end then stole a deuce in three and one in four for a 5-0 lead before Team Manitoba could find their footing.
"Not the start we were looking for," said Gunnlaugson. "We had an opportunity for a three in three, which would obviously had made things different, but I didn't throw a very good rock."
Gushue praised his front end, saying they played well "and put us in a good position, especially in the first five ends and put a lot of pressure on their team."
The 2020 Tim Hortons Brier continues with this evening's draw at 7 p.m. ET.
Live scoring, standings and statistics for the 2020 Tim Hortons Brier are available at curling.ca/scoreboard.
TSN and RDS2 (streamed on ESPN3 in the United States) will provide complete coverage of the 2020 Tim Hortons Brier. CLICK HERE for the complete schedule.
For ticket information for the 2020 Tim Hortons Brier, go to www.curling.ca/2020brier/tickets.
This story will be available in French as soon as possible at www.curling.ca/2020brier/?lang=fr