Fast start for Team NL!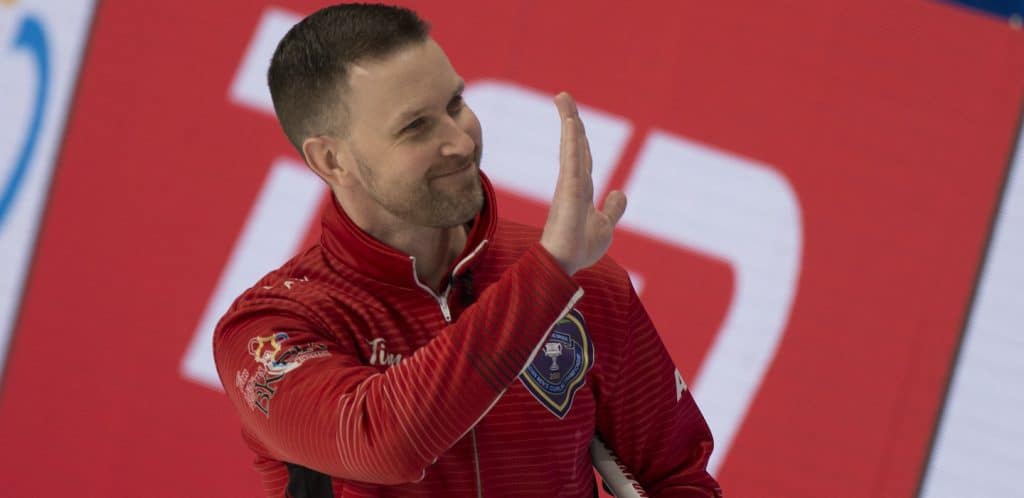 NEWFOUNDLAND/LABRADOR OPENS CHAMPIONSHIP POOL WITH WIN AT TIM HORTONS BRIER
KINGSTON, Ont. – The key to success in curling is to score two and force your opponent to take one, and that scenario worked perfectly Thursday afternoon for Brad Gushue and Team Newfoundland/Labrador at the Tim Hortons Brier, presented by AGI.
In a matchup of former champions, Gushue posted three deuces while holding Kevin Koe and Team Canada to just one two-ender in a 7-4 victory that moved Newfoundland/Labrador (St. John's) to 7-1 in the Championship Pool.
The loss dropped Koe, a four-time Tim Hortons Brier winner and the defending champion to 5-3 and leave them no room to stumble in their final three games.
"We were brutal," Koe said of his team's showing. "Got off to a good start but couldn't put enough ends together, so a little disappointing for sure. We've got to find another gear. If we play like that we won't be around long, but hopefully it's a one-off and we can play better tonight."
In the three other games in the opening draw of the Championship Pool, Brendan Bottcher of Alberta (Edmonton) ran his perfect record to 8-0 with a 9-5 win over Matt Dunstone of Saskatchewan (Regina, 6-2); John Epping of Ontario (Toronto, 5-3) cracked a four-ender in the fourth and went on to beat Jason Gunnlaugson of Manitoba (Morris, 5-3); and Brad Jacobs of Northern Ontario (Sault Ste. Marie, 5-3) nipped Mike McEwen and Team Wild Card (West St. Paul, Man., 6-2) 6-4.
While Alberta and Newfoundland/Labrador gave themselves a little breathing room in the chase to be one of the four teams that will advance out of this round and into the weekend Page playoffs, neither team's skip is about to relax.
"It's a great field and we've played some tough teams so to be 7-1 is awesome," said Gushue, the 2017 and 2018 winner with teammates Mark Nichols at third, Brett Gallant at second, Geoff Walker at lead, alternate Jeff Thomas and coach Jules Owchar. "We're in a good position, but we still have work to do, I don't think 7-4 is going to get straight in so we have to find another win to get into the playoffs and probably another two or three wins to get to the 1-2 game.
"I've played in a few more of these than most people," he continued. "I've seen 7-4 get in on several occasions. It's been a long time, but it could happen this week. We've been 7-4 and gotten straight into the playoffs, we've been 7-4 and got in tiebreaker and 7-4 missed the playoffs. You certainly want to get to eight wins or more."
Bottcher, the silver medallist the last two years, is now at eight wins after Alberta shook off some mid-game misses to outscore Saskatchewan 6-2 in the final four ends. Bottcher, third Darren Moulding, second Brad Thiessen, lead Karrick Martin, alternate Patrick Janssen and coach Don Bartlett had some early misses that weren't too costly. But they forced Saskatchewan into too many difficult situations down the stretch and Dunstone, the first skip in Tim Hortons Brier history to curl two 100 per cent games in the same day, didn't have the magic on Thursday.
"There are a few guys in curling you have to take a second look at the house before you walk away and Matt is certainly one of those guys," said Bottcher. "If you leave him a shot, he's going to play it and he's one of those guys who is going to make it more than he misses it."
The 2020 Tim Hortons Brier continues with Thursday evening's draw at 7 p.m. ET.
Live scoring, standings and statistics for the 2020 Tim Hortons Brier are available at curling.ca/scoreboard.
TSN and RDS2 (streamed on ESPN3 in the United States) will provide complete coverage of the 2020 Tim Hortons Brier. CLICK HERE for the complete schedule.
For ticket information for the 2020 Tim Hortons Brier, go to www.curling.ca/2020brier/tickets.
This story will be available in French as soon as possible at www.curling.ca/2020brier/?lang=fr