Golden aspirations!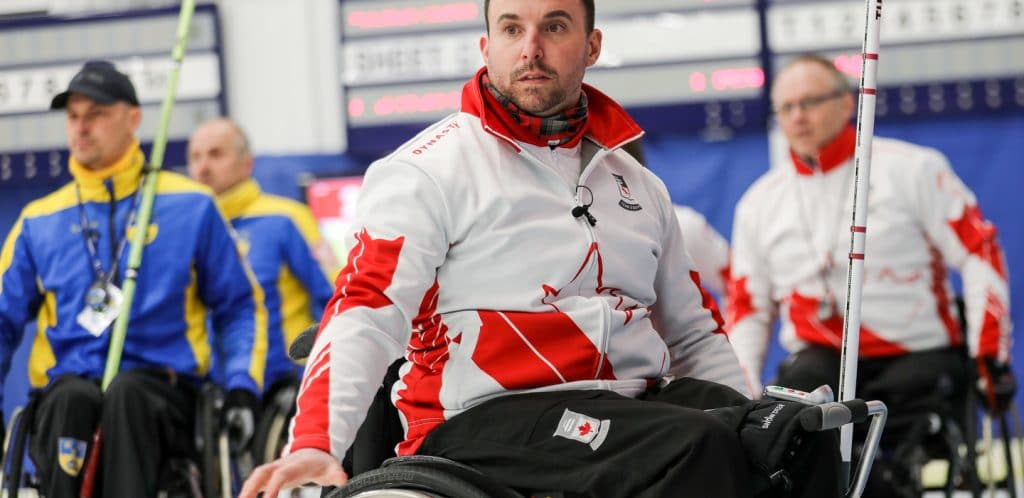 Two wins earn Canada finals berth after nail-biting playoff drama
A World Wheelchair Championship playoff drought that has lasted since 2013 ended on Friday as Canada will play for gold at the 2020 World Wheelchair Championship in Wetzikon, Switzerland.

After qualifying for the playoffs as the number three seed in the round robin, Canada defeated Korea in their qualification playoff match 5-4 with some extra end heroics, setting up a semifinal match versus Sweden.

Canada's Jon Thurston, facing a Korean shot rock in the extra end, attempted a difficult takeout on his first but managed to make contact on the target rock without removing the stone. Korea would elect to play defensively leaving Thurston a draw to the full four-foot for the win, which he was successful in executing.

"What a match," Thurston said after the game. "Both teams were playing their A-game. We got a really good one in and then they were making some good shots."

The extra end theatrics would not end there for Canada as they became tangled in a low scoring, defensively oriented affair in the subsequent semifinal versus Sweden.

The semifinal, a match that would feature four blanks and not a single score over one in any end, boiled down to the last rock as Canada would successfully earn the steal in the ninth end, securing the 3-2 victory and the finals berth.

"I'm exhausted mentally. Two extra ends in two games today. Sweden is an excellent team and they deserved to win as much as we did. They came out hungry and made a ton of shots. I have a lot of respect for this (Swedish) team," said Mark Ideson.

Despite the roller coaster day of curling, Ideson is looking forward to the finals.

"We knew we had a competitive team for this tournament. We just had to put the pieces of the puzzle together. We're thrilled to be there and excited to play in the finals," said Ideson.

Canada has not won the World Wheelchair Championship since 2013 in Sochi, Russia; a team that current members Ina Forrest, Mark Ideson and Dennis Theisson were all members of.

The team, comprised of skip Mark Ideson of London, Ont. (throwing lead stones), Jon Thurston of Dunsford, Ont. (throwing fourth stones), Ina Forrest of Armstrong, B.C., Dennis Thiessen of Sanford, Man., alternate Collinda Joseph of Stittsville, Ont., coach Wayne Kiel of Balgonie, Sask., and assistant coach Mick Lizmore of Edmonton will face Russia's Konstantin Kurokhtin in the finals at 8:30 a.m. (all times Eastern) on March 7.

The gold medal match will be streamed live. Click here for the stream.
For additional details about the 2020 World Wheelchair Curling Championships, including schedules and team rosters, visit the World Curling Federation's event website here.