Still alive in Kingston!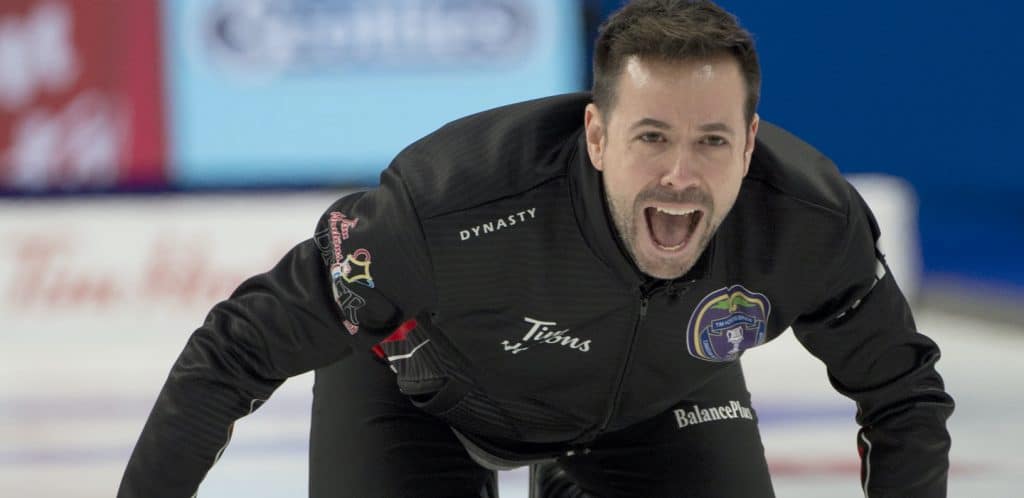 ONTARIO, N. ONTARIO PREVAIL IN FIRST ROUND OF TIEBREAKERS
KINGSTON, Ont. – Ontario-based teams won both ends of Saturday morning's tiebreakers at the Tim Hortons Brier, presented by AGI, ending hopes of Team Wild Card and Team Canada of moving on.
In a matchup of former champions, Brad Jacobs of Northern Ontario (Sault Ste. Marie) took advantage of pivotal breaks to beat defending champion Kevin Koe and Team Canada (Calgary) 8-3.
And in the game between two teams trying for their first Tim Hortons Brier title, time ran out — in more ways than one — for Mike McEwen and Team Wild Card (West St. Paul, Man.) in a heartbreaking 8-5 loss to John Epping of Ontario (Toronto).
Northern Ontario and Ontario will play a second tiebreaker today at 2 p.m. (all times Eastern) with the winner moving on to play Brad Gushue of Newfoundland/Labrador (St. John's) in the Page 3-4 playoff at 7 p.m.
Brendan Bottcher of Alberta (Edmonton), who finished atop the standings at 10-1 will play Matt Dunstone of Saskatchewan (Regina, 8-3) in the Page 1-2 game at 2 p.m. with the winner moving directly to Sunday's championship game at 7 p.m. The loser will play the winner of the 3-4 game in Sunday's semifinal at noon.
Koe, backed by third B.J. Neufeld, second Colton Flasch, lead Ben Hebert, alternate Ted Appelman and coach John Dunn, was seeking a record-breaking fifth Tim Hortons Brier title as a skip but the team was just off the mark all week.
"It's easy to analyze, we just didn't play well enough," Koe said of the week. "It wasn't just this game, it was kind of a steady theme all week. Not consistent enough and some untimely misses as well. Seems like we were chasing a lot this week."
That was the case again Saturday when Team Canada had early chances to get control but couldn't get into the lead.
"We got off to a decent start…we could have had a force early, instead we give up a deuce (in the second end)," said Koe. "But we bounced back, got a deuce and then got a force so we're back to where we need to be. But you know we just weren't leading enough this week. It seems we were always tied or one down."
Jacobs, with third Marc Kennedy, second E.J. Harnden, lead Ryan Harnden, alternate Lee Toner and coach Rick Lang, continued their strong play after a rocky start to the week. They scored two in the second, one in the fourth, two in the seventh and stole three in the eighth when Koe's hit-and-stick rolled out, prompting handshakes.
"The whole game, we had great patience, we controlled the scoreboard well and got a huge break in eight when Kevin missed his last, very uncharacteristic," said Jacobs, winner of the 2013 Tim Hortons Brier and the 2014 Olympic gold medal. "But we're going to need some breaks along the way, a lot of them, if we're going to go deeper into this event.
"We feel very confident, we're well aware of our capabilities and everyone is throwing the rock great, communicating well, I think everyone is very comfortable with the ice."
Ontario got a huge break in the 10th end when McEwen, forced to rush his shot with time running out, missed a routine, for him, double for three and the win. Instead he got only one and left Ontario a steal and the victory.
"I was a little gentle with it, didn't have much time to think," said McEwen, who had only 12 seconds left on his game clock. "You don't have the same pre-shot and visualization as you would have liked, not ideal circumstances to throw that shot. A shot to win a game like that I would like to have had, even another 20 seconds on the clock."
Epping, with his crew of third Ryan Fry, second Mathew Camm, lead Brent Laing, alternate John Morris and coach Jim Wilson, said he was shocked to see McEwen miss the shot.
"Shocking, shocking for sure, but he was really low on time," he said. "He was already in the hack ready to throw and that probably affected him a bit. But we definitely felt like we controlled the game.
Live scoring, standings and statistics for the 2020 Tim Hortons Brier are available at curling.ca/scoreboard.
TSN and RDS2 (streamed on ESPN3 in the United States) will provide complete coverage of the 2020 Tim Hortons Brier. CLICK HERE for the complete schedule.
For ticket information for the 2020 Tim Hortons Brier, go to www.curling.ca/2020brier/tickets.
This story will be available in French as soon as possible at www.curling.ca/2020brier/?lang=fr