One more to go!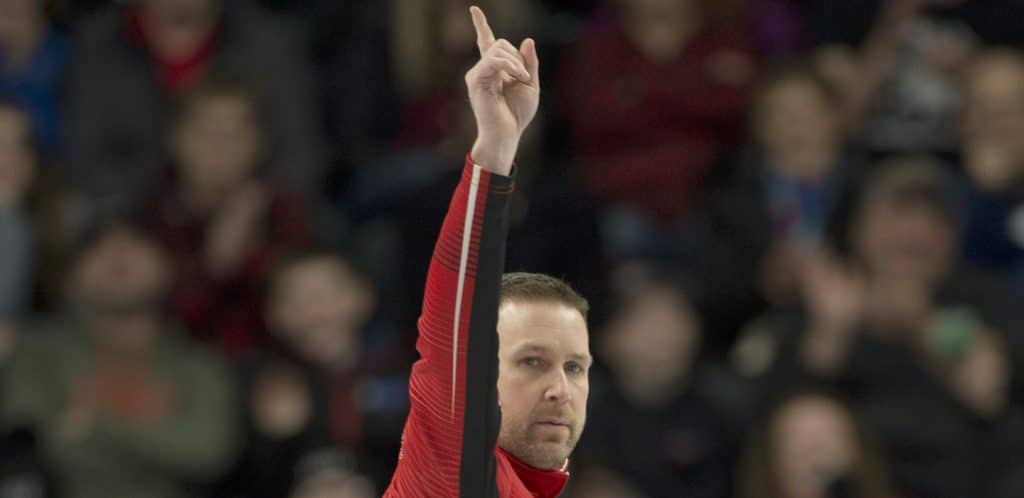 NEWFOUNDLAND/LABRADOR TO TAKE ON ALBERTA AFTER TIM HORTONS BRIER SEMIFINAL WIN
KINGSTON, Ont. – Brad Gushue of Newfoundland/Labrador moved within one victory of a third championship in the 2020 Tim Hortons Brier, presented by AGI, with a 7-6 semifinal win over Matt Dunstone of Saskatchewan Sunday afternoon.
Gushue and his St. John's foursome of third Mark Nichols, second Brett Gallant, lead Geoff Walker, alternate Jeff Thomas and coach Jules Owchar will now play Brendan Bottcher of Alberta (Edmonton) in Sunday evening's championship final — 7 p.m. ET (TSN/RDS2)
"We're going to have to play really well, limit our mistakes," Gushue said of playing Bottcher, who won the round-robin meeting between the teams, 3-2. "There's going to be some missed shots, but you need to get the most of it, avoid the big misses, that's the key for us."
They did that for the most part against Saskatchewan.
Playing in front of a near-capacity crowd in Leon's Centre that pushed total attendance for the 10-day event to more than 91,000 with the final yet to come, Newfoundland/Labrador turned the game its way with three in the second end and controlled most of the ends the rest of the way.
"If we could have found a force anywhere in the first five, obviously that three-ball was the big difference," said an emotion Dunstone. "And we had a shot for two in the first, so we'll look back at those first couple of ends … overall they were the more precise team.
"It's tough, to come so close. Woke up this morning thinking we were going to be Brier champions."
That honour, said Gushue, will definitely be in the future for the young Saskatchewan team.
"He's going to have lots of opportunities at this," said Gushue. "There's no doubt in my mind he's going to win one and probably multiple ones over the course of his career, he's that good."
After Newfoundland/Labrador got three in the second end by taking advantage of two Saskatchewan runback misses, the teams traded deuces, blanks and singles through to the ninth end. Up 6-4, Gushue elected to give up a deuce to Saskatchewan to ensure last rock in the final end. Having allowed no steals over their last four games, Gushue and crew kept the middle of the house empty in the 10th, leaving Gushue a draw for the win.
"We felt real confident with hammer," Gushue said of the ninth-end decision. "Even through that draw went back eight I felt pretty good with draw weight. As long as the guys gave me four-foot I felt I could make it. We've had some scary ends this week where it looked like they could get three and we just didn't want to be in that position. We wouldn't do that every single time, but we felt it was the right decision."
Dunstone, third Braeden Moskowy, second Catlin Schneider, lead Dustin Kidby and coach Adam Kingsbury, were seeking to win Saskatchewan's first Tim Hortons Brier championship since Rick Folk in 1980. That they didn't achieve that goal left Dunstone emotionally drained, but proud.
"In the grand scheme of things it was a hard-fought, heck of a week … to play championship Sunday at the Brier is pretty darn cool," he said as he fought to control his emotions. "I'm proud of the guys…we've proven we belong."
The semifinal was set up when Saskatchewan finished second in the round-robin competition but lost in the Page 1-2 playoff game, 9-4 to Bottcher and Gushue finished third in the round robin and then beat Brad Jacobs of Northern Ontario 7-4 in Saturday evening's Page 3-4 playoff game.
Live scoring, standings and statistics for the 2020 Tim Hortons Brier are available at curling.ca/scoreboard.
TSN and RDS2 (streamed on ESPN3 in the United States) will provide complete coverage of the 2020 Tim Hortons Brier. CLICK HERE for the complete schedule.
This story will be available in French as soon as possible at www.curling.ca/2020brier/?lang=fr