Three-time champ!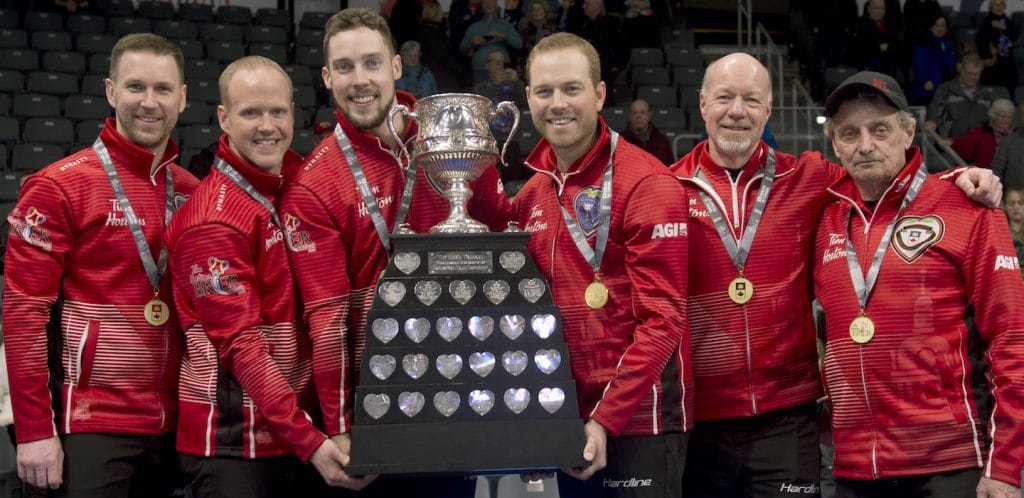 NEWFOUNDLAND/LABRADOR CLAIMS THIRD TIM HORTONS BRIER IN FOUR YEARS
KINGSTON, Ont., — The passing of the torch from the latest generation of old guard to the new breed was put on hold as Newfoundland/Labrador, skipped by Brad Gushue, won its third title in four years, defeating Alberta's Brendan Bottcher 7-3 in the final of the 2020 Tim Hortons Brier, presented by AGI, Sunday night.
Gushue, 39, is a decade older than Bottcher, whose team suffered its third consecutive gold-medal game loss in the Tim Hortons Brier. Alberta had rolled through to the final racking up an 11-1 record, including edging Newfoundland/Labrador 3-2 earlier in the week.
But before a full house at the Leon's Centre, Gushue's gang took away Alberta's last-rock advantage in the first end with a steal and took control with a three in the third for a 4-1 lead.
"Friggin' awesome," said Gushue on how the win felt. "It feels absolutely incredible. To win in this field which I believe is probably the strongest field I've certainly played in the 17 Briers and to come through and play the game we did today that's special to play our best game in the final."
The 2020 Tim Hortons Brier featured the top eight-ranked teams in the country with Gushue and his St. John 's team of third Mark Nichols, second Brett Gallant, lead Geoff Walker, alternate Jeff Thomas, and coach Jules Owchar seeded fifth.
"To be honest we came in here with a little bit of a chip on our shoulder. We didn't get any credit to be one of the favourites," said Gushue, who was winner of the Hec Gervais Most Valuable Player award. "There was a lot of talk about other teams and we were kind of left aside a little bit. We felt we should have been in there (by virtue of) winning two of the last three (Tim Hortons Briers). I think we were highly motivated this week, more so than we have been in the last two years."
Newfoundland/Labrador had Alberta chasing throughout the game as Gushue shot 97 per cent and Bottcher 71 while the overall team percentages were 86-80.
"We got off to a little bit of a slow start. We certainly didn't play our best early and you can't give that big of a lead to those guys," said Bottcher, who was supported by third Darren Moulding, second Brad Thiessen, lead Karrick Martin, alternate Patrick Janssen, and coach Don Bartlett.
"We did everything we needed to do to be ready, we just didn't come out and play our best."
The first Tim Hortons Brier final for Bottcher was 2018 in Regina when his team lost 6-4 to Gushue's when it was Team Canada,
Bottcher said although Gushue played great his Edmonton squad gave its east coast opponents quite a few easy shots and his team needed to shoot better. It appeared the Albertans seemed to get jittery as a third consecutive Tim Hortons Brier loss loomed, but Bottcher denied that was the case.
"We got a little bit fooled early, the (ice) conditions were a little bit different that we'd seen and that's unfortunately was the difference," said Bottcher. "Overall you've got to take a look and be proud of how it went this week, not about the finish but sometimes that's just what happens."
Gushue joins Alberta's Matt Baldwin and Jeff Stoughton of Manitoba has skips who have won three Tim Hortons Briers, while Kevin Koe, Kevin Martin and Randy Ferbey of Alberta, along with Ernie Richardson from Saskatchewan have won four playing skip.
"This has been as good or better than any tournament I've part of. The shotmaking was next level because if we didn't make any we're sitting at home watching," said Nichols. "Brad played unbelievable. We had the best skip in the event."
Nichols and the team has been in the same position as Bottcher's squad in the past knocking on the Tim Hortons Brier championship door many times before gaining entry.
"You've got to keep putting yourself in the position to get there. Unfortunately we're on the other side and it's hard for me to speak for them, but it's certainly not easy. Brendan's going to win a heck of a lot of these things. He's too good and they're a great team," said Nichols.
Moulding was emotional as he talked to the media after the Alberta players received their silver medals.
"I just wished it turned out a lot different. We did our best," said Moulding. "I thought we played three really good ends at the beginning. I don't know, it just seemed like Brendan's last rock wouldn't curl like we expected. He threw them really well.
"Brendan deserved a better fate on those throws."
Despite the loss, Moulding believes the team will eventually prevail.
"I feel like we can do it again. It's really hard to do it. I know we're capable of winning this event," said Moulding.
As champions, Gushue's team will represent Canada at the 2020 LGT World Men's Curling Championship, presented by BKT Tires, in Glasgow, Scotland, from March 28 to April 5.
They will return as Team Canada to next year's Tim Hortons Brier in Kelowna, B.C., from March 6 to 14.
They also join 2019 Home Hardware Canada Cup winner John Epping's rink as having secured the first two men's berths into the 2021 Tim Hortons Roar of the Rings, presented by AGI, in Saskatoon, from Nov. 27 to Dec. 5 to determine Canada's four-player teams at the 2022 Olympic Winter Games in Beijing.
"Honestly it's getting more and more difficult every year. We haven't won a tournament, other than a provincial, in 18 months and I still feel like we're one of the best teams in the world," said Gallant. "It just shows how deep Canadian fields are and world fields are. It's been a long time since we won. This is huge, going to the world championships, we got our trials spot. It's massive for us.
"It's going to be great to pick our own schedule for the next 18 months."
The Newfoundland/Labrador team earned $105,000 for the victory while Alberta takes home $65,000. Saskatchewan (Regina), skipped by Matt Dunstone, receives $45,000 for the third-place finish after losing 6-5 in the semifinal to Gushue.
In addition, the Gushue team is eligible for $169,440 in funding over two years from Sport Canada.
Live scoring, standings and statistics for the 2020 Tim Hortons Brier are available at curling.ca/scoreboard.
This story will be available in French as soon as possible at www.curling.ca/2020brier/?lang=fr