Saluting the champs!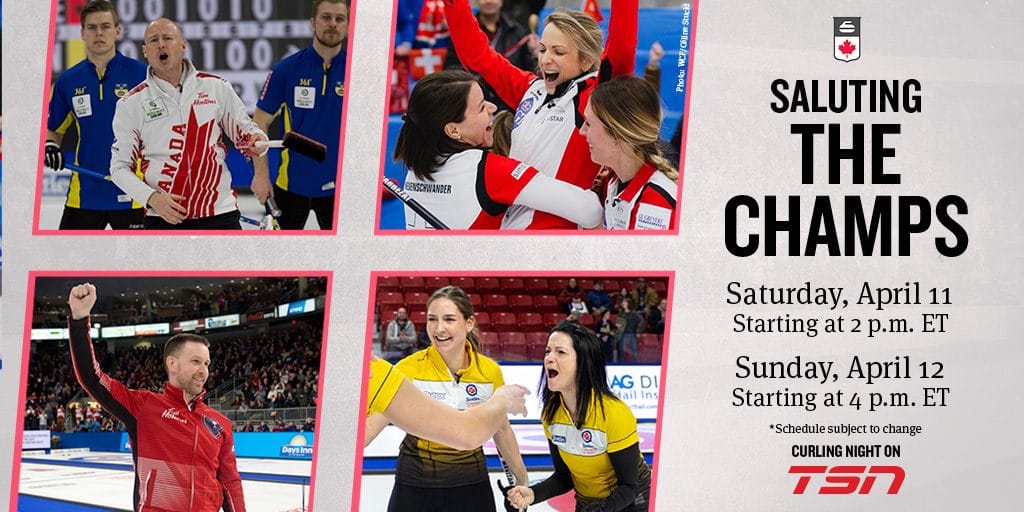 Curling Night on TSN focuses on recent champions
It won't just be Curling Night on TSN for the Easter long weekend — it will be Curling Nights on TSN as Curling Canada's broadcast partner will show two nights of curling as part of its Champions Live Here promotion!
There will be four gold-medal games broadcast this weekend — two from this season and two from last season, in which you'll see many of the world's best players in action.
Here is the schedule for Saturday and Sunday (all times Eastern):
SATURDAY
(All games on TSN1)
2 p.m. — 2019 World Men's Championship gold-medal game, Team Koe (Canada) vs. Team Edin (Sweden)
5 p.m. — 2019 World Women's Championship gold-medal game, Team Tirinzoni (Switzerland) vs.Team Hasselborg (Sweden)
8 p.m. — 2020 Tim Hortons Brier gold-medal game, Team Gushue (Newfoundland/Labrador) vs. Team Bottcher (Alberta).
SUNDAY
(On TSN2)
4 p.m. — 2020 Scotties Tournament of Hearts gold-medal game, Team Einarson (Manitoba) vs. Team Homan (Ontario)
In addition to watching these games, you can get insights from some of the participants on Twitter! Check out @TeamGushue during the Tim Hortons Brier game, and @EinarsonTeam during the Scotties game.
If you have suggestions for themes for future editions of Curling Night on TSN, send them to [email protected].