2021 Curling Cares special offer!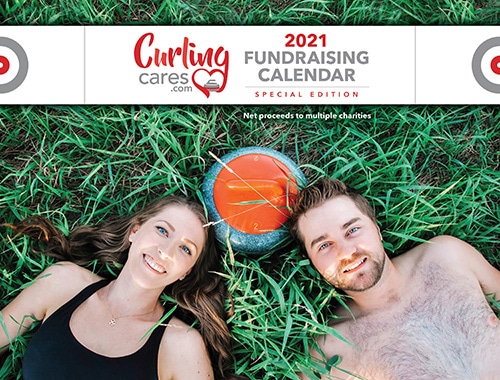 Sturmay's support youth curling initiatives with 2021 Curling Cares calendar appearance
The 2021 Curling Cares Calendar was released on Oct. 6 and, for the first time, it isn't themed for a particular gender, unlike past Men of Curling and Women of Curling calendar projects. This special 2021 edition features individual female and male athletes, curling couples, mixed doubles pairs, superstar siblings, a retired hall-of-famer, and even a recreational curler.
"The 2021 Curling Cares Calendar is a special edition for these challenging times," said George Karrys of The Community Fundraiser (thecommunityfundraiser.com), who accepted Curling Canada's 2020 Award of Achievement at the 2020 Tim Hortons Brier in Kingston, Ont. "It's important in this difficult time to remind curling fans that we are part of a community, and we are all in this together.
"Now more than ever, it's critical for all of us to step up and continue to support the charities and causes that benefit from the generosity of curlers," added Karrys.
Since 2014, the various Curling Cares calendars have raised over $600,000 for multiple charities and causes, including over $100,000 for Curling Canada's philanthropic program, including For the Love of Curling scholarships. The curlers representing the 12 months of 2021 have each chosen a charitable recipient, which will receive proceeds from every calendar sold.
This year's For the Love of Curling athlete models are former scholarship recipients Selena and Karsten Sturmay of Edmonton. Together the sister and brother have competed in five Canadian Junior championships with multiple tiebreaker/playoff appearances.
"Curling Canada's support means a lot to both Selena and I. As past For the Love of Curling scholarship recipients, we know firsthand how much support it provides to student-athletes across the country," Karsten said. "To know that the curling community believes in you, both as an athlete and a student, is inspiring. By choosing Curling Canada's philanthropic program as our charity for the calendar, we will be raising funds from the proceeds of calendar sales for the next generation of our sport."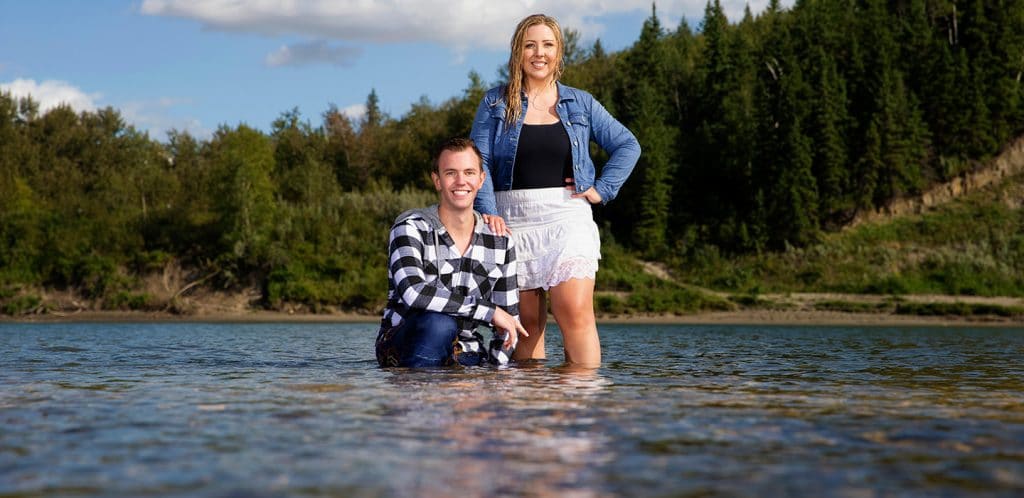 $5 off 2021 Curling Cares Calendar!
Karsten and Selena are offering a unique discount code you can use to purchase calendars online in support of the For the Love of Curling scholarship program. By using their discount code, you receive $5 off your purchase AND ensure the majority of proceeds from your sale go towards the scholarship fund. Find their discount code at the bottom of this page.
Selena captured gold at the 2019 New Holland Canadian Juniors at skip stone and won silver at the world juniors. She's also captured two gold medals for the University of Alberta at the 2018 and 2020 U SPORTS-Curling Canada championships as second and skip respectively. After winning gold at the 2018 U SPORTS-Curling Canada championship, Karsten took silver at the 2019 Winter Universiade, aka the World University Games. The siblings have also competed together in mixed doubles, winning the 2018 Alberta title.
"The photoshoot was such a fun experience! We ended up taking pictures in the North Saskatchewan river valley just outside of Edmonton and some of the best pictures resulted when we literally climbed into the river," said Karsten. "Our talented photographer Brad Hamilton did an awesome job capturing some fun, candid and playful moments."
The list of other curlers appearing in the 2021 Curling Cares calendar is:
• Sarah Potts of Team Krista McCarville (Thunder Bay, Ont.)
• Retired Tim Hortons Brier and world champion skip Jeff Stoughton (Winnipeg)
• Korey Dropkin and Sarah Anderson (Duluth, USA) – Team USA mixed doubles
• Olympic bronze-medal winning sisters Chinami and Yurika Yoshida of Japan's Team Fujisawa
• T.J. and Susana Cole of Colorado, USA – competing in mixed doubles for Team Nigeria
• Men of Curling Calendar veteran Kirk Muyres (Regina)
• Stu Sankey of Toronto – longtime WCT and regional curling sponsor also representing recreational curlers
• Matt Dunstone (2020 Tim Hortons Brier skip for Saskatchewan) and Erin Pincott (2020 Scotties Tournament of Hearts third for British Columbia)
• Tim Hortons Brier and world champion skip Glenn Howard (Penetanguishene, Ont.)
• World and European champion skip Eve Muirhead (Perth, Scotland)
• 2016 & 2019 Canadian mixed doubles champions Jocelyn Peterman (Team Jennifer Jones of Winnipeg) and Brett Gallant (Team Brad Gushue of St. John's, N.L.)
Three of the 18 participants are making their second appearance in a fundraising calendar – Korey Dropkin (Men, 2020), Jocelyn Peterman (Women, 2019) and Brett Gallant (Men, 2018). Eve Muirhead is appearing for a third time, following appearances in 2017 and 2012, while Kirk Muyres now equals Muirhead's record with his third appearance since 2018.
Where the COVID-19 pandemic permits, some of the curlers will be selling calendars within their communities in a safe manner. Most of the sales, however, will take place online at: curlingcalendar2021.com.
Discount code: Sturmays2021
Use Karsten and Selena's discount code, Sturmays2021, to raise more funds for youth curling and receive $5 off your purchase of the 2021 Curling Cares calendar!