Host team moves to 2-0!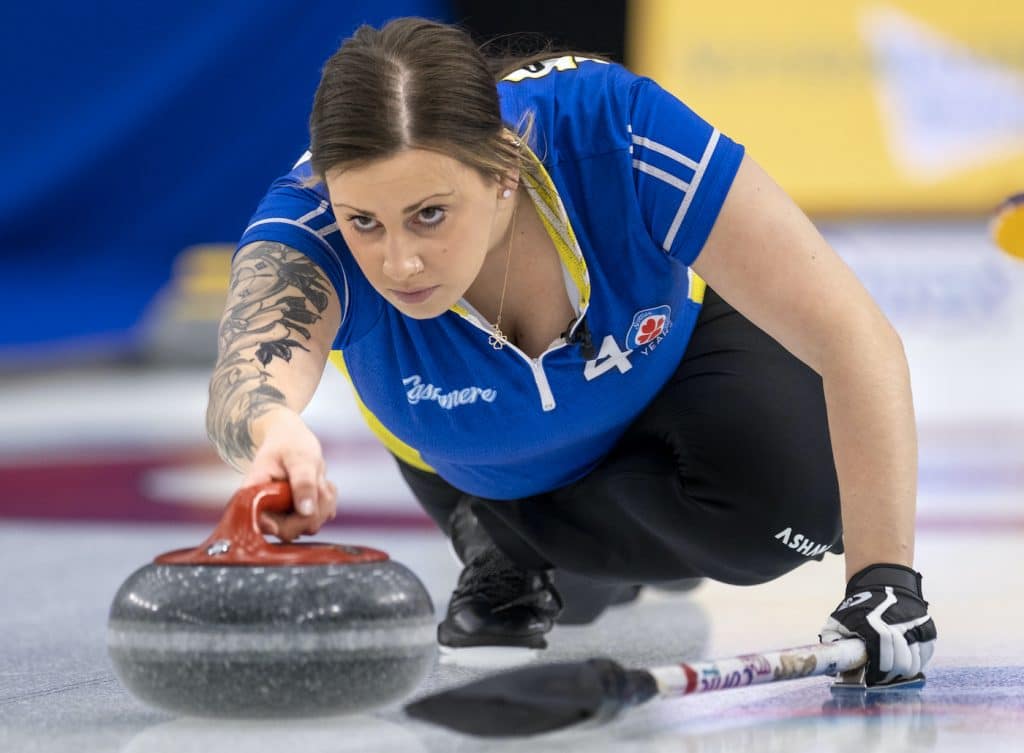 Team Alberta picks up second straight win to open 2021 Scotties
Laura Walker saved her best for last, and it resulted in another win for the host province at the 2021 Scotties Tournament of Hearts on Saturday afternoon.
Walker's Alberta team from Edmonton improved to 2-0 with a 7-5 win over Team Wild Card #2, skipped by Mackenzie Zacharias (0-2; Altona, Man.) in Draw 3 play at the Markin MacPhail Centre at WinSport's Canada Olympic Park in Calgary.
For Walker, there was some redemption attached to the win; she made a superb double takeout in the 10th end to complete the victory, capping a marvellous final three ends of curling for a team that is rounded by vice-skip Kate Cameron, second Taylor McDonald, lead Rachel Brown, alternate Dana Ferguson and coach Shannon Pynn.
"It did feel good, especially because I think I let my team down early in the game," said Walker. "I had a couple of very makable shots for a point that I missed, and we ended up giving up a couple steals. So I really felt like I owed my team one, and it felt really good to get that back for them."
(Always a good teammate, McDonald wasn't letting her skip get away with that self-incrimination: "For the record, she never lets us down.")
Alberta had jumped out to an early 3-1 lead, but the reigning world and Canadian junior champs clawed their way back into it. Zacharias, backed up by third Karlee Burgess, second (and sister) Emily Zacharias, lead/vice-skip Lauren Lenentine, alternate Rachel Erickson and coach/dad Sheldon Zacharias, took one in the third end, and stole singles in the fourth and fifth ends to take the lead.
Alberta came back with a sixth-end deuce, but in the seventh, Mackenzie Zacharias let a glorious opportunity slip away — a hit for four didn't curl enough, and resulted in only a single point Team Wild Card #2.
"We knew we got lucky there, we got away with one," said Walker. "After that happened, we all kind of looked at each other and said we're meant to win this game if we can just take it up another level. And I thought we played the last three ends of the game about as well as we could have."
It's an early 2-0 record for Alberta, and there is still room for improvement, suggested McDonald.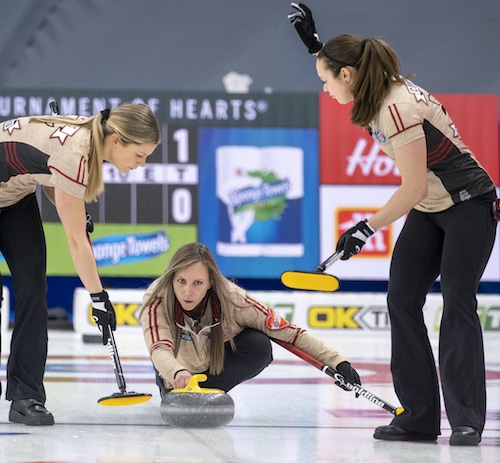 "I think we'll get into a little bit of a groove and make the best of what we have, and use all the knowledge that we can muster up from the first few games," she said. "I think the rust is already kind of shaking off, and I think we'll be in fighting form by the end of the week."
In other Draw 3 games, Ontario's Rachel Homan (Ottawa) opened her Scotties schedule with a 9-4 win over Team Wild Card #3's Beth Peterson (1-1; Winnipeg); and Nova Scotia's Jill Brothers (1-1; Halifax) was a 13-4 winner over the Yukon's Laura Eby (0-2; Whitehorse).
The scheduled game between the Northwest Territories and Team Canada was postponed until Monday morning due to a suspected case of food poisoning for one of the Northwest Territories players.
The 2021 Scotties Tournament of Hearts continues with the evening draw Saturday at 8:30 p.m. (all times Eastern).
Live scoring, standings and statistics for the 2021 Scotties Tournament of Hearts are available at www.curling.ca/scoreboard/
TSN and RDS2 (streamed on ESPN+ in the United States) will provide complete coverage of the 2021 Scotties Tournament of Hearts. CLICK HERE for the complete schedule.
This story will be available in French as soon as possible at www.curling.ca/2021scotties/nouvelles/?lang=fr