Team B.C. back in the hunt!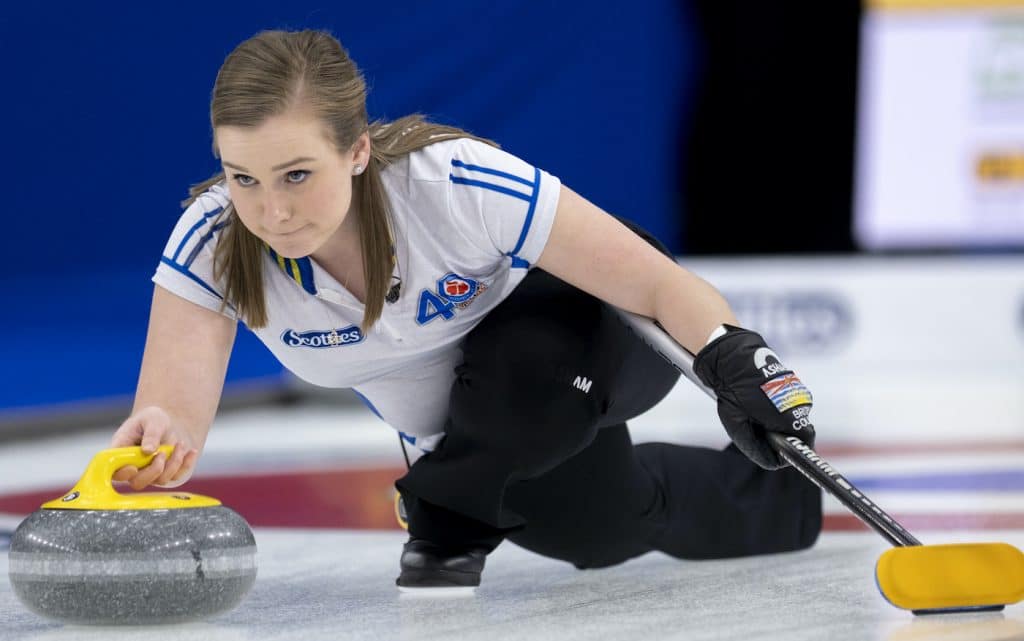 British Columbia pushes win streak to three at 2021 Scotties
It was, to put it bluntly, a less-than-ideal start for Corryn Brown's B.C. team at the 2021 Scotties Tournament of Hearts.
A pair of losses to Quebec's Laurie St-Georges and Manitoba's Jennifer Jones, in which Brown, vice-skip Erin Pincott, second Dezaray Hawes, lead Samantha Fisher, alternate Stephanie Jackson-Baier and coach Allison MacInnis were outscored 23-10 would not have instilled an awful lot of confidence into the team from Kamloops.
But something very clicked for Brown and Co. following the loss to Manitoba on Sunday afternoon because it's been nothing but success since then — three straight wins, including Tuesday night's 10-1 dispatching of Newfoundland/Labrador's Sarah Hill (2-3; St. John's) at WinSport Arena at Canada Olympic Park in Calgary.
It's a pretty simple formula, suggested Brown.
"Well," she said with a smile, "our skip is making shots."
Clearly there's more to it than that for a team that has championship pedigree — Brown skipped Pincott and Fisher to gold at the 2013 Canadian Junior Women's Championship and the 2011 Canada Winter Games.
But ultimately, it still comes down to execution and focusing on doing the little things right, said Brown.
"I had a good chat with Allison (after the loss to Manitoba) to figure out how to get out of that little bit of a rut I was in," said Brown. "My shots were so close, but my misses always hang on the scoreboard, so it definitely magnifies the miss, whether it's by an inch or a mile. We really bore down in the game against Nunavut, and obviously this morning (a win over Team Wild Card #1's Chelsea Carey) was a huge one. We're just doing all the little things right now."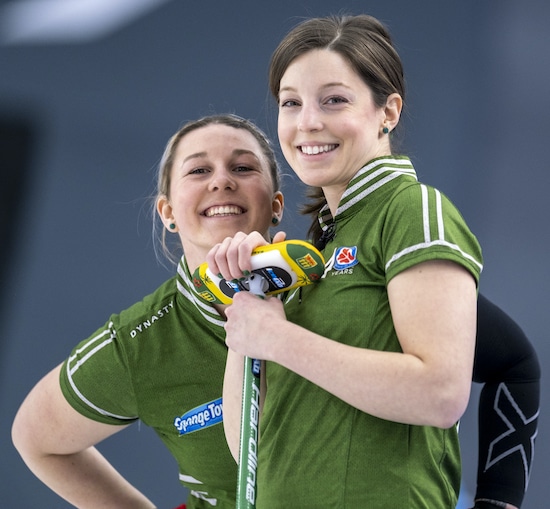 They the do the little things off the ice, too. Both Fisher and MacInnes have been on the front lines during the pandemic — Fisher is a respiratory therapist at Royal Inland Hospital in Kamloops and has been treating COVID-19 patients since the start of the outbreak. MacInnes, meanwhile, has been involved in the logistics side, setting up testing centres and, more recently, taking on the responsibility of transporting vaccines from the airport in Kamloops to health centres in the North Okanagan. Both have now been fully vaccinated.
And while fighting COVID has been front of mind for most, the chance to just focus on curling at the Scotties has provided some comfort, and, suffice it to say, so have those three straight wins.
"We all really dug deep," said Fisher. "Starting 0-and-2 is really tough, so I think we've dug deep, come out with a few wins, and it feels good."
In other Draw 12 games, Carey's Team Wild Card #1 (4-2; East St. Paul, Man.) bounced back with a 10-6 win over P.E.I.'s Suzanne Birt (3-2; Cornwall/Montague); Saskatchewan's Sherry Anderson (3-2; Saskatoon) stole three in the ninth end for a 9-6 win over Quebec's Laurie St-Georges (4-2; Laval-sur-le-Lac); and New Brunswick's Melissa Adams (2-3; Fredericton) stole points in the 10th and 11th ends for a 9-8 win over Nunavut's Lori Eddy (0-6; Iqaluit).
The 2021 Scotties Tournament of Hearts continues with draws Wednesday at 10:30 a.m., 3:30 p.m. and 8:30 p.m. (all times Eastern).
Live scoring, standings and statistics for the 2021 Scotties Tournament of Hearts are available at www.curling.ca/scoreboard/
TSN and RDS2 (streamed on ESPN3 in the United States) will provide complete coverage of the 2021 Scotties Tournament of Hearts. CLICK HERE for the complete schedule.
This story will be available in French as soon as possible at www.curling.ca/2021scotties/nouvelles/?lang=fr