Polar power comes through!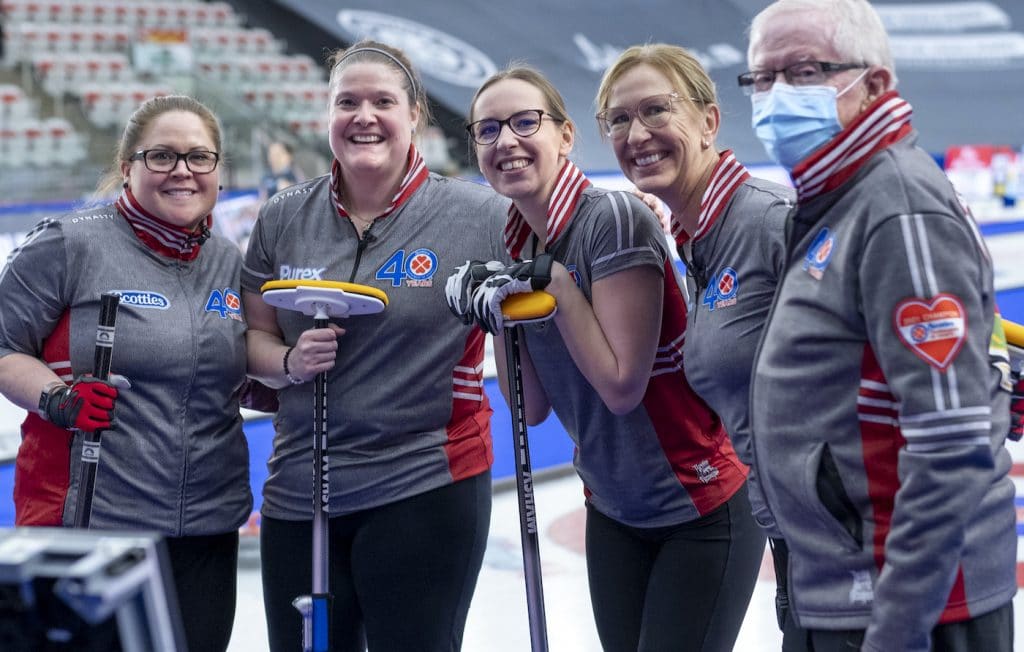 Team Northwest Territories hands Ontario first loss at 2021 Scotties
When Northwest Territories skip Kerry Galusha scanned her schedule for the 2021 Scotties Tournament of Hearts, she saw winnable games and she saw games that, in her view, were likely losses.
Wednesday morning's assignment against unbeaten Rachel Homan and Ontario, thought Galusha, fit into the latter category, considering she'd never beaten Homan in seven previous attempts, dating back to their first matchup at the 2011 Scotties in Charlottetown.
But something clearly clicked for Galusha, vice-skip Jo-Ann Rizzo, second Margot Flemming, lead Shona Barbour and coach Jim Waite Wednesday at WinSport Arena at Canada Olympic Park in Calgary. Galusha snapped that career losing streak against Homan and stayed in contention to advance to the Championship Pool with a 7-5 win over Ontario.
The win lifted the Territories to a 3-3 record, and left them in control of their own destiny — two wins in their final preliminary round games will advance them to the Championship Pool, which opens play on Friday.
"That wasn't actually a game I was actually banking on us winning, to be honest," admitted Galusha. "We knew we'd have to beat the Yukon (Wednesday night), and it might have come down to beating (Beth) Peterson (Team Wild Card #3) tomorrow — that's what we were looking at. So that was a great win — I'm actually a bit speechless."
The Territories picked up a crucial steal of two in the seventh end that turned the game in their favour against Ontario; Homan, vice-skip Emma Miskew, second Sarah Wilkes, lead Joanne Courtney, alternate Danielle Inglis and coach Randy Ferbey dropped to 5-1 with the loss.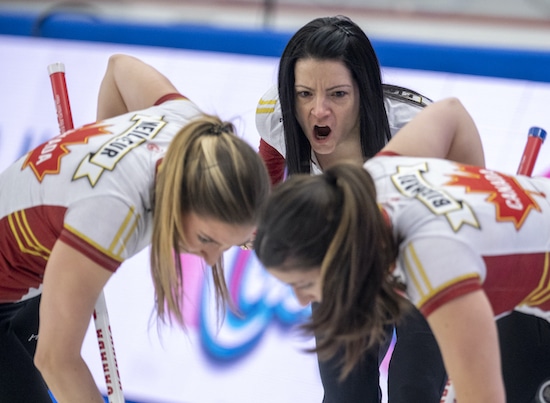 Galusha is competing in her18th Scotties, and is no stranger to pulling off big wins on the national stage. But the sheer logistics of being located so far geographically from the competitive events, resulting in enormous costs to get that level of competition on a regular basis, has produced some often frustrating inconsistency at the Scotties.
"It's tough; we're from the N.W.T., we're a little inconsistent," said Galusha. "We're kind of that middle ground. We know we're not at the top, we know we're not at the bottom, we're kind of in the middle. You're going to get good games out of us and bad games out of us. I have a strong team this year, but I've been struggling this week., I'm up here, I'm down there. As a skip, I can't be like that."
And she wasn't on Wednesday.
In other morning draw results, Peterson and Team Wild Card #3 (4-3; Winnipeg) turned back Northern Ontario's Krysta Burns (2-4; Sudbury) 9-5; Team Wild Card #2's Mackenzie Zacharias (2-4; Altona, Man.) shaded Nova Scotia's Jill Brothers (2-5; Halifax) 6-5; and Team Canada's Kerri Einarson (6-0; Gimli, Man.) was an 11-7 winner of the Yukon's Laura Eby (0-6; Whitehorse).
Team Canada and Ontario have already clinched their berths in the Championship Pool.
The 2021 Scotties Tournament of Hearts continues Wednesday with draws at 3:30 p.m. and 8:30 p.m. (all times Eastern).
Live scoring, standings and statistics for the 2021 Scotties Tournament of Hearts are available at www.curling.ca/scoreboard/
TSN and RDS2 (streamed on ESPN3 in the United States) will provide complete coverage of the 2021 Scotties Tournament of Hearts. CLICK HERE for the complete schedule.
This story will be available in French as soon as possible at www.curling.ca/2021scotties/nouvelles/?lang=fr