Saskatchewan gets nearer!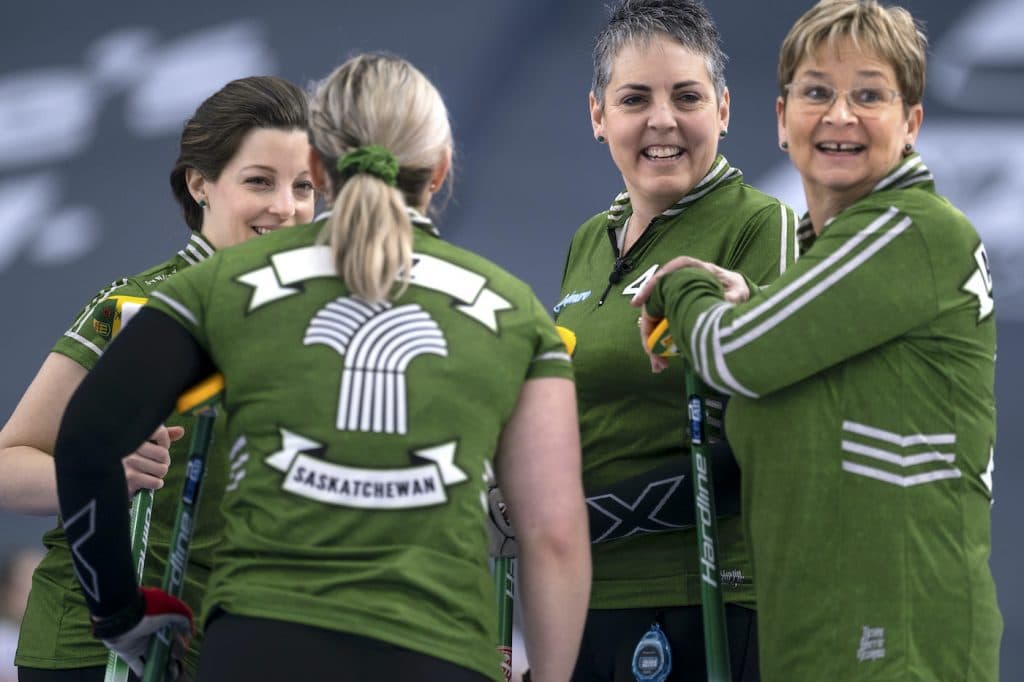 Team Saskatchewan closes in on Championship Pool berth at Scotties
Job No. 1 is now all but done for Team Saskatchewan, but skip Sherry Anderson doesn't want to stop there.
Anderson's team from Saskatoon — vice-skip Nancy Martin, second Chaelynn Kitz, lead Breanne Knapp, alternate Amber Holland and coach Shane Kitz — all but locked down a berth in the Championship Pool on Thursday morning at the 2021 Scotties Tournament of Hearts.
Anderson made a cold draw to the eight-foot with her final delivery of the game to shade B.C.'s Corryn Brown (3-4; Kamloops) 8-7 at WinSport Arena at Canada Olympic Park in Calgary.
The win left Saskatchewan with a 5-2 record, tied for top spot in Pool B with Manitoba's Jennifer Jones (Winnipeg) and Quebec's Laurie St-Georges (Laval-sur-le-Lac), and heading into Thursday night's final draw of preliminary round play, with 16 potential outcomes on the four sheets (depending on which teams win and lose), 15 of them would see Saskatchewan move into the Championship Pool, which features the top four finishers from Pool A and the top four from Pool B.
The Pool B picture won't be settled until Thursday's evening draw, and maybe not even then should a Friday morning tiebreaker be required.
"We feel pretty good," said Anderson, whose team will close out the preliminary round against Newfoundland/Labrador on Thursday night. "I mean, after losing our very first game (to P.E.I.'s Suzanne Birt) when I didn't curl very well and we should have won easily, it's been going OK. We still have some up-and-downs that we can iron out. It's mentally exhausting. I walked off the ice, and I'm thinking, oh, it's like eight at night. But I think it's still before lunch, isn't it?"
B.C. led 3-1 through four ends, but Saskatchewan scrapped back with a go-ahead three in the fifth end, a stolen single in the sixth and then two more stolen points in the seventh. B.C. (Brown is backed up by vice-skip Erin Pincott, second Dezaray Hawes, lead Samantha Fisher, alternate Stephanie Jackson-Baier and coach Allison MacInnes) rallied to tie it with back-to-back deuces in the eighth and ninth ends before Anderson made the winning shot.
And with a win later Thursday against Newfoundland/Labrador (or 14 other combinations of results), Team Saskatchewan can focus on its next task — finishing within the top three of the Championship Pool to advance to Sunday's playoffs. The four teams from Pool A will play the four from Pool B, with their preliminary round records carried forward.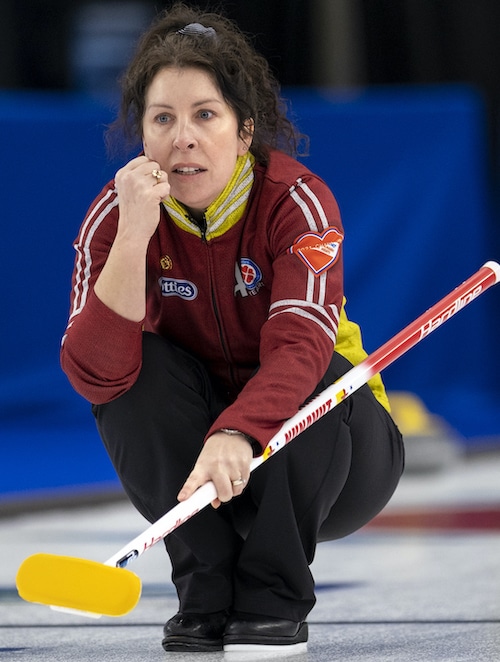 "First and foremost, our goal was to get into the Championship Pool, and I really wanted to do that for these girls because I know they want to play more on arena ice in this setting," said Anderson. "I mean, we're at the Scotties, we're in a bubble, so we might as well curl because that's all we have to do. But now, to get into the top three, I don't imagine we can have another loss. Maybe one? But you want to start building momentum and getting better and better with every game."
In the other Thursday morning games, Manitoba was a 12-3 winner over New Brunswick's Melissa Adams (3-4; Fredericton); Prince Edward Island (4-3; Montague/Cornwall) kept its Championship Pool hopes alive with a wild 10-8 win over Nunavut's Lori Eddy (0-7; Iqaluit); and Team Wild Card #1's Chelsea Carey (5-3; East St. Paul, Man.) completed preliminary pool play with an 11-2 win over Newfoundland/Labrador's Sarah Hill (2-5; St. John's).
The 2021 Scotties Tournament of Hearts continues with draws 3:30 p.m. and 8:30 p.m. (all times Eastern).
Live scoring, standings and statistics for the 2021 Scotties Tournament of Hearts are available at www.curling.ca/scoreboard/
TSN and RDS2 (streamed on ESPN3 in the United States) will provide complete coverage of the 2021 Scotties Tournament of Hearts. CLICK HERE for the complete schedule.
This story will be available in French as soon as possible at www.curling.ca/2021scotties/nouvelles/?lang=fr