Team Canada comes through!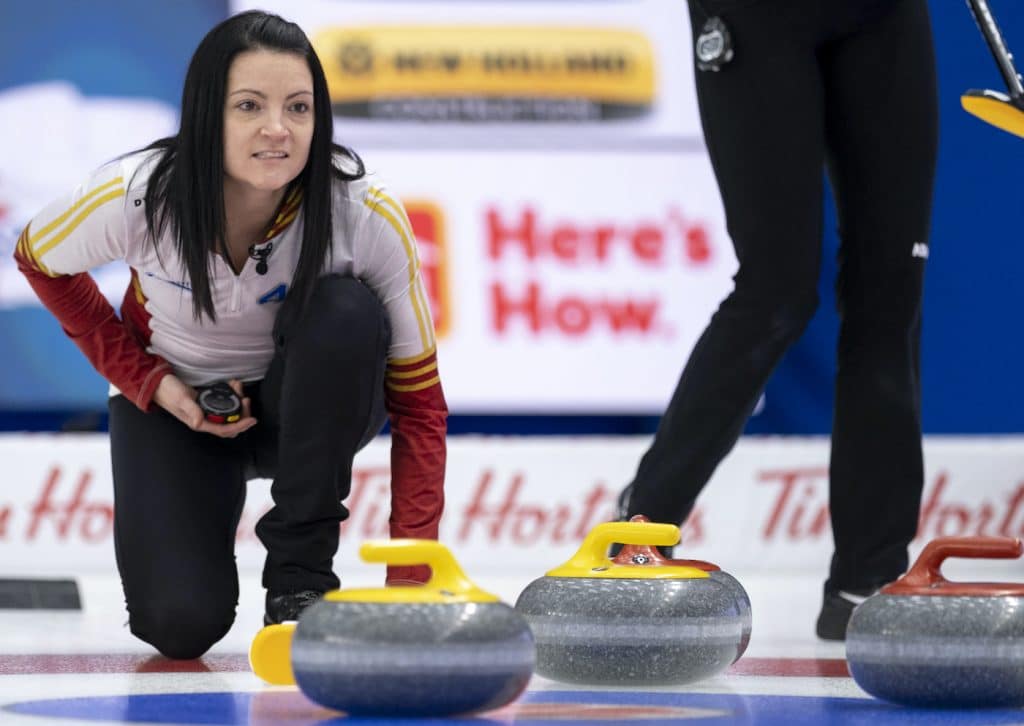 Defending champs rack up two-win day at 2021 Scotties
After losing their first game at the 2021 Scotties Tournament of Hearts on Thursday, Kerri Einarson and her defending champion Team Canada crew from Gimli, Man., didn't spend an awful lot of time dissecting the loss.
In Team Canada's view, one unfortunate miss when a rock behaved unexpectedly resulted in a game-turning steal of two for Ontario's Rachel Homan — just one of those breaks of the game that is part of curling.
A day later, that loss and any lingering bad taste seemed to be left far in the rear-view mirror as Einarson, vice-skip Val Sweeting, second Shannon Birchard, lead Briane Meilleur, alternate Krysten Karwacki and coach Heather Nedohin sailed to a pair of wins at WinSport Arena at Canada Olympic Park in Calgary and all but locked down one of the three berths in Sunday's playoff round.
A 9-3 win over Team Wild Card #1's Chelsea Carey (5-5; East St. Paul, Man.) lifted Team Canada to a 9-1 record, and assured of no worse than a tiebreaker berth.
"We knew we had to regroup and come back even stronger," said Einarson of her team's attitude after losing its first game of the Scotties on Thursday. "It lights a fire under your butt — OK, you can't lose any more. Your backs are against the wall."
Team Canada stole deuces in the fourth and eighth ends en route to the victory, which all but eliminated Carey, vice-skip Selena Njegovan, second Liz Fyfe, lead Kristin MacCuish, alternate Clancy Grandy and coach Sherry Middaugh from playoff contention.
And, yes, as Sunday's playoffs approach rapidly, there's a different feeling on the ice in the bubble.
"I feel like there's a little bit of momentum building towards the end of the week, and the intensity is definitely increased out there on the ice," said Birchard. "You can feel it from all the players, which is awesome. It really brings out the best in everyone's game, I think.
"We're kind of treating every game like it's our last game, like it's the final," added Einarson. "We can't really afford to lose any more games. Two big games (on Saturday), and we'll have to come on strong."
Also clinching a tiebreaker berth on Friday night was Homan and Ontario, who also improved to 9-1 but in far more dramatic fashion, stealing one in the 11th end for an 8-7 win over Quebec's Laurie St-Georges (6-4; Laval-sur-le-Lac). Homan made a cold inturn draw behind staggered guards with her final shot of the 11th, and St-Georges came up just light on the outturn side with her potential game-winner.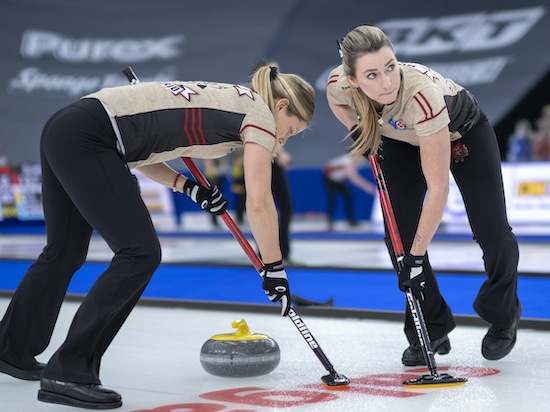 Meanwhile, Alberta's Laura Walker (7-3; Edmonton) capped a marvellous two-win day, taking three in the ninth end to record a 7-5 win over Manitoba's Jennifer Jones (7-3; Winnipeg).
In the other Thursday night game, Team Wild Card #3's Beth Peterson (6-4; Winnipeg) needed an extra end to beat Saskatchewan's Sherry Anderson (6-4; Saskatoon) 10-9. Both teams still have an outside shot at a playoff spot. Anderson sat out the game with a back strain, and alternate Amber Holland skipped in her place.
The top three teams after the Championship Pool games will make the playoffs; the first-place team after the Championship Pool will go straight to the gold-medal game (Sunday, 8:30 p.m.; all times Eastern), while the second- and third-place teams will meet in the semifinal (Sunday, 2:30 p.m.)
The 2021 Scotties Tournament of Hearts continues Saturday with the final two draws of the Championship Pool, at 2:30 p.m. and 8:30 p.m. (all times Eastern).
Live scoring, standings and statistics for the 2021 Scotties Tournament of Hearts are available at www.curling.ca/scoreboard/
TSN and RDS2 (streamed on ESPN3 in the United States) will provide complete coverage of the 2021 Scotties Tournament of Hearts. CLICK HERE for the complete schedule.
This story will be available in French as soon as possible at www.curling.ca/2021scotties/nouvelles/?lang=fr