A win away from gold!
Team Ontario headed to final at 2021 Scotties Tournament of Hearts
On a drama-filled evening at WinSport Arena at Canada Olympic Park in Calgary, the field was whittled down to a final four to contest for gold at 2021 Scotties Tournament of Hearts.
Yes, three playoff berths were available heading into the final draw of round-robin play on Saturday, but as it turns out, one more game will be necessary to determine the playoff combatants.
What we do know is that Ontario's Rachel Homan and her team from Ottawa (10-2) will play in the gold-medal game at 8:30 p.m. (all times Eastern), and reigning champion Kerri Einarson and her Team Canada squad from Gimli, Man., (10-2) will play in the semifinal at 2:30 p.m.
But the other semifinalist won't be known until after a third-place tiebreaker that will feature six-time Scotties champion Jennifer Jones and Manitoba (9-3; Winnipeg) taking on Laura Walker and Alberta (9-3; Edmonton) at 10 a.m.
Under Scotties rules, ties in the standings between playoff teams — Team Ontario and Team Canada, in this instance — can be broken based on their head-to-head result, and Ontario's win over Team Canada on Friday decided the bye to the final. But ties in the standings for the final playoff position must be decided by a tiebreaker game as teams cannot be eliminated from the playoffs based on round-robin head-to-head results. Alberta's head-to-head win over Manitoba will give Team Walker last-rock advantage in the first end of the tiebreaker.
Homan, vice-skip Emma Miskew, second Sarah Wilkes, lead Joanne Courtney, alternate Danielle Inglis and coach Randy Ferbey, meanwhile, can sleep in and relax after nailing down its bye to the final with a 7-2 win over Saskatchewan's Sherry Anderson (6-6; Saskatoon).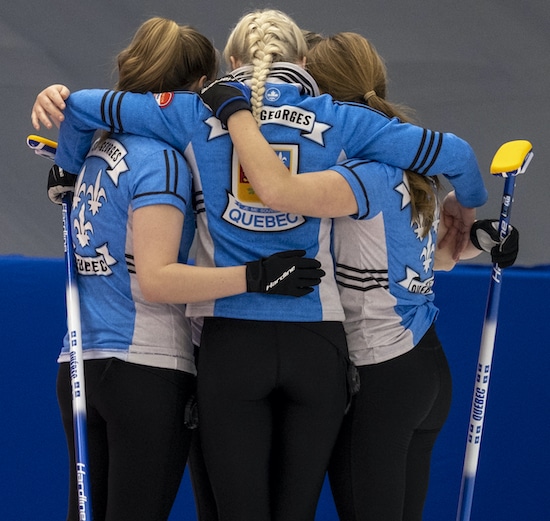 "Personally? Pretty relieved to not have to play three games tomorrow," said a smiling Homan. "But I know we were ready to do whatever it took to be in that final. Thankfully, we were able to get that bye, get some rest and get our feet up."
Homan is seeking her fourth Scotties title, and first since 2017; she lost the 2019 final to Alberta's Chelsea Carey and lost last year's final to Einarson's Manitoba team.
"I mean, that's (playing in the 2021 Scotties final) been our goal ever since our season shut down and we didn't have anything else to play in," she said. "We really wanted to get to the final and see what we could do, and then to be able to put the Maple Leaf on our back would be another dream come true. We're going to work and fight hard to the last rock, and hopefully we can make more (shots) than the other team."
Both Manitoba and Alberta won their games Saturday night to force the tiebreaker. Manitoba needed an extra end to beat Team Canada 10-9, while Alberta stole deuces in the eighth and ninth ends for a 9-4 win over Team Wild Card #1's Chelsea Carey (6-6; East St. Paul, Man.).
In the other Saturday night game, Team Wild Card #3's Beth Peterson (7-5; Winnipeg) turned back Quebec's Laurie St-Georges (6-6; Laval-sur-le-Lac) 10-3.
Live scoring, standings and statistics for the 2021 Scotties Tournament of Hearts are available at www.curling.ca/scoreboard/
TSN and RDS2 (streamed on ESPN3 in the United States) will provide complete coverage of the 2021 Scotties Tournament of Hearts. CLICK HERE for the complete schedule.
This story will be available in French as soon as possible at www.curling.ca/2021scotties/nouvelles/?lang=fr