Champs open with victory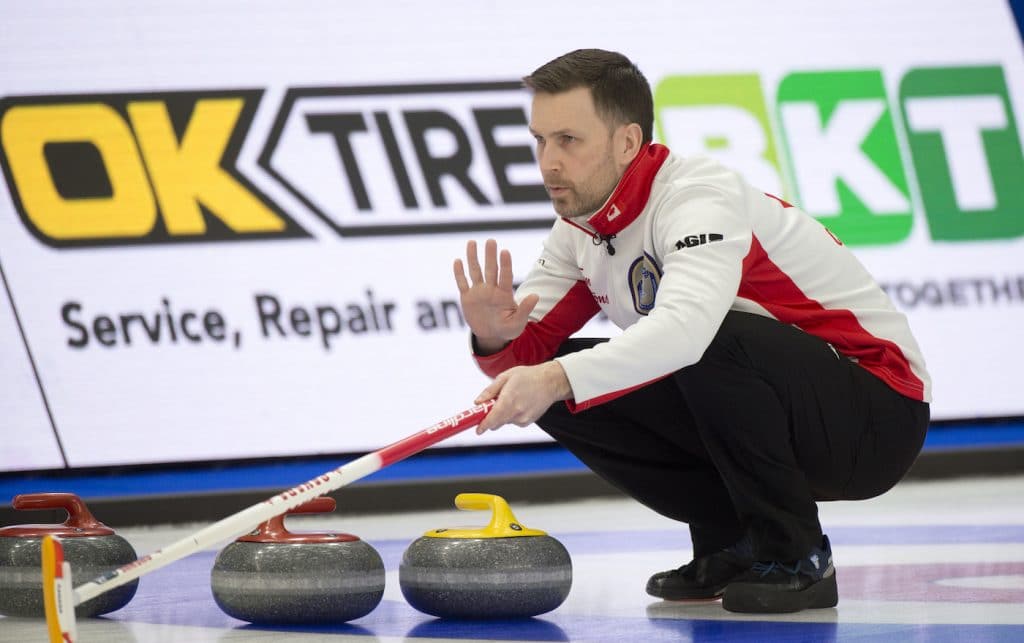 Team Canada opens 2021 Tim Hortons Brier with win over Ontario
Brad Gushue and his reigning Canadian champions from St. John's, N.L., apparently haven't missed a beat.
Despite playing just nine games since their win at the 2020 Tim Hortons Brier in Kingston, Ont., Gushue, vice-skip Mark Nichols, second Brett Gallant and lead Geoff Walker already appear very much in title-defence form.
The early evidence was presented Friday night at WinSport Arena at Canada Olympic Park in Calgary, where Gushue and Team Canada opened the 2021 Tim Hortons Brier, presented by AGI, with a 6-2 win over Ontario's John Epping (Toronto).
Team Canada — alternate Ryan McNeil Lamswood and coach Jules Owchar round out the team — picked up deuces in the fourth and sixth ends and a stolen single en route to the efficient win, in which Gushue was scored at a perfect 100 per cent against Ontario (Epping is backed up by vice-skip Ryan Fry, second Mat Camm, lead Brent Laing and coach Jim Wilson).
Of course, there are always high expectations when Team Gushue steps onto the ice. But 100 per cent??
"They (his own expectations) certainly weren't that," said a chucking Gushue, whose team finished the night at 91 per cent overall. "To use a golf expression, there's no pictures on the scorecard and there were some throws out there that were pretty gross ("Creative," suggested a smiling Nichols, beside Gushue in the interview area). But we got a lot out of every shot, and that was a goal coming into this game. And we got some breaks, too. They had some rocks that ended up in really bad positions that could have been really good, a couple inches here or there. So a bit of luck, but I'll take 91 per cent any day of the week."
Unlike at the Scotties Tournament of Hearts, where every player on the ice on opening night had no idea of what things would be like in the fanless arena, the Tim Hortons Brier competitors had watched enough of the Scotties to know what they were in for, and looked more comfortable in the first draw.
"I actually didn't notice (the lack of atmosphere) as much as I thought I would," said Gushue. "I think that was just the first game, trying not to fall down and hurt ourselves — the nervous legs we had, I felt pretty shaky. Combination of nerves and not practising as much as we normally do. So my focus was just on that."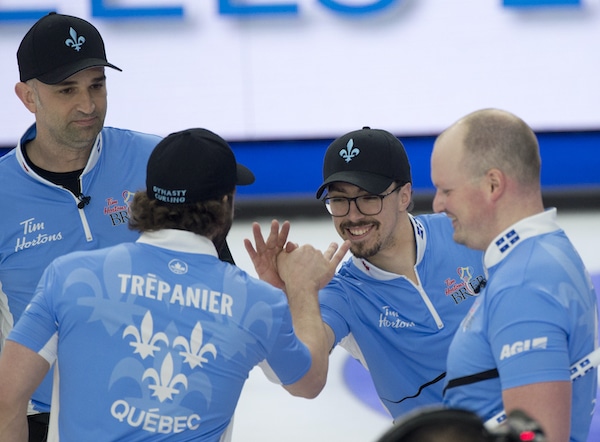 The team had played nine games (all wins) at a pair of bonspiels in Atlantic Canada, but without Walker, who had to remain at his home in Alberta due to pandemic travel restrictions.
"It was great," said Nichols. "We've been looking forward to this, well, since last year's Brier, I guess. That was fun; the lead-up to this has been tough, in terms of the isolation. So to get out there to play a competitive game — it felt exactly how I thought it would. There was no easing into it, and it felt really good."
In other Friday night games, Saskatchewan's Matt Dunstone (Wadena) took five in the third end in a 10-2 win over Nunavut's Peter Mackey (Iqaluit); Team Wild Card #2's Kevin Koe (Calgary) turned back Nova Scotia's Scott McDonald (Halifax) 7-4; and Quebec's Mike Fournier (Montreal) shaded Newfoundland/Labrador's Greg Smith (St. John's) 7-6.
The 2021 Tim Hortons Brier continues with draws Saturday at 10:30 a.m., 3:30 p.m. and 8:30 p.m. (all times Eastern).
Live scoring, standings and statistics for the 2021 Tim Hortons Brier are available at www.curling.ca/scoreboard/
TSN and RDS2 (streamed on ESPN3 in the United States) will provide complete coverage of the 2021 Tim Hortons Brier. CLICK HERE for the complete schedule.
This story will be available in French as soon as possible at www.curling.ca/2021brier/nouvelles.