Women's worlds added to bubble!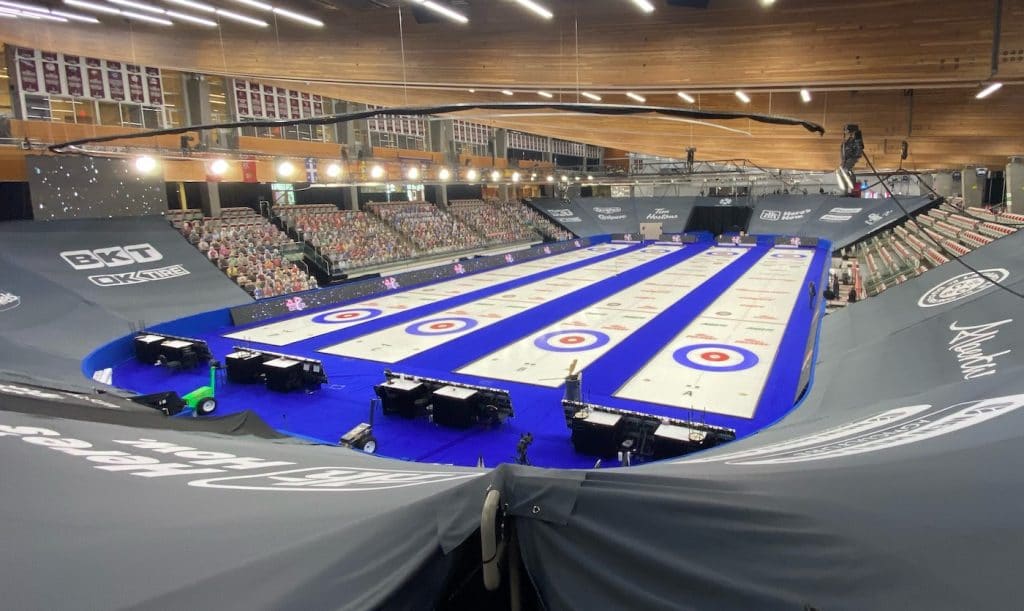 Calgary to host LGT World Women's Curling Championship 2021
There will be a world women's curling champion crowned in 2021 after all.
The LGT World Women's Curling Championship 2021, presented by BKT Tires, will be played in a no-fans, safe environment at WinSport Arena at Canada Olympic Park in Calgary, it was announced jointly today by the World Curling Federation and Curling Canada.
The championship, which will feature 14 teams, will be played from April 30-May 9. In addition to crowning a world women's champion, the event also will determine most of the countries that will compete at the 2022 Winter Olympics in Beijing. The top six finishing countries in the bubble in Calgary will qualify for the Games.
"We are delighted to have reached an agreement to hold the LGT World Women's Curling Championship in the Calgary bubble. This is a vitally important championship for Olympic Qualification," said World Curling Federation President Kate Caithness. "We are extremely grateful to Curling Canada and all our stakeholders for their willingness to work together, and at such short notice, to ensure that qualification for Beijing 2022 happens on the ice and in competition."
The LGT World Women's Championship 2021 will cap an unprecedented run of events that are being staged in the bubble in Calgary, including the 2021 Scotties Tournament of Hearts, the 2021 Tim Hortons Brier, presented by AGI, the 2021 Home Hardware Canadian Mixed Doubles Championship, presented by Nature's Bounty and the BKT Tires/OK Tire World Men's Championship 2021, presented by New Holland, as well as two Pinty's Grand Slam of Curling events — the Players' Championships and the Champions Cup, which will immediately precede the LGT World Women's Championship.
"We've been saying all year that unique circumstances present unique opportunities for unique solutions, and we're thrilled that we can play a role in making this championship happen in the bubble in Calgary," said Katherine Henderson, Chief Executive Officer of Curling Canada. "The protocols that have been in place for the early events in Calgary have proved successful in keeping athletes, officials and the host city safe, so we feel good about this plan carrying on successfully through to the end of the LGT World Women's Championship.
"Our Board of Governors has been truly supportive of our plans from Day 1 as we started down this road, and then as this late situation presented itself, they again stood behind us. It is a result of the positive relationships between our Board and the World Curling Federation that we have been entrusted with this opportunity. Our sincere thanks also go to Tourism Calgary, the Province of Alberta and Alberta Health for all they've done on behalf of these bubble events."
Canada will be represented by Team Kerri Einarson, who won the 2021 Scotties Tournament of Hearts on Sunday in Calgary.
"We were thrilled to get this news this week, and we could not be more thankful for the efforts of the World Curling Federation and Curling Canada to make this possible," said Einarson, who along with vice-skip Val Sweeting, second Shannon Birchard, lead Briane Meilleur, alternate Krysten Karwacki and coach Heather Nedohin defeated Ontario's Rachel Homan 9-7 in the Scotties gold-medal game. "Having been so close to playing in the worlds last year, we truly appreciate this opportunity and we'll be working hard to prepare to wear that Maple Leaf in Calgary again."
Other competing teams at the LGT World Women's Championship 2021 in Calgary will be the United States, Scotland, Switzerland, Sweden, Italy, Estonia, Germany, the Czech Republic, Denmark, China, Japan, South Korea and Russian Curling Federation athletes.
"Adding the World Women's championship to Curling Canada's bubble here in Calgary is great news for our city," said Carson Ackroyd, Senior Vice President, Tourism Calgary. "Extending the length of this safe event will grow the $11+ million in economic impact that is supporting our hospitality and tourism sector at a critical time. The addition of the Women's World Championship will also extend global broadcast exposure that will drive tourism to Calgary when the time is right."
The LGT World Women's Championship 2021 was originally scheduled for March 19-28 in Schaffhausen, Switzerland, but the World Curling Federation announced on Feb. 8 that the event could not take place because Swiss health authorities were not granting permission for the championship to proceed during the COVID-19 pandemic.
It will mark the first time since 2004 at Gävle, Sweden, that the women's and men's world championships have been staged in the same city in the same year, although from 1989 through 2004, the events were held simultaneously.
The world women's championship began in 1979 in Perth, Scotland, and was contested separately from the men's championship through 1988. During that time, the women's event was held twice in Canada, in 1983 in Moose Jaw and 1986 in Kelowna.
In 1989, the championships were combined for the first time in Milwaukee, Wisc., and remained so through 2004. During that time, Canada first hosted the joint championships in 1991 in Winnipeg, followed by five Ford World Men's and Women's Curling Championships (Brandon, Man., 1995; Hamilton, 1996; Kamloops, 1998; Saint John, N.B., 1999 and Winnipeg, 2003).
Beginning in 2005, when the men's and women's world championships were separated once again, Curling Canada, known then as the Canadian Curling Association, agreed to alternately stage a men's and women's event in Canada each year.
Canada has won a leading 17 women's world titles since 1979; Sweden is next at eight.