Middaugh makes memorable return!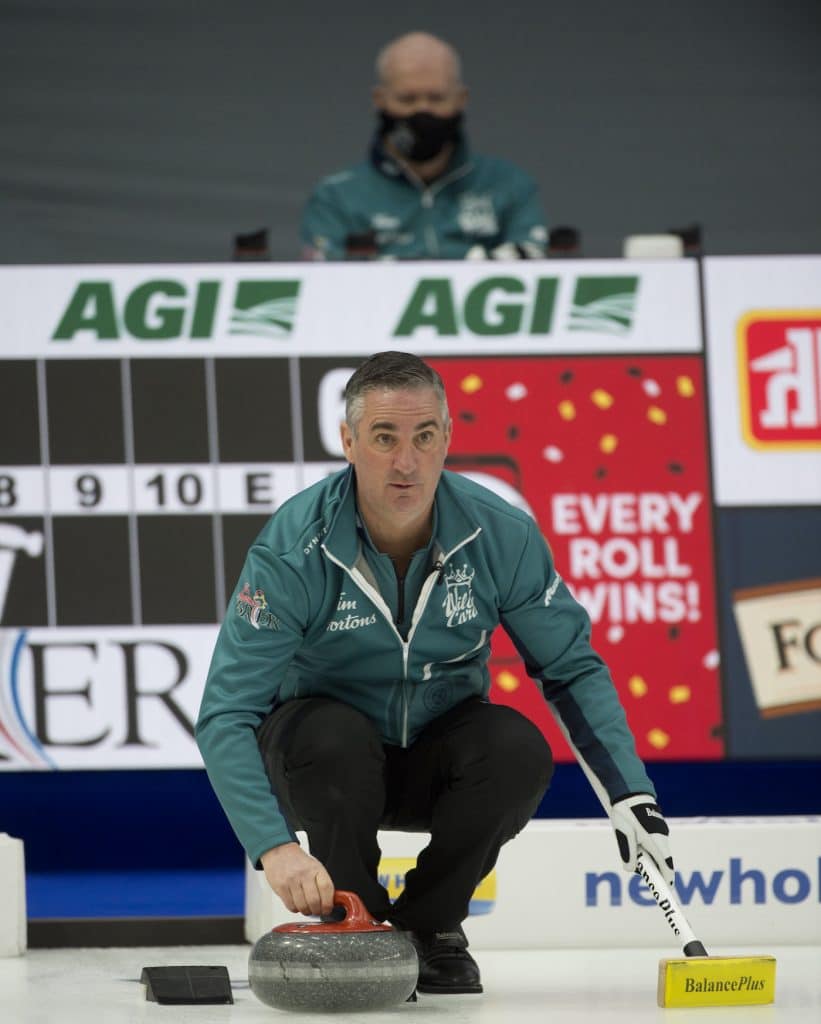 Middaugh makes a winning return to Tim Hortons Brier
Wayne Middaugh hadn't thrown a stone at the Tim Hortons Brier since 2013 in Edmonton; hadn't thrown a stone in a high-level game of ANY kind in more than five years.
Saturday morning at WinSport Arena at Canada Olympic Park in Calgary, you'd have never known. There was Middaugh, one of the most gifted curlers in the history of the sport, shaking off the rust and making crucial shots on demand, and leading Team Wild Card #3 to a 9-5 win over Greg Skauge of the Northwest Territories (Yellowknife) in the opening game for both teams at the 2021 Tim Hortons Brier, presented by AGI.
"It's awesome, it's unbelievable," said a genuinely happy Middaugh after the game. "You played your whole life to get to play in the Brier, and here I am. I don't know how I got here, but here I am."
Five years ago, Middaugh, who was inducted into the Canadian Curling Hall of Fame at last year's Tim Hortons Brier in Kingston, Ont., was forced to leave curling after ski accident shattered 11 bones in his left leg, resulting in months in a wheelchair and physiotherapy just to allow him to walk again.
Ironically, it was another winter sports accident that got Middaugh back on the ice at the Tim Hortons Brier; Glenn Howard, with whom Middaugh won two of his three Tim Hortons Brier and three world championship gold medals (1993, 2012), suffered broken ribs in a snowmobile crash a few weeks ago, and while he can throw rocks in a pinch for Team Wild Card #3 in Calgary, it's likely he'll spend this Tim Hortons Brier watching from behind the scoreboard.
"I'm feeling very fortunate; I had a very serious accident, but I'm here, I'm breathing, I'm standing," said Howard, a four-time Tim Hortons Brier and world champion. "Obviously, I'm not curling, which is completely fine — I'm at peace with that. But to have my buddy Wayner out here — his career was cut short five years ago when he decimated his leg, and it's so cool (that he's here). I think I was more excited for him to play than he was. And he threw a hell of a game. He's in game shape, believe me."
Team Wild Card #3 (the team is rounded out by vice-skip Scott Howard, second David Mathers and lead Tim March) picked up three in the second end and a deuce in the fourth on draws from Middaugh.
But Skauge, backed up by vice-skip Tom Naugler, second Brad Patzer, lead Robert Borden and alternate David Aho, applied pressure in the sixth end and Middaugh was looking at three and needing to make a cold draw to the four-foot to score — a scenario he'd faced countless times in the past, and Middaugh drew on that experience and did it again.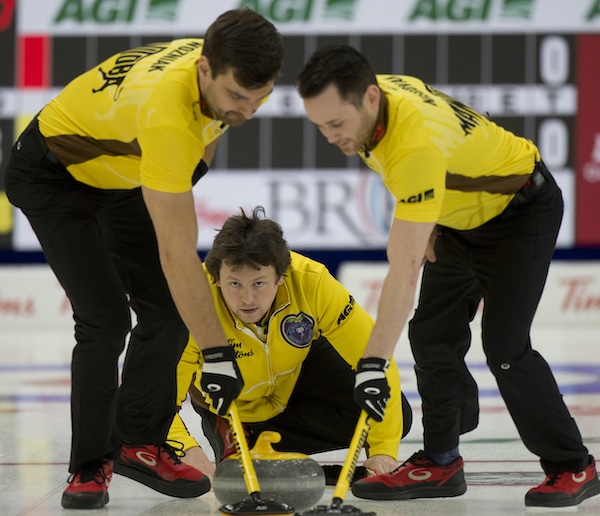 "That was Wayne's big test," said Howard. "He'd played so well to that point, and that was the first test. You could see when he let it go, the boys loved it. They just kept it clean; Wayne made it out of his hand. That's what Wayne does. And that's why we brought him here. Guys, this is the difference between Wayne and anybody else. He hasn't played a competitive game in five years, and yet he goes out there and draws to the four-foot when he needs to. Boys, that's what we expected and that's what we got from him today."
In other Saturday morning games, New Brunswick's James Grattan (Oromocto) stole single points in the fourth, seventh and eighth ends en route to a 6-3 win over Team Wild Card #1's Mike McEwen (West St. Paul, Man.); Northern Ontario's Brad Jacobs (Sault Ste. Marie) rolled to an 11-3 win over the Yukon's Dustin Mikkelsen (Whitehorse); and Manitoba's Jason Gunnlaugson (Morris) scored a deuce in the 10th end for a 5-4 win over Alberta's Brendan Bottcher (Edmonton).
The 2021 Tim Hortons Brier continues Saturday with draws at 3:30 p.m. and 8:30 p.m. (all times Eastern).
Live scoring, standings and statistics for the 2021 Tim Hortons Brier are available at www.curling.ca/scoreboard/
TSN and RDS2 (streamed on ESPN3 in the United States) will provide complete coverage of the 2021 Tim Hortons Brier. CLICK HERE for the complete schedule.
This story will be available in French as soon as possible at www.curling.ca/2021brier/nouvelles.