Champs back on track!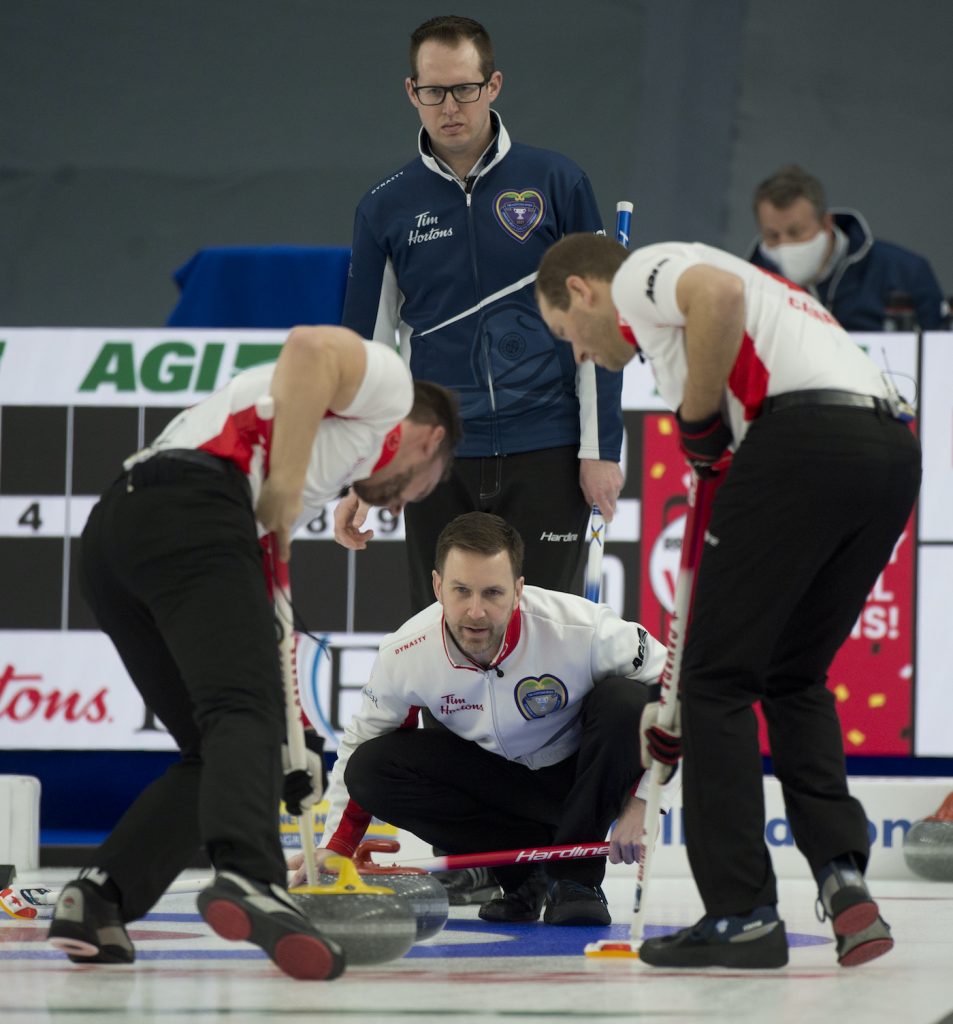 Team Canada snaps losing streak at 2021 Tim Hortons Brier
Just a reminder to those who were hitting a panic button over Team Canada losing two early games at the 2021 Tim Hortons Brier, presented by AGI — this is NOT unfamiliar territory for Brad Gushue and his team from St. John's, N.L.
Four years ago on home ice in St. John's, you may recall, Gushue, vice-skip Mark Nichols, second Brett Gallant, lead Mark Nichols and coach Jules Owchar did not exactly break quickly out of the gates, and found themselves sitting at 3-2 and looking a little bewildered by their early inconsistency.
We all know how THAT ended — Gushue and Co. would win their next eight games to capture their first Tim Hortons Brier, and went on to win gold, undefeated, at the world championship.
Four years later, there are again two early losses on the board for Gushue's Team Canada crew at WinSport Arena at Canada Olympic Park in Calgary, but there is nowhere near the level of concern that there was at St. John's in 2017, when Gushue conducted a memorable team meeting following a loss to the Northwest Territories to get his team back on track.
"I think the fact we have two losses this early has kind of put us a little further back in the pack. But we've been here before," said Gushue, moments after his team ended a two-game losing streak and improved to 3-2 with an 8-6 win over Nova Scotia's Scott McDonald (3-3; Halifax). "We've had early losses before. But the good thing for us is that they came against two very good teams (Saskatchewan's Matt Dunstone on Monday, Team Wild Card #2's Kevin Koe on Sunday) that are probably going to be around at the end of the week. As long as we get through the rest of this pool play with a 6-2 record, then we grind it out on Friday and Saturday (in the Championship Pool) and see how things shake out.
"I think with the amount of upsets that have happened, three losses is still going to be in play. So we have a little bit of cushion, but I don't really want to use it. I think we've used enough cushion at this point."
Team Canada was in control from start to finish against Nova Scotia (McDonald is backed up by vice-skip Paul Flemming, second Scott Saccary, lead Phil Crowell and alternate Kevin Oeullette), scoring two to open the game and adding three more in the third en route to the victory.
Team Canada (alternate Ryan McNeil Lamswood rounds out the lineup) did have a team meeting Monday after the loss to Saskatchewan, and came to the conclusion that there were more good things than bad things happening for the team — just some minor fixes were required.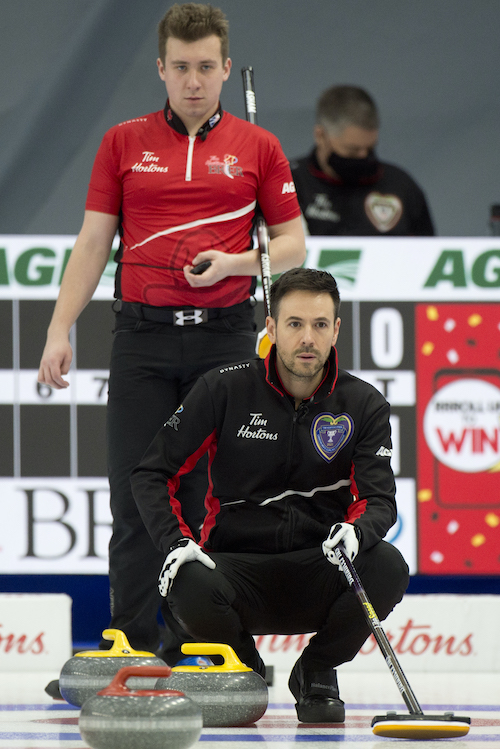 "Against Saskatchewan, we were tied, then my rock picks (on a draw against two to take the lead), and all of a sudden we're down two. Big momentum swing," said Gushue. "And obviously against Kevin (Koe), we were leading coming into the last end (before Team Wild Card #2 scored three in the 10th for the win). So it's not like we're in a terrible position. It was just about trying to take the positives from what's happened so far and make some changes. I think we made a small step forward today, but there's still some stuff we need to clean up
"I kind of like where we are. I really like how I'm throwing the rock over the last couple games. My leg felt a little tight in the first couple games, but I feel really good now. And I like what I'm seeing from the rest of the team. There are some things we can clean up, but based on the way the year was, and how the first part of the week went, I think we're in a good place."
In the other Tuesday afternoon games, Ontario's John Epping (4-1; Toronto) toppled Newfoundland/Labrador's Greg Smith (1-5; St. John's) 9-4; Prince Edward Island's Eddie MacKenzie (1-4; Crapaud/Montague) picked up his first win, dispatching Nunavut's Peter Mackey (0-5; Iqaluit) 7-4; and Saskatchewan (4-1; Wadena) got past Quebec's Mike Fournier (3-3; Montreal/Valleyfield) 9-6.
The 2021 Tim Hortons Brier continues with the Tuesday evening draw at 8:30 p.m. (all times Eastern).
Live scoring, standings and statistics for the 2021 Tim Hortons Brier are available at www.curling.ca/scoreboard/
TSN and RDS2 (streamed on ESPN3 in the United States) will provide complete coverage of the 2021 Tim Hortons Brier. CLICK HERE for the complete schedule.
This story will be available in French as soon as possible at www.curling.ca/2021brier/nouvelles.