Another Wild win for Middaugh!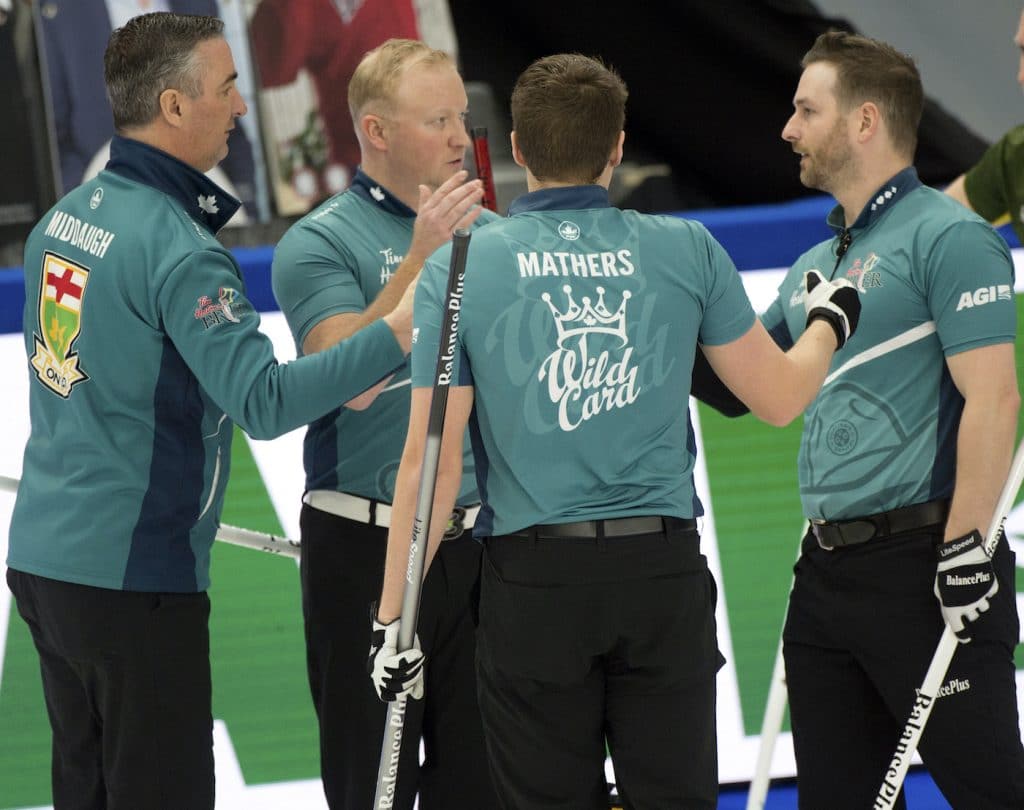 Team Wild Card #3 clinches Championship Pool berth at Tim Hortons Brier
Seven days ago, Team Wild Card #3 stepped on to the ice at WinSport Arena at Canada Olympic Park in Calgary for its first practice session of the 2021 Tim Hortons Brier, presented by AGI.
Onlookers probably didn't have too many expectations for the team from Penetanguishene, Ont. Skip Glenn Howard had indicated he wouldn't play much, if any, after breaking ribs in a snowmobile accident a few weeks ago. And the guy they'd brought in to replace him had a steel rod in his leg after breaking 11 bones in a 2016 ski accident, hadn't played in a competitive curling event in five years and hadn't skipped at a Tim Hortons Brier since 2005.
A week later? This team is unquestionably THE story of the 2021 Tim Hortons Brier, as fill-in skip Wayne Middaugh (steel rod and all), along with vice-skip Scott Howard, second David Mathers and lead Tim March, with Glenn Howard cheering/coaching from behind the scoreboard, are headed to the Championship Pool in the bubble.
Team Wild Card #3 improved its record to 6-1 on Thursday morning with a hard-fought 8-6 win over Northern Ontario's Brad Jacobs (5-3; Sault Ste. Marie).
"That's whack that we're in the Championship Pool. That's not right at all," said a chuckling Middaugh shaking his head in wonder. "But you know what? It's great. Our goal is to win as many games as we can, and if that gets us to the playoffs at the end of the week, fantastic. But we're really starting to head into the deep end of the pool, we're playing (Manitoba's Jason) Gunnlaugson (later on Thursday), who's had a great run. And then, oh, we only have to play (Kevin) Koe, (Brad) Gushue, (John) Epping — there's no soft touches. You just come out, stand on your head, and hope you're good enough."
It would seem, though, that Middaugh and Team Wild Card #3 should be beyond hoping at this stage; they've presented enough compelling evidence that they are indeed good enough, and Thursday morning was further proof.
Middaugh manufactured a first-end deuce and added a steal of one in the second, and another deuce in the sixth, and Northern Ontario was chasing through the entire game.
Middaugh is a three-time Tim Hortons Brier and world men's champion, the most recent of them coming in 2012 when he played vice-skip for Glenn Howard.
It's his 10th trip to the Tim Hortons Brier, and, he agreed when asked the question, it might be the most fun he's ever had at a Canadian men's curling championship, even without fans in the bubble in Calgary.
"It's pretty good, isn't it?" said Middaugh. "And probably because because we weren't expected to do this well, whereas some of the other Briers, we were. They were a little more pressure. But this one, coming in as the Wild Card, with a guy who hasn't curled in five years, hasn't skipped in a Brier in 15, 16 years (2005 at Edmonton), so expectations weren't super high. We knew we could make a lot of shots, but you know what? We weren't sure we could run with the big guys. Turns out, if we play really well, and get some breaks — things are going our way. Knock on wood, let's keep it going."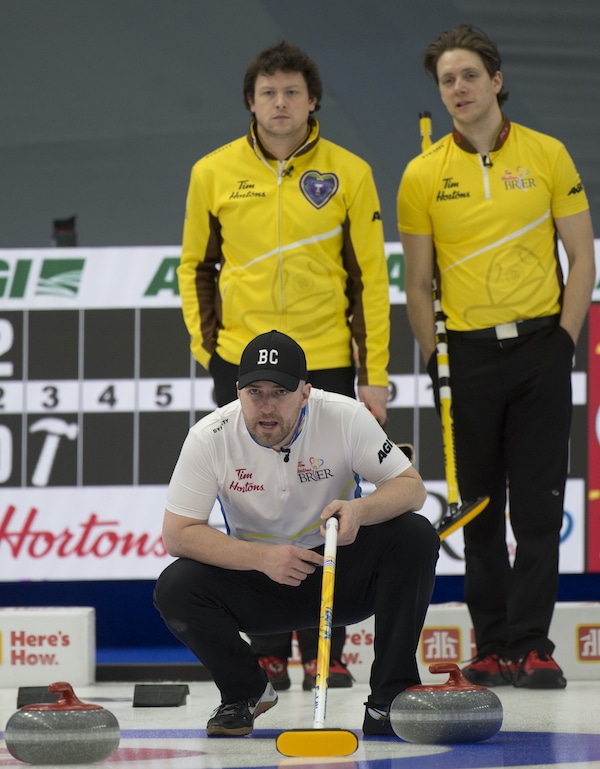 In other games, Alberta's Brendan Bottcher (5-2; Edmonton) scored five in the sixth end en route to an 11-2 win over the Yukon's Dustin Mikkelsen (0-7; Whitehorse); and Team Wild Card #1's Mike McEwen (3-4; West St. Paul, Man.) turned back Greg Skauge of the Northwest Territories (1-6; Yellowknife) 12-3; and B.C.'s Steve Laycock, with Jim Cotter calling the shots (3-4; Vernon) beat Manitoba (5-2; Morris) 7-4.
Only Team Wild Card #3 has locked up a berth in the Championship Pool out of Pool A, while Manitoba, Alberta and Northern Ontario all have tiebreaker berths clinched. Later Thursday, should New Brunswick's James Grattan (4-3; Oromocto) beat the Northwest Territories, a tiebreaker draw would be played Friday at 10 a.m. (all times Eastern).
The final round of Pool B preliminary play is scheduled for Thursday at 3:30 p.m., and the top four finishers will move on to the Championship Pool with the top four from Pool A. They will play crossover games Friday and Saturday, with their preliminary records carrying forward.
The top three teams after the Championship Pool games will make the playoffs; the first-place team after the Championship Pool will go straight to the gold-medal game (Sunday, 8:30 p.m.; all times Eastern), while the second- and third-place teams will meet in the semifinal (Sunday, 2:30 p.m.).
Live scoring, standings and statistics for the 2021 Tim Hortons Brier are available at www.curling.ca/scoreboard/
TSN and RDS2 (streamed on ESPN3 in the United States) will provide complete coverage of the 2021 Tim Hortons Brier. CLICK HERE for the complete schedule.
This story will be available in French as soon as possible at www.curling.ca/2021brier/nouvelles.