We're down to eight!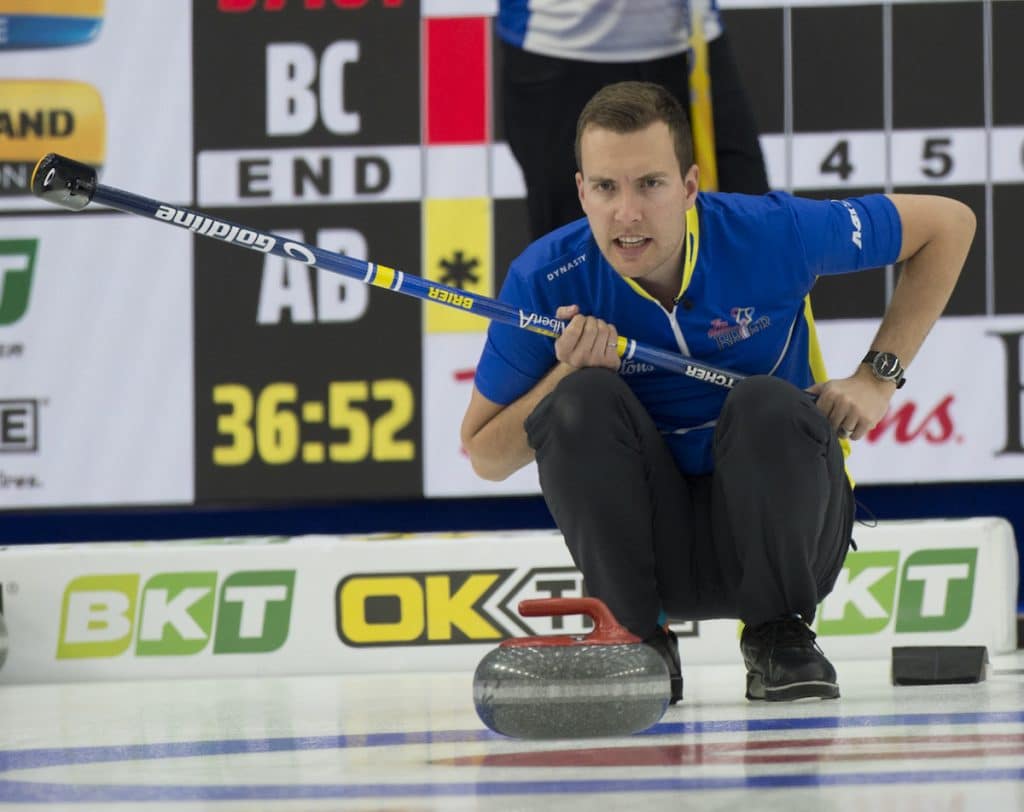 Championship Pool teams set at 2021 Tim Hortons Brier
There will be no shortage of tension, intrigue and pressure shot-making as Championship Pool play begins on Friday at the 2021 Tim Hortons Brier, presented by AGI.
Eight teams will begin the Championship Pool Friday at 2:30 p.m. (all times Eastern), playing down to determine the three playoff teams that will still be alive on Sunday, battling for the right to host the Tim Hortons Brier Tankard.
Four past champion skips (reigning champion Brad Gushue of Team Canada; Team Wild Card #2's Kevin Koe; Team Wild Card #3's Wayne Middaugh; and Northern Ontario's Brad Jacobs) are among those final eight, along with a pair of past Canadian junior champions — Saskatchewan's Matt Dunstone and Alberta's Brendan Bottcher.
That final eight was nailed down on Thursday night at WinSport Arena at Canada Olympic Park in Calgary, as Pool A wrapped up play. Team Wild Card #3 (7-1; Penetanguishene, Ont.), Alberta (6-2; Edmonton), Northern Ontario (5-3; Sault Ste. Marie) and Manitoba's Jason Gunnlaugson (5-3; Morris) earned berths by virtue of their top four finishes.
Earlier in the day, Team Wild Card #2 (7-1; Calgary), Team Canada (6-2; St. John's, N.L.), Ontario's John Epping (6-2; Toronto) and Saskatchewan (6-2; Wadena) qualified out of Pool A.
Beginning Friday afternoon, the Pool A teams will go head to head with the Pool B teams, with their preliminary records carrying forward.
And at the end of it, the top three teams after the Championship Pool games will make the playoffs; the first-place team after the Championship Pool will go straight to the gold-medal game (Sunday, 8:30 p.m.; all times Eastern), while the second- and third-place teams will meet in the semifinal (Sunday, 2:30 p.m.).
"Our first goal was to make it to the second round, and our next goal is to make it to the third round (playoffs on Sunday)," said Middaugh, who along with vice-skip Scott Howard, second David Mathers, lead Tim March and alternate Glenn Howard. "We'll go out there and keep doing what we're doing. The boys are putting in 110 per cent on the ice, making a ton of shots."
And a reminder — Middaugh hasn't played a competitive curling event for five years.
"I came in here literally on five weeks of practice after not curling for five years," he said with a laugh. "It's the exact opposite of everything that should be happening."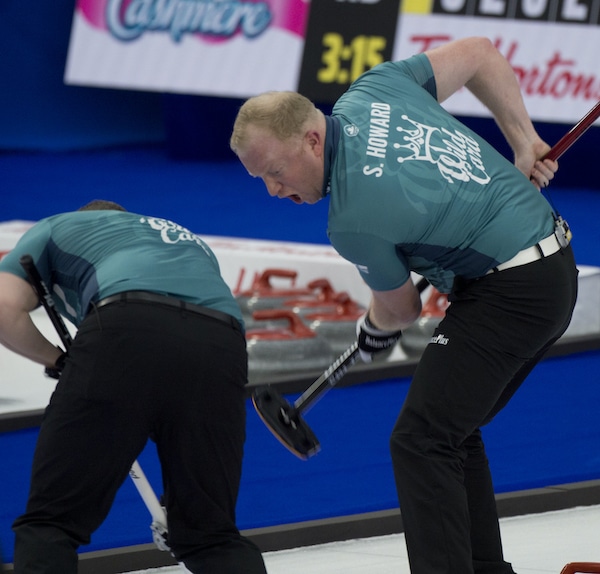 Alberta, meanwhile, needed a game-winning angle takeout from Bottcher to score three in the 10th end and beat B.C.'s Steve Laycock (3-5; Vernon), setting off an emotional celebration for Bottcher, vice-skip Darren Moulding, second Brad Thiessen, lead Karrick Martin, alternate Patrick Janssen and coach Don Bartlett.
"A week like this, you can't afford to give away any losses; a loss today is just as bad as a loss tomorrow or a loss on Saturday," said Bottcher. "So definitely getting the win your column is huge."
The game was delayed by 45 minutes due to an ice problem caused by Laycock smacking his broom into the ice. He will be fined by Curling Canada for the incident.
In the other late games, Team Wild Card #1's Mike McEwen (4-4; East St. Paul, Man.) beat the Yukon's Dustin Mikkelsen (0-8; Whitehorse) 14-2; and Greg Skauge of the Northwest Territories (2-6; Yellowknife) knocked off James Grattan of New Brunswick (4-4; Oromocto) 10-6.
The 2021 Tim Hortons Brier continues with draws Friday at 2:30 p.m. and 8:30 p.m. (all times Eastern).
Live scoring, standings and statistics for the 2021 Tim Hortons Brier are available at www.curling.ca/scoreboard/
TSN and RDS2 (streamed on ESPN3 in the United States) will provide complete coverage of the 2021 Tim Hortons Brier. CLICK HERE for the complete schedule.
This story will be available in French as soon as possible at www.curling.ca/2021brier/nouvelles.