All-Alberta Brier final!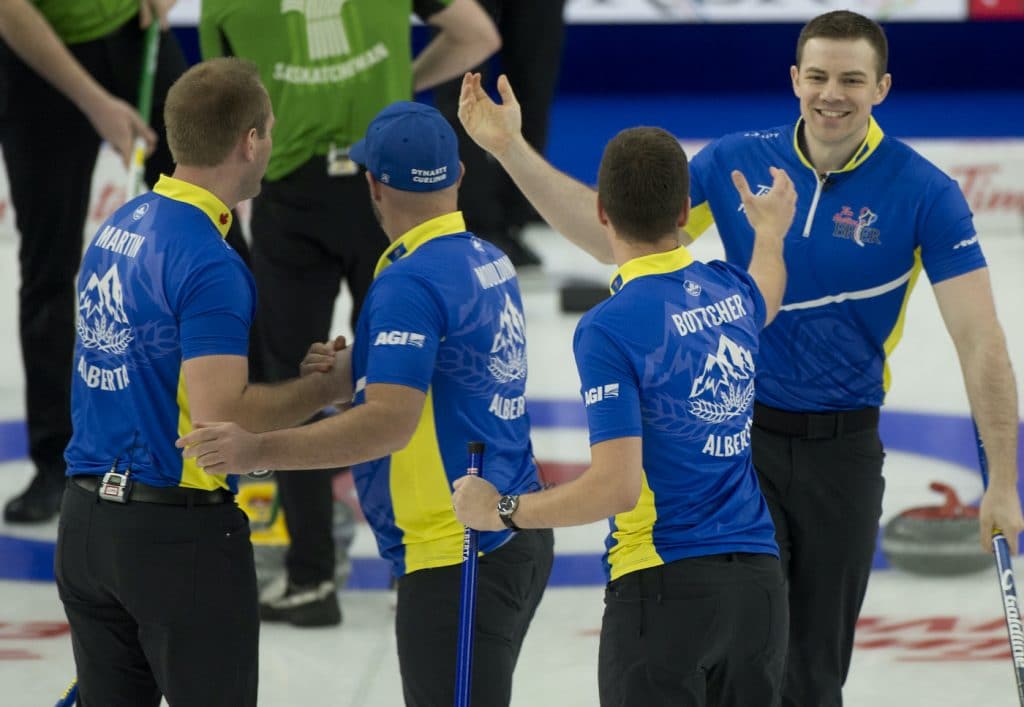 Team Alberta claims semifinal victory at 2021 Tim Hortons Brier
Brendan Bottcher's Edmonton team will get another shot at Tim Hortons Brier gold.
After taking home silver medals from the past three editions of the Canadian men's curling championship, Bottcher, vice-skip Darren Moulding, second Brad Thiessen, lead Karrick Martin, alternate Patrick Janssen and coach Don Bartlett will try to end that streak Sunday when they meet Team Wild Card #2's Kevin Koe of Calgary in the gold-medal game of the 2021 Tim Hortons Brier, presented by AGI.
It will be a rematch of the 2019 Tim Hortons Brier final at Brandon, Man., where Koe made a dramatic double-takeout to score two in the 10th end for a 4-3 win.
Bottcher, who earlier on Sunday was announced as the winner of the Ross Harstone Award for sportsmanship after a vote of his peers, made a stunning 13-foot angle-raise takeout (CLICK HERE to see it) to remove a Saskatchewan stone biting the button to score the winning deuce in a 6-5 win.
"I think in that moment you just have to throw it as good as you can and hope you're close," said Bottcher. "Obviously a super-difficult shot, but those are the moments we're playing for. It's really going to take that degree of difficulty on those shots to win this thing, so I hope we can carry that forward and keep the momentum going here this evening."
It was a back-and-forth semifinal, with the teams trading single points over the first seven ends (with a blank thrown in). But with last-rock advantage in the eighth end in a 3-3 tie, Dunstone overcurled on an open hit for one and rolled out, leaving Alberta with a go-ahead steal.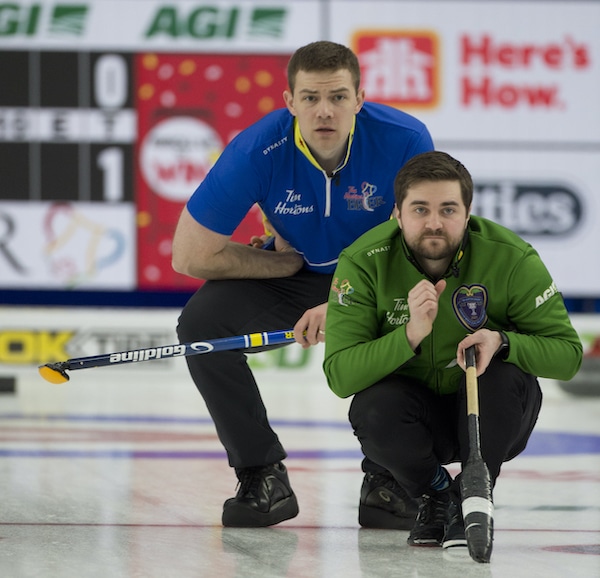 But Saskatchewan bounced back nicely in the ninth with the game's first deuce to take a 5-4 lead, setting the stage for Bottcher's heroics in the 10th.
"There's nothing to hang our heads about; it was a world-class game," said Dunstone, who along with vice-skip Braeden Moskowy, second Kirk Muyres, lead Dustin Kidby and coach Adam Kingsbury earned bronze medals and third-place prize money of $40,000. "They played awesome, we played awesome, and the curling gods were wearing a blue sweater today. That's all there is to it. Totally stinks, but this isn't the end of us. We'll come back stronger. You keep putting yourself in these sorts of situations, you're going to succeed eventually. That's all we can really do. It's meant to be at some point."
It was the second straight year that Dunstone's Saskatchewan team captured bronze medals, and as disappointing as the result was, the two-time Canadian junior champ had some perspective on the situation.
"To be able to feel all the emotions again — how lucky are we to actually be here right now, competing, and playing on the biggest possible stage?" he said. "I know it's upsetting right now, but in the grand scheme of things, it's really a blessing to be out here competing in a global pandemic, when there are so many other things going on in the world. Pretty thankful for the experience."
The gold-medal game is scheduled for 8:30 p.m. Eastern on TSN/RDS2 and ESPN3 in the U.S.
The winning team will take the top prize of $100,000 and will represent Canada at the 2021 BKT Tires & OK Tire World Men's Curling Championship, April 2-11 in the bubble in Calgary.
Live scoring, standings and statistics for the 2021 Tim Hortons Brier are available at www.curling.ca/scoreboard/
This story will be available in French as soon as possible at www.curling.ca/2021brier/nouvelles.