New pairing gets first win!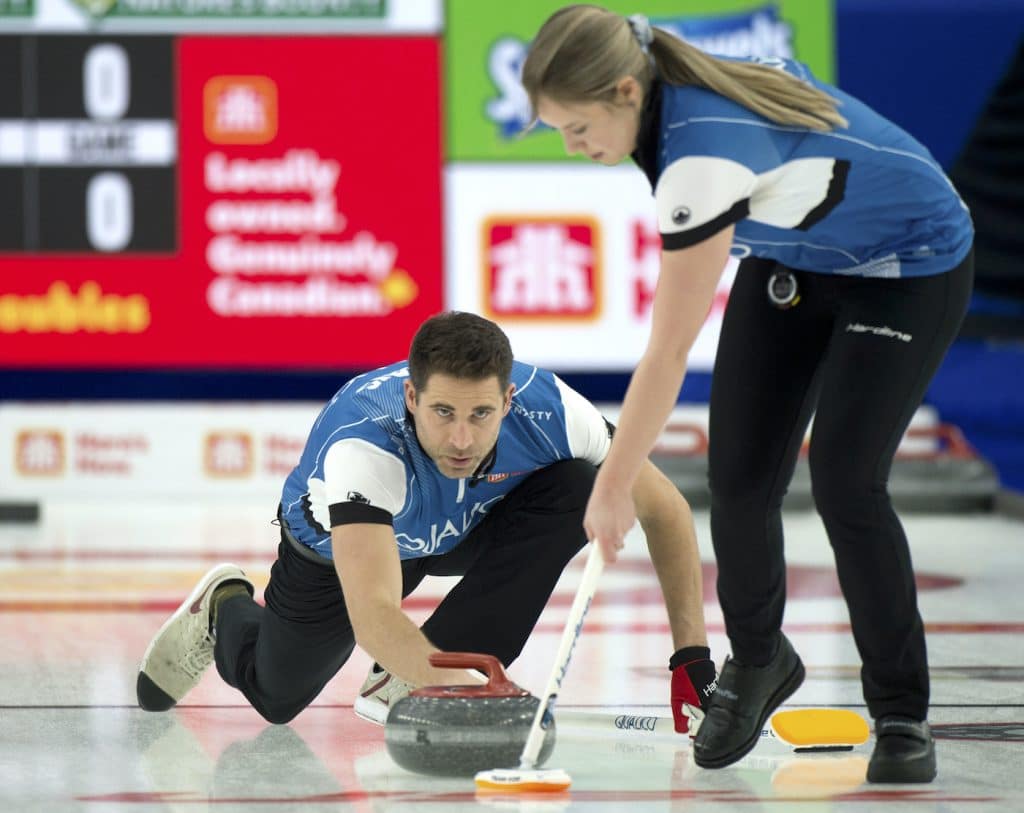 Schmiemann/Morris hit win column at Home Hardware Mixed Doubles
It had been roughly 72 hours since John Morris had thrown his last competitive curling rock prior to Thursday the opening day of the 2021 Home Hardware Canadian Mixed Doubles Championship, presented by Nature's Bounty.
That, of course, took place in the gold-medal game of the 2021 Tim Hortons Brier, with Morris throwing second rocks for the Kevin Koe-skipped Team Wild Card #2.
But for Morris's partner, Danielle Schmiemann? Well, it seemed like an eternity since she had thrown a meaningful rock, so it wasn't a surprise that she struggled a bit in the team's loss on Thursday.
Friday, however, was a different story at WinSport Arena at Canada Olympic Park. Schmiemann — taking the place of Morris's regular partner Rachel Homan, who's due to give birth soon — played a superb game as she and Morris (1-1; Edmonton/Canmore, Alta.) shaded Kaitlyn Lawes and nephew Connor Lawes (0-2; Winnipeg/Collingwood, Ont.) 6-5 in an extra end Friday at WinSport Arena at Canada Olympic Park in Calgary.
"The first game, I think I was still getting my feet underneath me a little bit; it's been a long time since I've played in a competitive curling game," said Schmiemann, a former Canadian and world junior champ, and Universiade gold-medallist, playing with Kelsey Rocque. "So it took one for me to feel a little bit more comfortable out there, and that was a lot better, for sure."
You knew Schmiemann was feeling more comfortable pretty early; in the first end, after Kaitlyn Lawes had made a marvellous triple takeout to sit three, Schmiemann calmly drew to the four-foot to score a single.
"It's nice when that's the shot you're playing pretty much all week, so to lnow that that's in your back pocket, it helps a little bit," she said. "But honestly, the fact that it was against three, I don't even remember."
"Minor details," chimed in Morris with a laugh.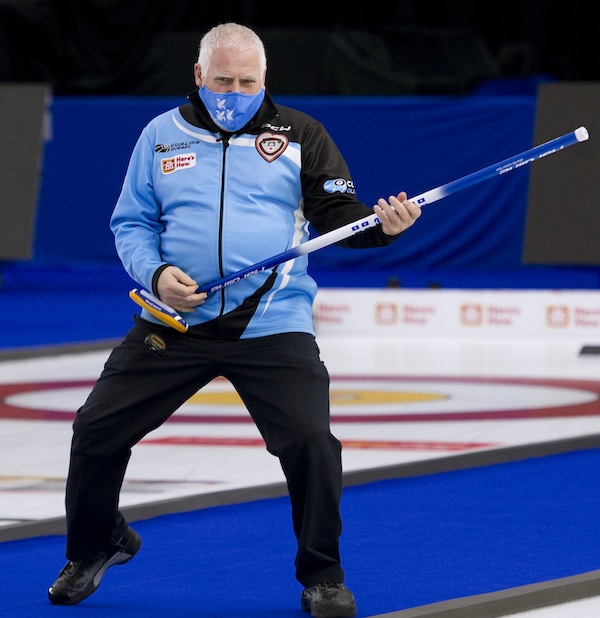 It was a matchup of former teammates — Lawes and Morris — who made history as the first Olympic mixed doubles gold-medallists.
"We still have a ton of respect for each other, and I know that we're both competitors," said Morris. "As excited as both of us were to play in that game, we were both givin' 'er today. I think you saw that in the shotmaking. I think both teams played fantastic. Kaitlyn was herself; that's the Kaitlyn I know, and who I played in the Olympics with; she was making a ton of shots. I felt really lucky to have a partner who was going head to head with her. It was just a great battle to be a part of, and I look forward to a bunch more beauty matches the rest of the week here."
"That's a big win," added Schmiemann. "You don't want to drop two early, especially in this pool format with no tiebreakers. Our pool is probably one of the most even across the board, and I feel like all of our games are going to be like that. Lots of tough games coming up."
In other Draw 8 games, Joanne Courtney and Darren Moulding (3-0; Lacombe, Alta.) became the first team to hit the three-win mark, doubling Melissa Adams and Alex Robichaud (0-2; Fredericton) 6-3; Kadriana Sahaidak and Colton Lott (2-0; Winnipeg Beach, Man.) were 8-5 winners over Brittany Tran and Aaron Sluchinski (1-1; Calgary/Airdrie, Alta.); and Laurie St-Georges and Félix Asselin (2-0; Montreal) shaded Émilie Desjardins and Robert Desjardins (1-2; Chicoutimi, Que.) in an all-Quebec showdown.
The 2021 Home Hardware Canadian Mixed Doubles Championship continues with draws Friday at 7:30 p.m. and 10:30 p.m. (all times Eastern).
Live scoring, standings and statistics for the 2021 Home Hardware Canadian Mixed Doubles Championship are available at www.curling.ca/scoreboard/
TSN and RDS2 (streamed on ESPN3 in the United States) will provide complete coverage of the 2021 Home Hardware Canadian Mixed Doubles Championship. CLICK HERE for the complete schedule.
This story will be available in French as soon as possible at www.curling.ca/2021mixeddoubles/nouvelles