Martin/Griffith stay perfect!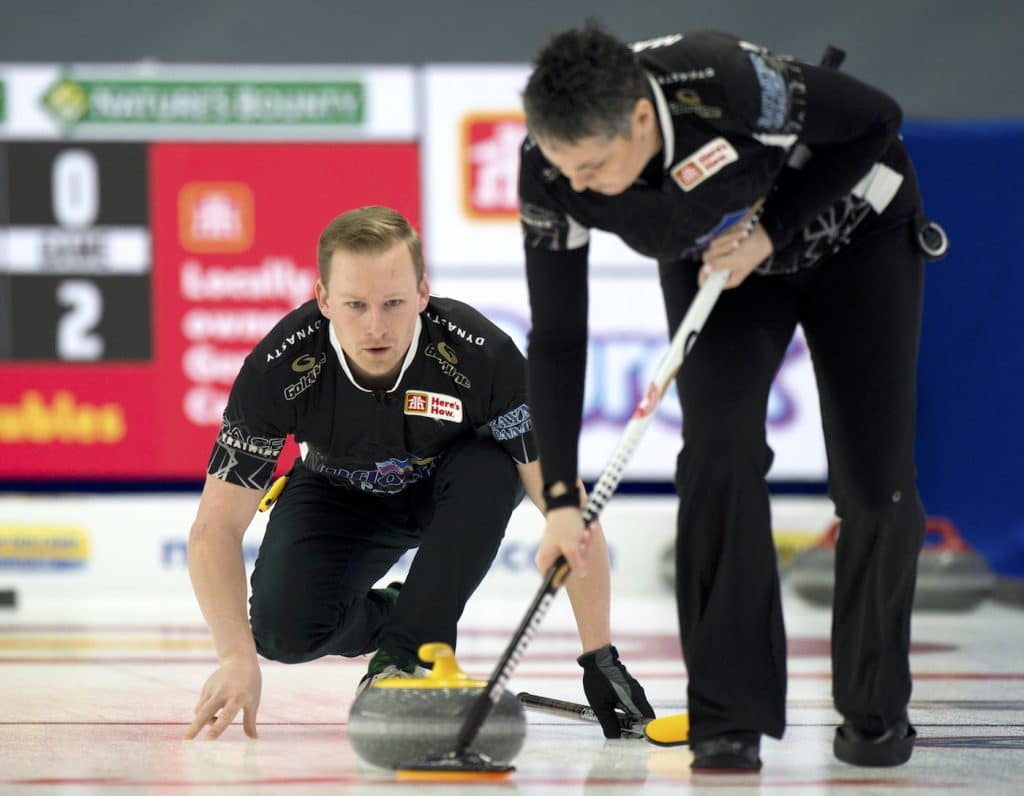 Martin/Griffith win third straight game at Home Hardware Mixed Doubles
Tyrel Griffith will be the first to tell you that for the first half of Saturday's game against Briane Meilleur and Mark Nichols, he was — well, let's just say his focus was lacking, and were it not for his partner Nancy Martin, the outcome may have been different.
But when Martin and Griffith got back on the same page for the final four ends Saturday at WinSport Arena at Canada Olympic Park, they showed the form that earned them a silver medal two years ago in Fredericton, N.B.
It added up, finally, to a 9-6 win over Meilleur/Nichols (1-2; Petersfield, Man.; St. John's, N.L.) that left Martin and Griffith (Saskatoon/Kelowna, B.C.) with a perfect 3-0 record at the 2021 Home Hardware Canadian Mixed Doubles Championship, presented by Nature's Bounty.
"I think we got away with a few out there," said Griffith with a smile. "(Martin) is the mixed doubles pro, so I'll be letting her do her thing. I literally forgot who had the hammer in the second end out there; I don't know what I was thinking. The first half, there were some loose shots. I played very poorly in the first half, and Nancy played just phenomenal, really the whole game. She kind of let me off the hook with some of my poor throws."
Despite Griffith's struggles, his team actually held a 6-3 lead through three ends thanks to a first-end deuce and a four count in the third, sandwiching a second-end three from Meilleur and Nichols.
But from there, Martin and Griffith were able to clamp down and limit Meilleur and Nichols to only single points, while scoring an important deuce in the sixth end to pad the lead and maintain their unbeaten record.
"It's right where we want to be, but there are a lot of games to come," warned Martin. "That (leaderboard) is going to move up and down quite a bit, so we'll just keep plugging away, chat about some things we need to work on, and come out firing tomorrow."
It's not unrealistic that there would be some early struggles considering it had been 14 months since the duo last played together, and two years since the national silver medal in Fredericton.
"Each game, we are still growing. I mean, it's been 14 months, and we're going to have some ups and downs, and this game was definitely an up-and-down game, as you can tell with the linescore," said Griffith. "There was some good and bad. But the thing I'm proud of is that we made the shots we needed to make. And I was just really happy to have a partner who kept it positive with me out there, and kept me on the right track to make some shots later in the game."
The "chat" that Martin alluded to won't be intense, but likely will hit on a few key topics, she suggested.
"Well," she said with a laugh, "we'll make sure we know who has hammer when we're throwing; we'll start with that."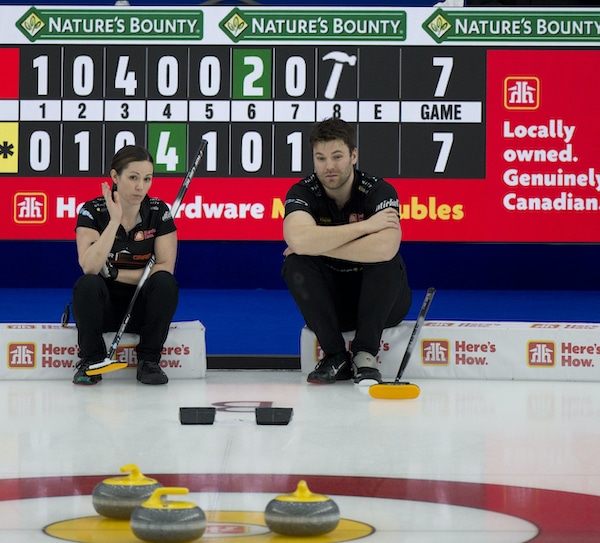 In other Draw 12 action, Val Sweeting and Marc Kennedy (3-0; Edmonton) needed an extra end to beat Shannon Birchard and Catlin Schneider (2-1; Winnipeg/Regina); Laura Walker and Kirk Muyres (2-0; Edmonton/Regina) stole two in the eighth end for a 9-7 win over Selena Njegovan and Reid Carruthers (1-2; East St. Paul/West St. Paul, Man.); and Krysten Karwacki and Derek Samagalski (1-1; West St. Paul, Man.) edged Bobbie Sauder and Brendan Bottcher (0-3; Edmonton) 6-5.
In Saturday's early draw, defending champs Jocelyn Peterman and Brett Gallant (2-1; Winnipeg/St. John's, N.L.) turned back Kadriana Sahaidak and Colton Lott (2-1; Winnipeg Beach, Man.) 7-3; Dezaray Hawes and Tyler Tardi (2-1; Kelowna, B.C./Langley, B.C.) stole the winning point in the eighth end for an 8-7 triumph over Kaitlyn Lawes and Connor Lawes (0-3; Winnipeg/Collingwood, Ont.); Mackenzie Mitchell and Greg Smith (2-1; St. John's) stole one in the fifth end, two in the sixth and one more in the seventh in an 8-3 win over Ashley Quick and Mike Armstrong (0-2; Saskatoon); and Danielle Schmiemann and John Morris (2-1; Edmonton/Canmore, Alta.) scored five in the third end en route to an 8-3 victory over Oye-Sem Won and Trevor Bonot (0-2; Thunder Bay, Ont.).
The 2021 Home Hardware Canadian Mixed Doubles Championship continues Saturday with draws at 4:30 p.m., 7:30 p.m. and 10:30 p.m. (all times Eastern).
Live scoring, standings and statistics for the 2021 Home Hardware Canadian Mixed Doubles Championship are available at www.curling.ca/scoreboard/
TSN and RDS2 (streamed on ESPN3 in the United States) will provide complete coverage of the 2021 Home Hardware Canadian Mixed Doubles Championship. CLICK HERE for the complete schedule.
This story will be available in French as soon as possible at www.curling.ca/2021mixeddoubles/nouvelles