Birchard-Schneider bounce back!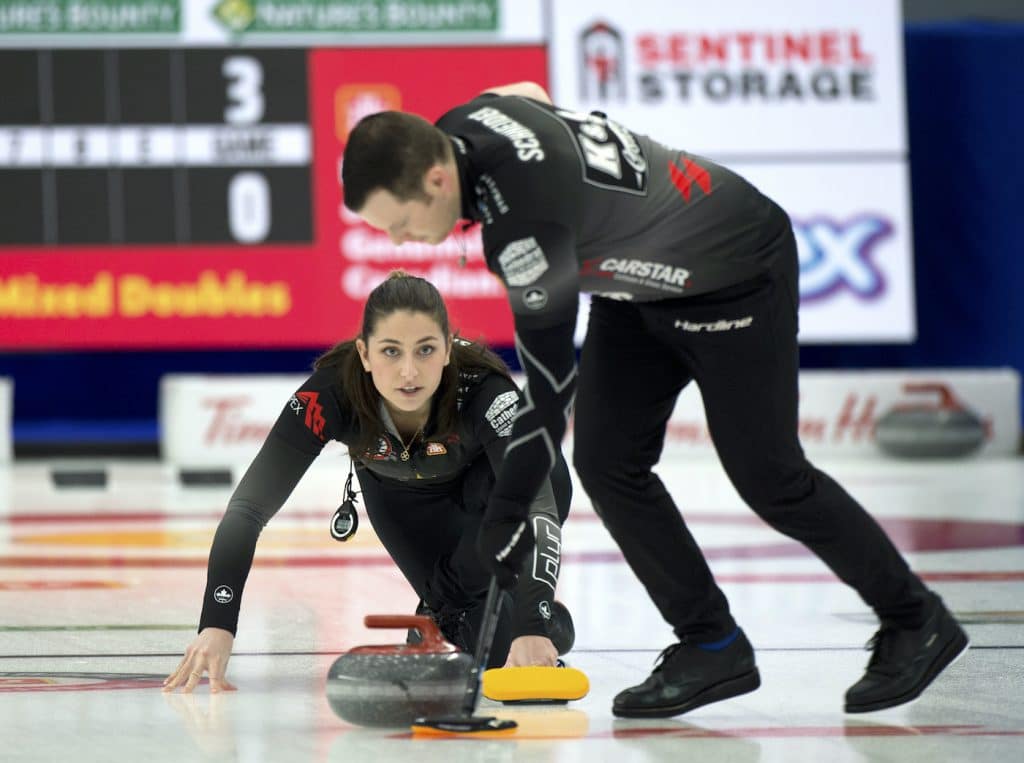 Birchard-Schneider rebound from first loss to keep playoff hopes alive
Sweeping ability, strategy, draw weight, knowledge of angles — all are valuable assets in mixed doubles curling.
And you can add "short memory" to that list, because in mixed doubles curling, there will always be a chance to bounce back, after a disappointing shot, a disappointing end, and even a disappointing loss.
Shannon Birchard and Catlin Schneider put that bounce-back ability to good use on Sunday at WinSport Arena at Canada Olympic Park, beating Elizabeth King and Landon King (0-4; Yellowknife) 12-1 at the 2021 Home Hardware Canadian Mixed Doubles Championship, presented by Nature's Bounty.
The win left the Birchard-Schneider tandem (Winnipeg/Regina) with a 3-1 record and still firmly in the chase for a playoff berth out of Pool D.
On Saturday, Birchard and Schneider suffered their only loss of the event, a 7-6 extra-end setback to Val Sweeting and Marc Kennedy.
So it was important to come back strongly on Sunday in an event in which two losses leaves you on the bubble of advancing to the 12-team playoffs, which begin on Tuesday night.
"It didn't take long at all (to leave the loss behind)," said Birchard. "We had a lot of positive take-aways from yesterday's game; it's good to have those battles out there. Our other games have been a little bit more one-sided, so it's nice to have close games. They made a lot of great shots and eventually made their last one and that was it. I think we just had to take what we could from that game and start fresh today and try to build some more momentum again."
The win over King and King was evidence that the momentum has been restored, even though the loss to Sweeting and Kennedy didn't exactly leave Birchard and Schneider devastated.
"We talked after the game yesterday, and we actually thought it was our best game so far, which was funny because the scoreboard didn't quite show that, compared to our first two games," he said. "So we just said for today, just stay focused and build off that game. We played a great game yesterday, and we thought we could be even better today, and I think we were."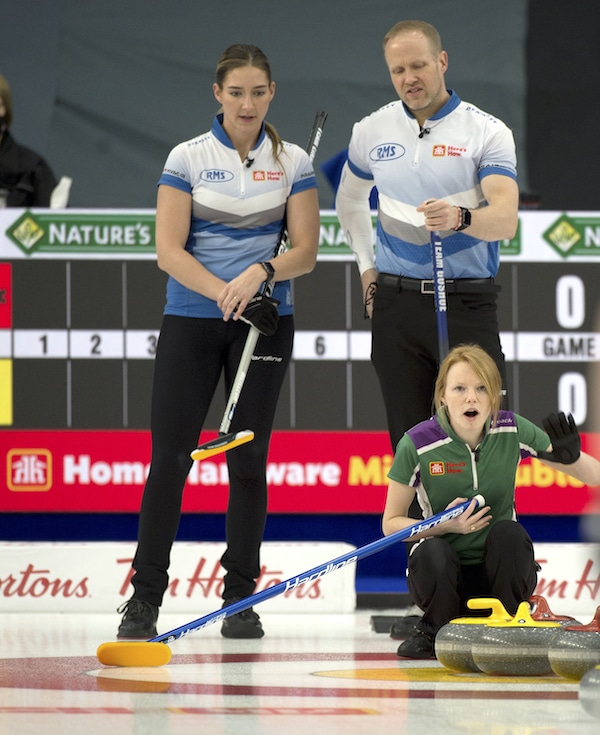 With Sweeting and Kennedy (Edmonton) dropping their first game of the championship one sheet over from the Birchard-Schneider game, it resulted in a three-way tie for top spot in Pool D — Birchard-Schneider, Sweeting-Kennedy and Emma Miskew and Ryan Fry (Ottawa/Toronto), who defeated Sweeting and Kennedy 9-7, all have 3-1 records.
So Schneider knows there is still plenty of work to be done with two round-robin games remaining.
"One game at a time," he said. "I think we play (Karlee Jones and Bryce Everist of) Nova Scotia tomorrow, we're just going to focus on that one. There's so much that can happen out here; mixed doubles is crazy. So just one game, one end, one shot at a time, and just keep moving forward. It's definitely a marathon, not a sprint.
In other Draw 17 games, Nancy Martin and Tyrel Griffith (4-0; Saskatoon/Kelowna, B.C.) remained unbeaten with a 9-2 win over Chaelynn Kitz and Kyler Kleibrink (2-2; Saskatoon/Calgary); and Briane Meilleur and Mark Nichols (2-2; Petersfield, Man./St. John's, N.L.) doubled Lauren MacFadyen and Alex MacFadyen (0-4; Summerside, P.E.I.) 8-4.
In the morning draw, Brittany Tran and Aaron Sluchinski (3-1; Calgary/Airdrie, Alta.) were 14-1 winners over Angela Dale and Peter Van Strien (0-4; Iqaluit); Jennifer Jones and Brent Laing (4-0; Alliston, Ont.) turned back Laurie St-Georges and Félix Asselin (3-1; Montreal) 7-3; and Émilie Desjardins and Robert Desjardins (2-2; Chicoutimi, Que.) downed Bayly Scoffin and Wade Scoffin (0-4; Whitehorse) 9-2.
As well, Kadriana Sahaidak and Colton Lott (3-1; Winnipeg Beach, Man.) won by default over Joanne Courtney and Darren Moulding (3-1; Lacombe, Alta.) due to Moulding being unavailable to play because of back spasms.
The 2021 Home Hardware Canadian Mixed Doubles Championship continues Sunday with draws at 4:30 p.m., 7:30 p.m. and 10:30 p.m. (all times Eastern).
Live scoring, standings and statistics for the 2021 Home Hardware Canadian Mixed Doubles Championship are available at www.curling.ca/scoreboard/
TSN and RDS2 (streamed on ESPN3 in the United States) will provide complete coverage of the 2021 Home Hardware Canadian Mixed Doubles Championship. CLICK HERE for the complete schedule.
This story will be available in French as soon as possible at www.curling.ca/2021mixeddoubles/nouvelles