Rock Stars!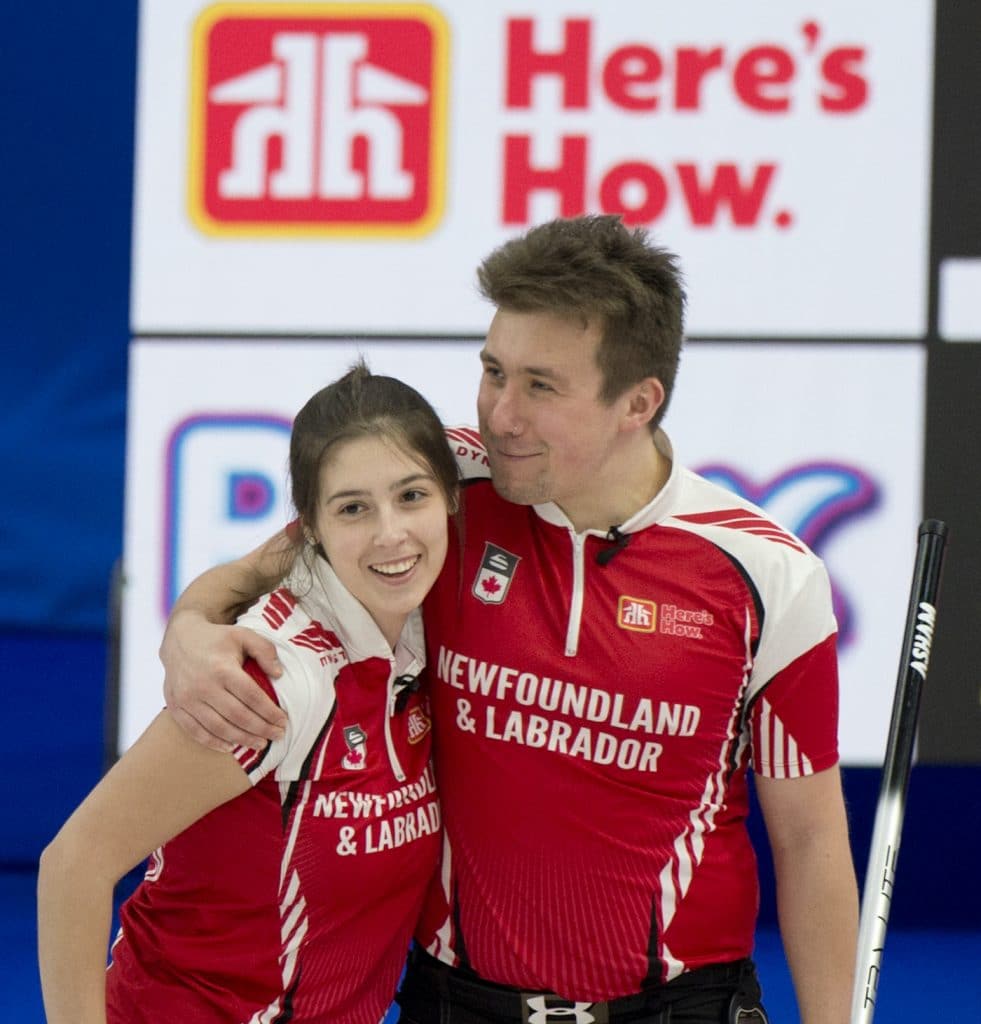 Newfoundland-Labrador champs on verge of playoff berth
It's not OFFICIALLY official, and won't be until late Tuesday afternoon when round-robin play at the 2021 Home Hardware Canadian Mixed Doubles Championship, presented by Nature's Bounty, is complete.
But all indications are that a Newfoundland/Labrador champion will participate in the playoffs for the first time in event history, and that pair of players from the Rock, Mackenzie Mitchell and Greg Smith, could not be prouder.
Mitchell and Smith, from St. John's, completed their round-robin schedule on Monday at WinSport Arena at Canada Olympic Park with an 8-5 win over Kaitlyn Lawes and Connor Lawes (1-4; Winnipeg/Collingwood, Ont.).
The win improved Mitchell and Smith's record to 4-2; that record, combined with their Pool E-leading Last-Shot Draw total, is all but guaranteed to get them into the 12-team playoffs, which begin on Tuesday night.
"It's very validating," said Smith, who also skipped Newfoundland/Labrador at the Tim Hortons Brier, presented by AGI, earlier this month in the Calgary bubble. "Mackenzie and I are solid shooters, and there's a lot of talent in Newfoundland and Labrador. We're not a (free) win on the schedule that people get to look at anymore. Men's, women's, mixed doubles, it doesn't matter. We are really upping our ante in Newfoundland and Labrador in curling. We're two great shooters, we're pressure players, and that showed. We were down 3-0 early (against Lawes and Lawes) and we really showed some resilience and grit. And that's what Mackenzie and I are made of."
The 4-2 record is already the best ever posted by a Newfoundland/Labrador champion team at the Home Hardware Canadian Mixed Doubles Championship, which debuted in 2013; the previous best record was 3-4, posted in 2013 (Erin Porter and Jamie Danbrook) and 2014 (Lauren Wasylkiw and Cory Ewart).
But that record fourth win took some work to nail down against Lawes and Lawes, who put a three on the board in the first end.
"Three is nothing in mixed doubles," said Mitchell. "It's not like being down three in the Scotties. We just pulled it together; we just looked at each other and said, we're not giving up. This is our chance, it's in our hands. We can't lose it, and thankfully we didn't."
They didn't, and now — barring a bizarre set of circumstances — they'll be playing in the Qualifying Round Tuesday at 8:30 p.m. (all times Eastern), five wins away from a gold medal.
"We know we can play with any of the best teams in this event; we've proven that so far this week," said Smith. "So that's where we're at — it doesn't matter who we're going against. It's our five rocks and that pre-positioned one that we get to control. That's our mindset. Just throw our rocks and see where the chips fall."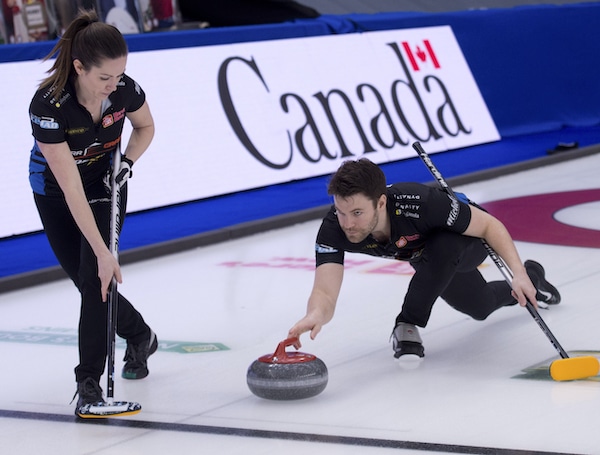 In other Draw 22 games, 2018 champs Laura Walker and Kirk Muyres (5-0; Edmonton/Regina) officially clinched a playoff berth with a 7-4 win over Briane Meilleur and Mark Nichols (2-3; Petersfield, Man./St. John's, N.L.); and Lisa Weagle and John Epping (4-1; Ottawa/Toronto) beat Oye-Sem Won and Trevor Bonot (2-3; Thunder Bay, Ont.) 9-4.
In Monday's early-draw games, Jennifer Jones and Brent Laing (Alliston, Ont.) improved to 5-0 and became the first team to clinch a playoff berth with a 7-4 win over Lauren Wasylkiw and Shane Konings (2-3; Unionville, Ont.); Jocelyn Peterman's last rock draw for a winning four needed a end-to-end scrub from partner Brett Gallant as the defending champs (4-1; Winnipeg/St. John's, Man.) eked out an 8-7 win over Brittany Tran and Aaron Sluchinski (3-2; Calgary/Airdrie, Alta.); Kadriana Sahaidak and Colton Lott (4-1; Winnipeg Beach, Man.) toppled Angela Dale and Peter Van Strien (0-5; Iqaluit) 11-1; and Kim Tuck and Wayne Tuck (1-4; St. Thomas, Ont.) scored a deuce in the eighth end for a 7-6 win over Bayly Scoffin and Wade Scoffin (0-5; Whitehorse).
The 2021 Home Hardware Canadian Mixed Doubles Championship continues Monday with draws at 4:30 p.m., 7:30 p.m., and 10:30 p.m. (all times Eastern).
Live scoring, standings and statistics for the 2021 Home Hardware Canadian Mixed Doubles Championship are available at www.curling.ca/scoreboard/
TSN and RDS2 (streamed on ESPN3 in the United States) will provide complete coverage of the 2021 Home Hardware Canadian Mixed Doubles Championship. CLICK HERE for the complete schedule.
This story will be available in French as soon as possible at www.curling.ca/2021mixeddoubles/nouvelles