Off to the final four!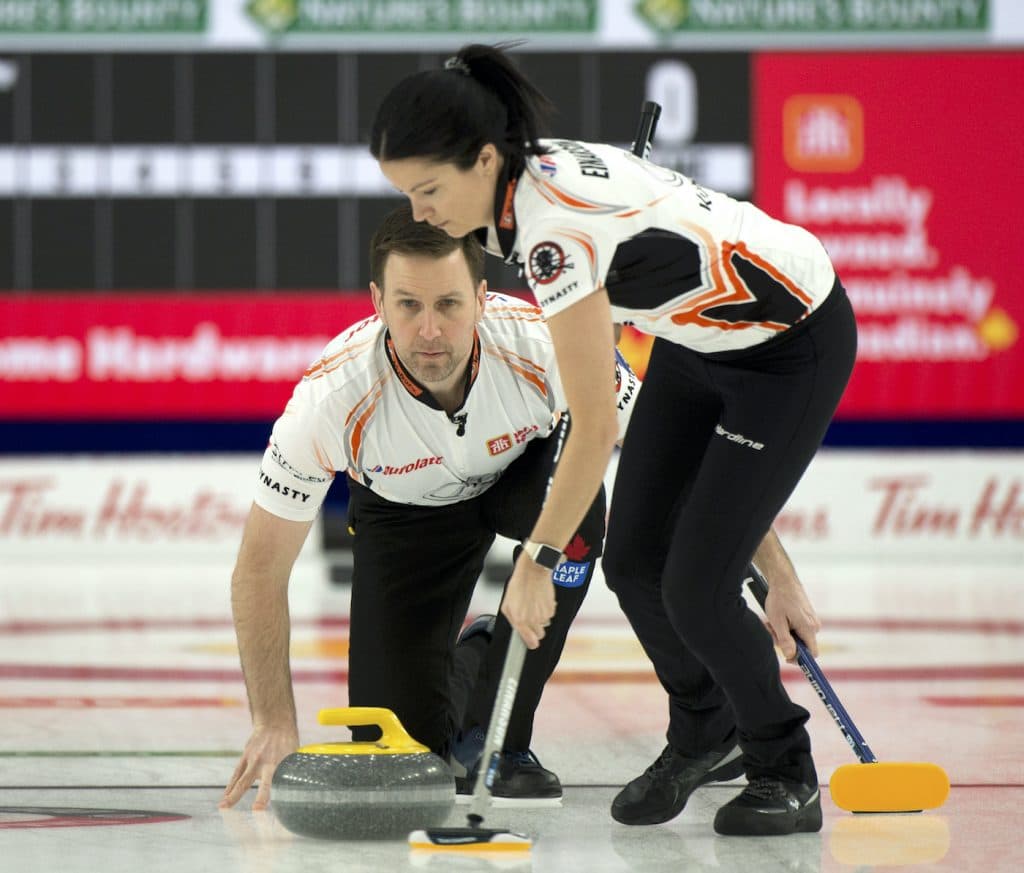 Just four teams remain in chase for Home Hardware Canadian Mixed Doubles gold
On what could be a marathon three-game day at the 2021 Home Hardware Canadian Mixed Doubles Championship, presented by Nature's Bounty, Kerri Einarson and Brad Gushue were pleased to get off the ice early Wednesday at WinSport Arena at Canada Olympic Park.
After a nailbiting win Tuesday night over Brittany Tran and Aaron Sluchinski (Calgary/Airdrie, Alta.) in their playoff opener, the tension was dramatically reduced on Wednesday as Einarson and Gushue (Gimli, Man./St. John's, N.L.) advanced to the final four of the championship with an 11-2 win over Jennifer Jones and Brent Laing (Alliston, Ont.).
Einarson and Gushue opened the game with five in the first end, then added steals of three in the second end and two more in the third and sailed home with the win as Jones and Laing conceded after the sixth end.
"The first end, we made all five shots, and we put them in really good spots," said Einarson. "They got a little unfortunate on a couple of theirs, and then I had to just make the slash for the five. It was good to score that big end early."
"It wasn't just the first end; I thought the first two ends, we made all 10 shots," added Gushue. "We got a couple breaks, obviously, to score eight points, but once we were up eight, we had multiple conversations to make sure that we don't let our guard down and let a four sneak up on us like we did last night. And I thought we did a good job of that."
All four winners of Wednesday's early draw will place twice more on Wednesday — in the Page playoff seeding round at 4:30 p.m. (all times Eastern) and in the actual Page playoffs at 8:30 p.m.
"To get an extra break, to get those (last) two ends off, I think is going to be a bonus," said Gushue. "Right now, every team that advances is going to play three games today, so having an extra 20 minutes to a half-hour to rest; it doesn't sound like much, but it does mean something, especially for old skips like us."
The playoff teams got an added jolt of excitement on Wednesday with an announcement from the World Curling Federation that the 2021 World Mixed Doubles Championship will take place May 17-23 in Aberdeen, Scotland.
"That would be pretty cool to be there," said Einarson, who will skip Team Canada at the 2021 LGT World Women's Championship, presented by BKT Tires, April 30-May 9 in Calgary. "But we're just taking it one game at a time right now. But that's exciting news."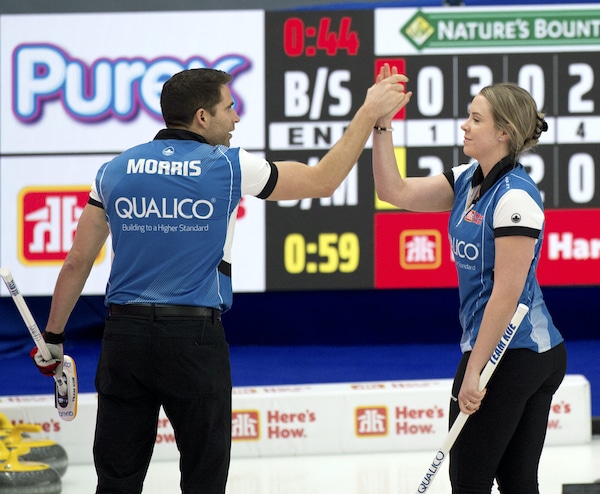 In the other quarter-final games on Wednesday morning, Kadriana Sahaidak drew to the button in an extra end for the winning point as she and Colton Lott (Winnipeg Beach, Man.) shaded defending champs Jocelyn Peterman and Brett Gallant (Winnipeg/St. John's, N.L.) 8-7; Laura Walker and Kirk Muyres (Edmonton/Regina) remained unbeaten with a 9-3 win over Lisa Weagle and John Epping (Ottawa/Toronto); and Danielle Schmiemann drew to the eight-foot for the winning point in the eighth end as she and John Morris (Edmonton/Canmore, Alta.) edged Shannon Birchard and Catlin Schneider (Winnipeg/Regina) 8-7.
In the Page Seeding Round games at 4:30 p.m., Walker and Muyres will play Schmiemann and Morris, while Einarson and Gushue will take on Sahaidak and Lott.
The two winning teams will meet in the Page 1-2 game, while the losers will play in the Page 3-4 game; with both of those matchups at 8:30 p.m.
The Page 1-2 winner will go to the gold-medal game Thursday at 9 p.m., with the loser going to the semifinal Thursday at 4 p.m. against the winner of the Page 3-4 game.
In addition to the top prize of $50,000, the gold-medal game winner will represent Canada at the World Mixed Doubles Championship in Aberdeen, Scotland.
Live scoring, standings and statistics for the 2021 Home Hardware Canadian Mixed Doubles Championship are available at www.curling.ca/scoreboard/
TSN and RDS2 (streamed on ESPN3 in the United States) will provide complete coverage of the 2021 Home Hardware Canadian Mixed Doubles Championship. CLICK HERE for the complete schedule.
This story will be available in French as soon as possible at www.curling.ca/2021mixeddoubles/nouvelles