Comeback falls short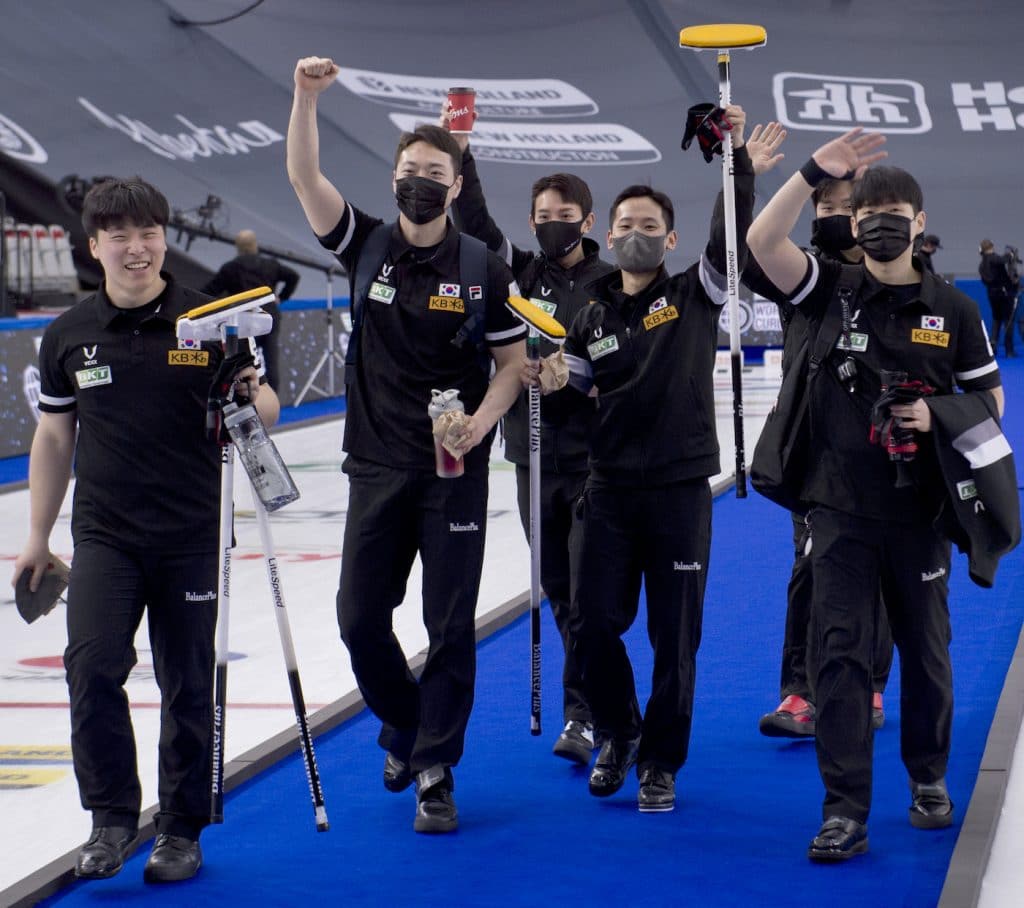 Team Canada rally stifled as South Korea recovers for victory
A magnificent Canadian comeback Monday afternoon at the 2021 BKT Tires & OK Tire World Men's Curling Championship, presented by New Holland, ended in disappointment.
Trailing 8-3 through seven ends against South Korea's Yeong-Seok Jeong, Brendan Bottcher's Team Canada exploded to score four in the eighth end and stole two more in the ninth to take a stunning 9-8 lead.
But in the 10th, Jeong settled down the nerves and coolly made a game-winning tap to score a deuce in the 10th end for a 10-9 victory.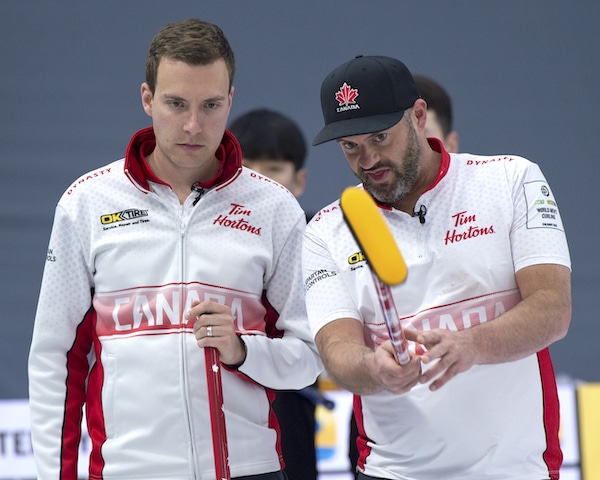 With the win, the young South Korean team improved to 2-5 in the 14-team round-robin standings, while Canada dropped to 5-2, completing a split of their Monday assignments; earlier in the day, Canada had dispatched the U.S. 10-1.
The momentum from that game, though, couldn't be replicated, and the Canadian efforts were complicated by a South Korean team that simply played stellar curling over the first seven ends, and played it with rocks all over the rings rather than simply keeping things clean.
"To be honest, they played really well," acknowledged Bottcher, who is backed up by vice-skip Darren Moulding, second Brad Thiessen, lead Karrick Martin, alternate Marc Kennedy, team support Patrick Janssen, team coach Don Bartlett and national coach Jeff Stoughton. "They made a lot of shots in the first half of the game and they earned their lead. They thoroughly outplayed us. But I thought we outplayed them in the second half. It wasn't quite enough to win the game, but we need to expect that teams are going to play well against us, regardless of what their record is."
The South Koreans had an ideal start, scoring three in the first end, aided by Moulding missing a key takeout when his rock caught some debris.
They would force Canada to one in the second, then take a point in the third and steal two more in the fourth to establish their early lead.
Canada had something brewing in the seventh end until Jeong made a brilliant freeze with his final stone that Bottcher couldn't remove, resulting in a steal to give South Korea the 8-3 lead.
Instead of conceding defeat, though, Canada mounted its ill-fated comeback, which will give the team something to build on going into a pair of games on Tuesday — at 4 p.m. (all times Eastern) against Italy's Joel Retornaz (4-2) and China's Qiang Zou (1-6) at 9 p.m.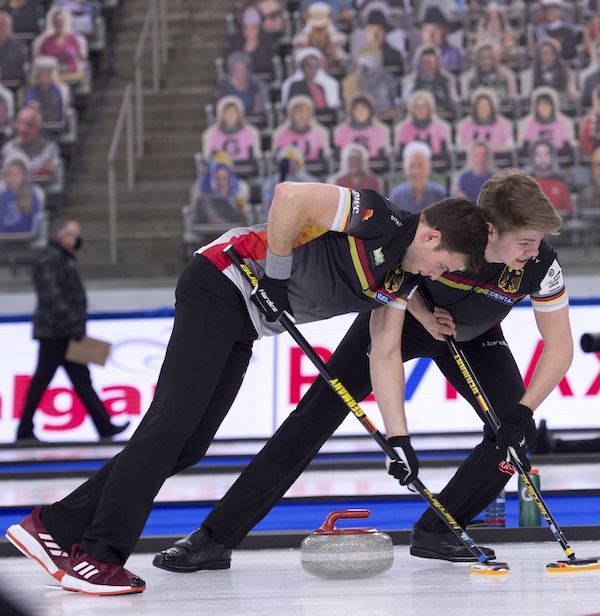 "It's tough to lose, but it really doesn't matter much how you get there, to be honest. We got down early, and we really didn't play well the first three or four ends, and that's on us. But I think from there we really picked it up, and I was proud of the guys," said Bottcher. "That would have been an easy game to write off after three or four ends — just not our day, let's move on to tomorrow. And we didn't; we played really well in the second half and I think we earned the lead back that we got in nine. Just came a couple shots short in 10. But all in all, you're going to have a couple good games, a couple bad games as the week goes on. I was just proud of the guys — we stuck through it and gave it a good effort at the end."
And it was another reminder — not that Bottcher's team needed it — that teams tend to raise their level of play when taking on Team Canada.
"Everyone comes to play against us," he said. "Everyone loves beating Canada; that's something we know going in.
"They're not all going to be easy," he added. "It's easy when you go out there and shoot a hundred per cent. It's not easy when you go out and shoot 75 or 80 per cent. But we're a team that tries to win as many of those games as we can, and that'll give us our best chance to be in the playoffs."
In other Monday afternoon games, Germany's Sixten Totzek (1-5) simultaneously hit the win column ahd handed Norway's Steffen Walsted his first loss, an 8-6 German triumph; Jaap van Dorp of the Netherlands (1-6) also picked up his first win, hammering China 10-2; and Italy was a 4-3 winner over Switzerland's Peter de Cruz (4-2).
RCF's Sergey Glukhov (5-1), Scotland's Bruce Mouat (4-2), Sweden's Niklas Edin (4-2), John Shuster of the U.S. (4-2), Denmark's Mads Nørgaard (2-4) and Japan's Yuta Matsumura (2-4) all had byes on Monday afternoon.
The 2021 BKT Tires & OK Tire World Men's Curling Championship continues on Monday with the late draw at 9 p.m. (all times Eastern).
Tuesday, draws are scheduled for 11 a.m., 4 p.m. and 9 p.m.
Live scoring, standings and statistics for the 2021 BKT Tires & OK Tire World Men's Curling Championship are available at worldcurling.org/events/wmcc2021?pageType=results
TSN and RDS2 will provide complete coverage of all Team Canada games at the 22021 BKT Tires & OK Tire World Men's Curling Championship. CLICK HERE for the complete schedule.
This story will be available in French as soon as possible at www.curling.ca/2021worldmen/nouvelles/?lang=fr