Picking up steam!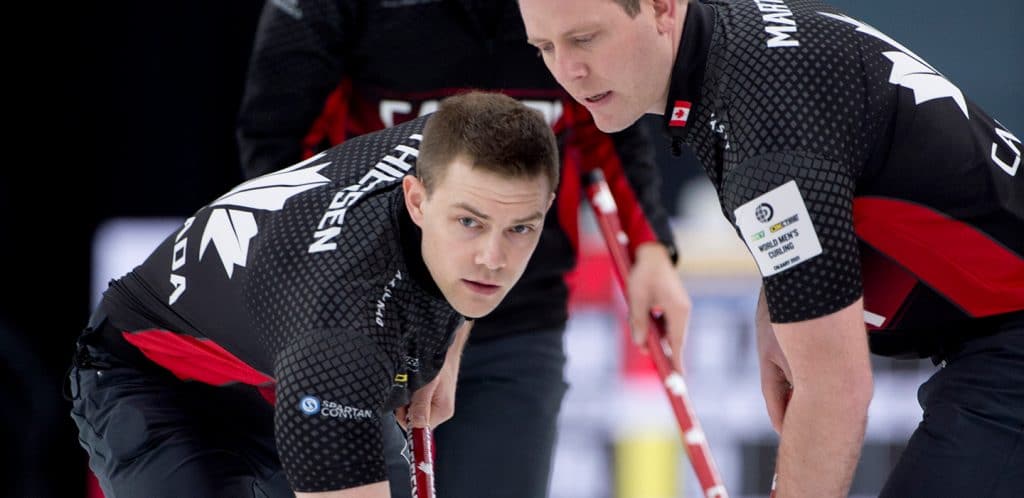 Second-half surge leads Canada to victory against Italy
When the opportunity presented itself, Canada managed to seize it at the 2021 BKT Tires & OK Tire World Men's Curling Championship, presented by New Holland. A second-half steal led Canada to its sixth win in eight games, defeating Italy's Joel Retornaz 7-4 and improved to 6-2 at the event.
Like a steam locomotive, Team Bottcher has needed a little bit of time to reach maximum speed, but once at full velocity – look out. Such was the case against Italy's Retornaz as both teams failed to capitalize on opportunities left by the opposition in Winsport Arena at Canada Olympic Park, Calgary.
"The first couple ends of the game today; it was a bit of a battle. It was a grind. We had to figure it out a little more so than we usually do and you know those are the games that are hard to win," Bottcher said. "It's easy to get down on yourself, throw a whole bunch of bad ends together and all of a sudden, you're sitting here after a loss. We were able to claw back and gain a little bit of momentum with a deuce in five and come out and play a really good second half."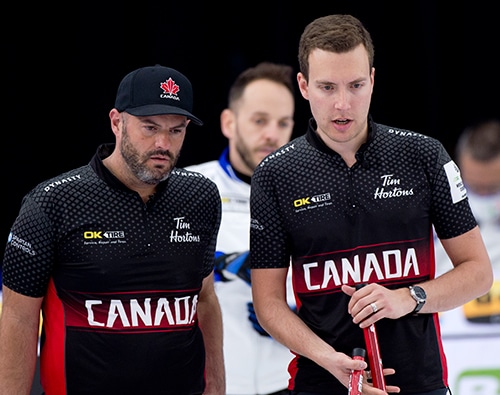 Italy and Canada exchanged favours in the third end, with Italy's Retornaz missing a raise shot that left Canada with a draw for two. However, Bottcher's draw attempt was heavy from the get-go. The Canadians attempted to get the shot to rub off another stone in the house and come to a halt, but the line was off, and Canada only took one in the third.
Retornaz responded in the fourth end with a score of two. Bottcher's freeze attempt did not curl enough, and it provided the Italians with a deuce after making a successful tap. But heading into the fifth-end break, Canada evened the score at three apiece after Italy missed a difficult double runback attempt, and Bottcher had an open draw to the house for two.
But that's when momentum took a sharp turn in the favour of skip Bottcher, vice-skip Darren Moulding, second Brad Thiessen, lead Karrick Martin, alternate Marc Kennedy, team support Patrick Janssen, team coach Don Bartlett and national coach Jeff Stoughton. Moulding nailed an excellent runback takeout that led the way to Canada, sitting three nicely placed rocks in the house. Retornaz was light on his final shot draw, giving up the steal of three and a Canadian lead of 6-3 that the team didn't relinquish.
Italy's loss drops Retornaz and his team to 4-4.
It is the first of two games for Canada at the world men's curling championship on Tuesday. Bottcher and company now turn their sights to China's Qiang Zou (2-6) as they aim to make it a double-win day.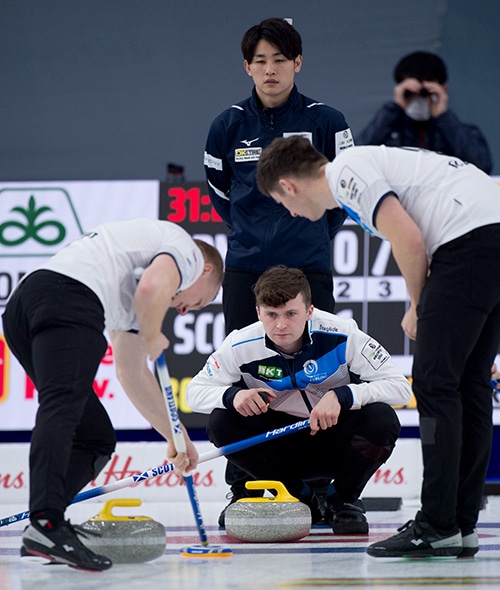 Maintaining the momentum is paramount to Canada's success tonight. After the upset loss to South Korea on Monday, the team is well aware that every team – regardless of their record – is looking for a chance to take down Canada.
"We knew the teams coming in would be good. We knew there wouldn't be a free space on the bingo card," Thiessen said. "I was a little surprised by how good even the bottom teams are. If you're not playing your A-game they can come out and beat you. Every game here we have to be on our A-game and playing our best."
In other games from Tuesday afternoon, Germany's Sixten Totzek (2-6) came back after giving up an early four-ender to Denmark's Mads Nøgaard (2-6) with an 8-6 win; Scotland's Bruce Mouat (6-2) picked up an ever-important win against Japan's Yuta Matsumura (2-6) by score of 6-3; and Norway's Steffen Walstad (7-1) doubled Switzerland's Peter de Cruz (5-3) 10-5.
The 2021 BKT Tires & OK Tire World Men's Curling Championship continues on Tuesday with the late draw at 9 p.m. (all times Eastern).
Wednesday, draws are scheduled for 11 a.m., 4 p.m. and 9 p.m.
Live scoring, standings and statistics for the 2021 BKT Tires & OK Tire World Men's Curling Championship are available at worldcurling.org/events/wmcc2021?pageType=results
TSN and RDS2 will provide complete coverage of all Team Canada games at the 22021 BKT Tires & OK Tire World Men's Curling Championship. CLICK HERE for the complete schedule.
This story will be available in French as soon as possible at www.curling.ca/2021worldmen/nouvelles/?lang=fr