Canada clinches!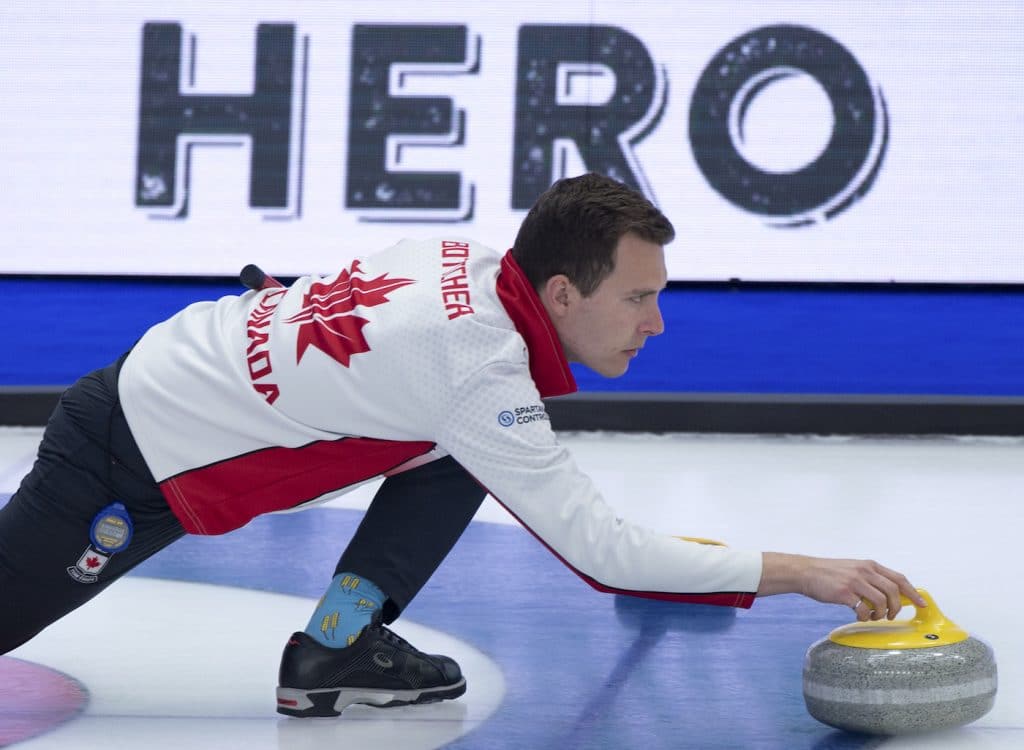 Team Canada win nails down berth in playoffs and 2022 Olympics
On a night when it was needed most, Team Canada delivered its most complete performance to date at the 2021 BKT Tires & OK Tire World Men's Curling Championship, presented by New Holland.
Thursday night at WinSport Arena at Canada Olympic Park in Calgary, Brendan Bottcher's Edmonton team put together a near-flawless 10 ends of curling en route to a 6-4 win over Norway's Steffen Walstad (7-5).
With the win, Bottcher, vice-skip Darren Moulding, second Brad Thiessen, lead Karrick Martin, alternate Marc Kennedy, team support Patrick Janssen, team coach Don Bartlett and national coach Jeff Stoughton improved to 8-4 in the 14-team round-robin standings and officially locked up a spot in the playoffs, which get underway on Friday night — an accomplishment that wasn't confirmed until well after the game ended following some number-crunching by the World Curling Federation.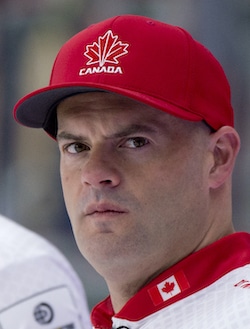 Equally significant was that the playoff spot secures a berth for a Canadian in the men's curling competition at the 2022 Winter Olympics in Beijing.
But in the moment, the biggest thing for Bottcher and Co. was shaking off the doldrums and lingering disappointment from a pair of crushing losses on Wednesday.
"It was huge," said Bottcher. "I think we played the majority of a good game last night (in a loss to Sweden's Niklas Edin, who scored four in the 10th end for a 9-7 victory) and just got a little hung up at the end. But tonight, I think from start to finish, we played our game as good as we could, and I'm really proud of the guys for bouncing back because it was certainly a hard one last night."
Just as notable as the bounceback performance by Team Canada was the new look sported by Moulding. After a difficult two games on Wednesday, Moulding decided it was time to make a change.
"Honestly, I went back to the hotel (Wednesday night) and looked in the mirror, and I blamed my beard," said the previously scruffy Moulding with a laugh. "I didn't like it. I decided it was looking a little too haggard, and I knew that if I shaved my beard, I would play better. So I did what I had to do for Canada, and it worked. A little more aerodynamic out there, and it worked like a charm."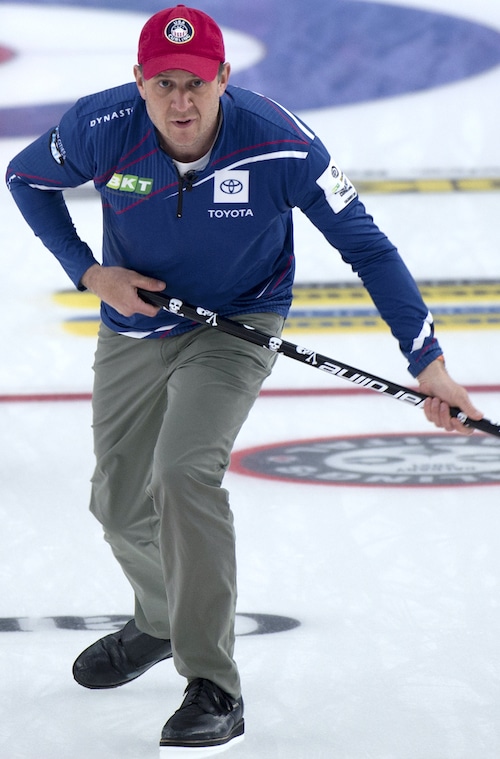 It certainly did; Canada never trailed on Thursday, manufacturing a first-end deuce, forcing Norway to a single in the second and then scoring back-to-back singles in the third and fourth ends, and, in general, putting Norway in chase mode for all 10 ends.
On the whole, it was a much more refreshed and relaxed Canadian team on the ice after having byes in the first two draws of the day.
"To be able to lay around and get a nice visit in with the team, a few laughs this afternoon — it was a good relaxing day and something we haven't had in a while," said Moulding. "It felt great."
"I think our team plays our best when we're out there really enjoying it," added Bottcher. "I really love playing with the guys, we have a blast out there, and that was part of what we talked about today — that we have to come back to those roots and really enjoy it, and if we did that, we'd really play our best. I think you saw that tonight, and I hope we can bring that same level of play and same level of enjoyment to our game tomorrow."
Canada will play its final round-robin game Friday at 11 a.m. (all times Eastern) against Germany's Sixten Totzek (4-8). All that will be at stake will be momentum for the six-team playoffs.
"All we can control in the moment is to play our hearts out while we're out on the ice, and then try to do the absolute best the next game that comes up," said Bottcher. "Some games we came a little bit short this week. But I'm really proud of the guys. Every time we lost this week, it felt like we brought a really strong game as a follow-up. I think that's what it's going to take this week. Over a 13-game round robin, you'll have peaks and valleys, and it's just how you weather the storm that really differentiates the top teams."
Sweden (10-2) and RCF's Sergey Glukhov (10-2) will get byes to Saturday's semifinals (at 5 p.m. and 9 p.m.) respectively.
The third-place team will play sixth place, while fourth will play fifth in the qualifying round games, set for Friday at 9 p.m. and Saturday at 11 a.m., with the winners going to the semifinals.
In other games on Thursday night, John Shuster of the U.S. (9-3) also clinched a playoff spot and Olympic berth for his country with a 9-4 win over Jaap van Dorp of the Netherlands (2-10), Switzerland's Peter de Cruz (7-5) kept his playoff hopes alive with a 9-3 win over South Korea's Yeong-Seok Jeong (2-10) and Sweden was an 8-4 winner over Germany.
RCF , Scotland's Bruce Mouat (8-4, and also guaranteed a playoff spot), Japan's Yuta Matsumura (6-6), Italy's Joel Retornaz (5-6), Denmark's Mads Nørgaard (3-8) and China's Qiang Zou (2-10) had byes on Thursday night.
The 2021 BKT Tires & OK Tire World Men's Curling Championship continues on Friday with the final two round-robin draws, at 11 a.m and 4 p.m. (all times Eastern), followed by the playoff qualification round at 9 p.m.
Live scoring, standings and statistics for the 2021 BKT Tires & OK Tire World Men's Curling Championship are available at worldcurling.org/events/wmcc2021?pageType=results
TSN and RDS2 will provide complete coverage of all Team Canada games at the 22021 BKT Tires & OK Tire World Men's Curling Championship. CLICK HERE for the complete schedule.
This story will be available in French as soon as possible at www.curling.ca/2021worldmen/nouvelles/?lang=fr