Swiss turn back Canada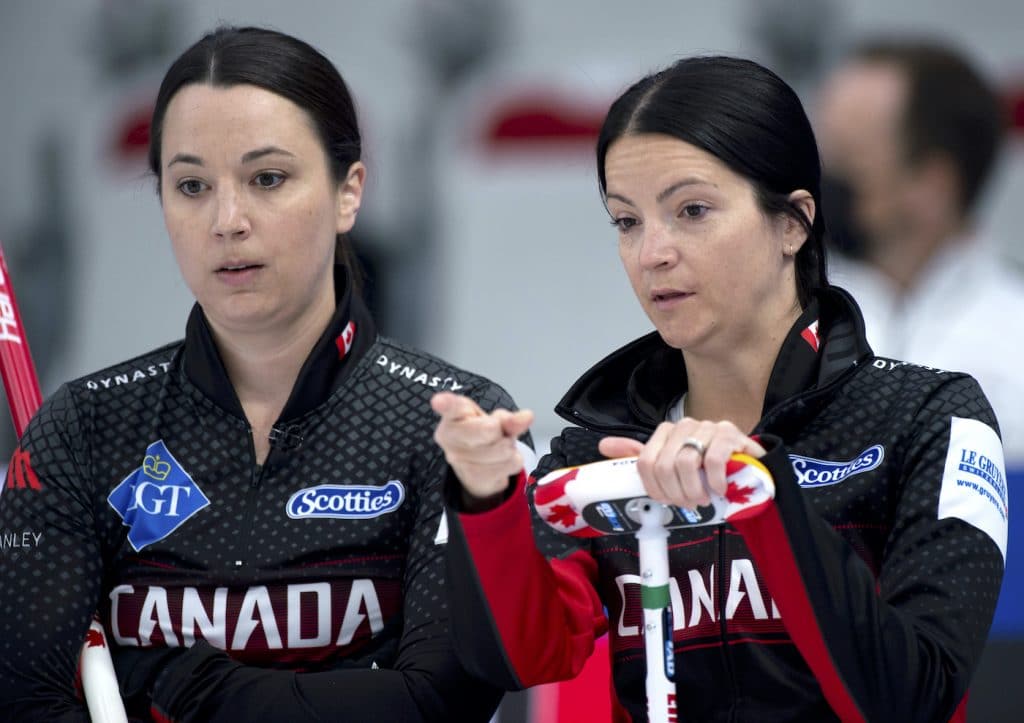 Late misses prove costly as Canada falls to Switzerland
Team Canada's path got a little bit tougher on Saturday afternoon at the 2021 LGT World Women's Curling Championship, presented by BKT Tires.
Kerri Einarson's team from Gimli, Man., was mostly in control through the first seven ends of its game against defending world champion Silvana Tirinzoni of Switzerland, but the Swiss rebounded in the final three to take an 8-5 victory at WinSport Arena at Canada Olympic Park in Calgary.
With the win, Switzerland joined RCF's Alina Kovaleva, Scotland's Eve Muirhead and Sweden's Anna Hasselborg in top spot in the 14-team round-robin standings, all sitting at 3-0.
Canada, meanwhile, dropped to 1-2 and will need to rebound quickly as Einarson, vice-skip Val Sweeting, second Shannon Birchard, lead Briane Meilleur, alternate Krysten Karwacki, team coach Heather Nedohin and national coaches Elaine Dagg-Jackson and Renee Sonnenberg will complete their Saturday with a 9 p.m. (all times Eastern) game against RCF.
Similar to a loss to Sweden to open the event on Friday, Canada led most of the way but couldn't finish.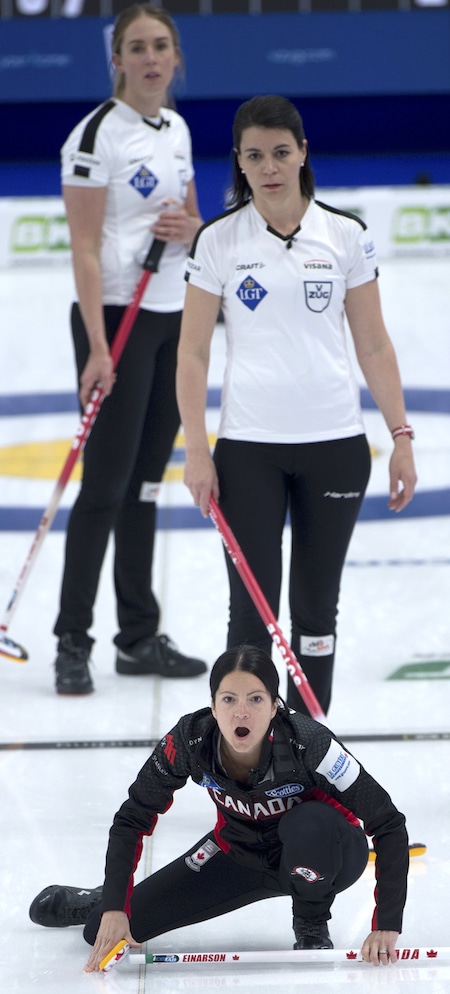 "We just have to play a full 10 ends," said Meilleur. "That's all it comes down to, really. There are teams that are going to make really good shots against us, and we have to bounce back and play better the next game. If we lose a couple, we lose a couple. But there are great teams making great shots, just like we're making great shots. We just have to keep battling and be that much better than the team we're playing."
For the most part, Canada was the better team on Saturday. Einarson herself was scored at 100 per cent through five ends, and Canada was leading 5-3 heading into the eighth end.
But Alina Pätz, who throws fourth stones for the Swiss, shook off her early struggles and made two stunning shots in the eighth end to score a go-ahead three — a thin triple-takeout with her first that removed three Canadian stones from the four-foot circle, and a wide outturn draw to score the three.
Chasing a deuce in the ninth to retake the lead, Canada was in good shape until Einarson uncharacteristically missed her final two shots — light with a draw to sit two with her first, and overcurling an open hit for one that rolled out her shooter and gifted a steal of two to Switzerland.
"I actually thought we played really well," said Einarson. "In the eighth end, she made a really great shot to put pressure on us. Two good shots because it was a tough-looking draw (for three). And I just maybe lost a little bit of focus in that ninth end. I kind of babied my first one, and it maybe grabbed a little. I had perfect draw weight the whole game. It happens. We just have to move forward."
The post-game messaging from Coach Nedohin was simple, said Einarson.
"She just said that we played great," said Einarson. "(Pätz) made a few peaches, and it is what it is. You just have to keep pushing forward. It's a long, gruelling week.
"Rock placement is huge. If you get caught in one (bad) spot, you're dead. You need to have really great rock placement. Unfortunately I was just a little bit off in the last couple of ends. But I thought we played really well. But at this level, there's no room for error. You have to be absolutely perfect."
In other Draw 5 games, RCF was an 8-5 winner over Italy's Stefania Constantini (0-3), Sweden toppled Denmark's Madeleine Dupont (1-2) 9-4; and Anna Kubešková of the Czech Republic (2-1) scored a 10th-end deuce for an 8-7 win over Estonia's Marie Turmann (0-3).
Scotland's Eve Muirhead (3-0), China's Yu Han (1-1), Japan's Sayaka Yoshimura (1-1), Germany's Daniela Jentsch (1-2), Tabitha Peterson of the United States (1-2), and South Korea's Eunjung Kim (0-3) had byes on Saturday afternoon.
Live scoring, standings and statistics for the 2021 LGT World Women's Curling Championship are available at worldcurling.org/events/wwcc2021?pageType=results
TSN and RDS2 will provide complete coverage of all Team Canada games at the 2021 LGT World Women's Curling Championship. CLICK HERE for the complete schedule.
This story will be available in French as soon as possible at www.curling.ca/category-all-posts-fr/?lang=fr