Japan snaps Canadian streak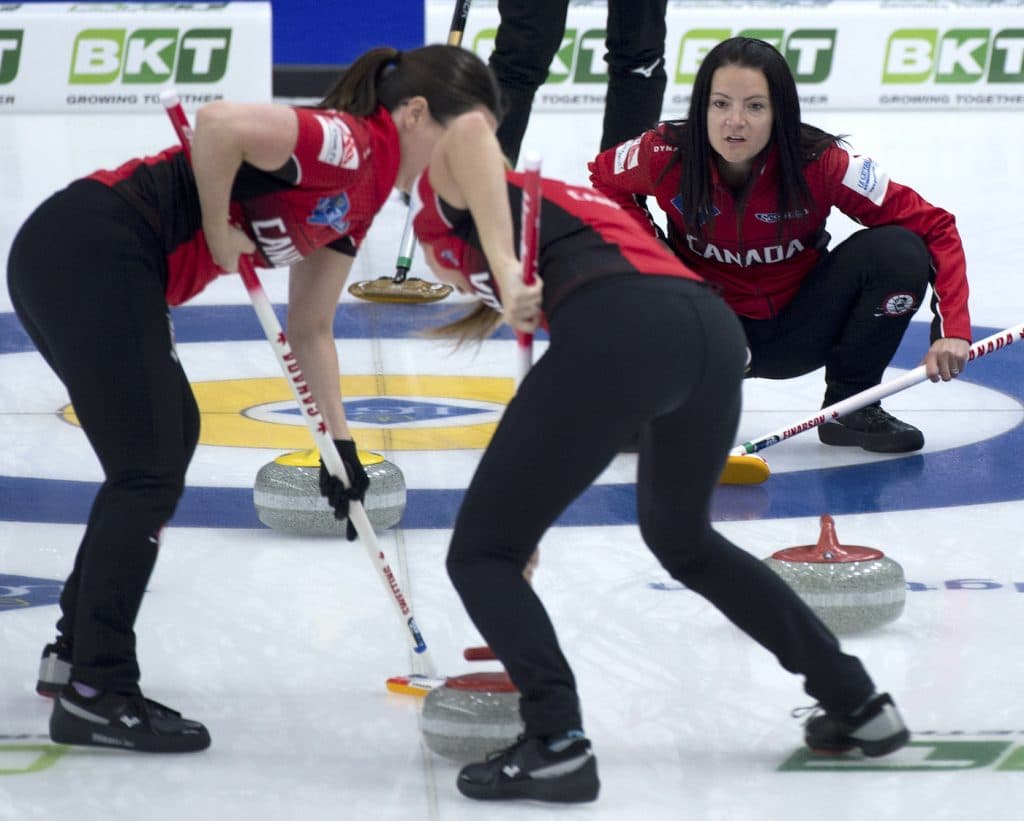 Team Canada win streak ended by Japan at World Women's
There are dozens — if not hundreds of scenarios — still at play for Team Canada to make the playoffs at the 2021 LGT World Women's Curling Championship, presented by BKT Tires.
Even with Thursday afternoon's 7-5 loss to Japan's Sayaka Yoshimura at WinSport Arena at Canada Olympic Park in Calgary, Canadian skip Kerri Einarson, vice-skip Val Sweeting, second Shannon Birchard, lead Briane Meilleur, alternate Krysten Karwacki, team coach Heather Nedohin and national coaches Elaine Dagg-Jackson and Renee Sonnenberg have legitimate hopes of being part of the six-team playoffs that will begin on Saturday.
The first job — shake off any lingering disappointment from the loss to Japan.
Einarson, for one, said it wasn't a case of her team doing anything particularly wrong; instead, the Japanese, who had a 3-7 record coming into the game, did a lot of things right.
"When they're making everything, it's quite hard," said Einarson. "They played really well and got us in some tough spots. I missed a couple of mine, which was unfortunate."
The first of them was in the second end when Einarson had a makable double takeout to score a potential three, but her stone didn't curl enough and Japan got its steal.
Then, in the seventh, Einarson had an outturn draw to the four-foot for what would have been a game-tying deuce but was just heavy.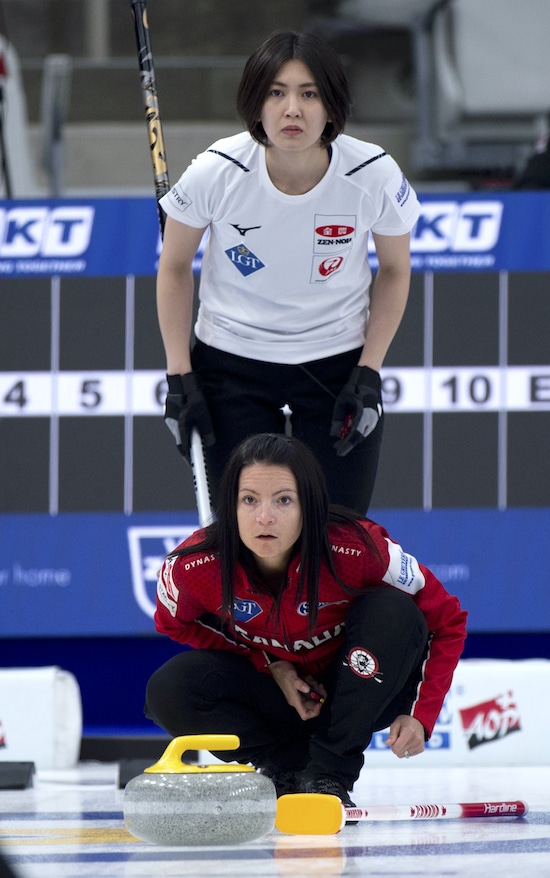 Yoshimura made a terrific angle-raise takeout in the eighth for her deuce; Canada would come back with two in the ninth but couldn't manufacture the steal in the 10th.
"There is some good competition. It's the world championship, there are no easy games out there," said Sweeting. "No one's going to roll over and give you anything out there. But we've been fighting really hard, and that's all we can do. We've left everything out there."
As noted, with four round-robin draws remaining, there are more than 65,000 potential scenarios for the final look of the standings, and many of them feature Canada in the top six.
"To be honest, I haven't actually looked," said Einarson. "I don't even actually know what the standings are. I know what we need to do, and that's all that matters."
And that means Canada winning its final round-robin game, Friday at 11 a.m. against China's Yu Han (4-6). The game plan, said Einarson, is simple.
"The same way as we've been doing — just going on out and having some fun, making some shots," she said. "That's what we need to do. Keep doing those little things that we need to do for each other."
In other games on Thursday afternoon, Switzerland's Silvana Tirinzoni (10-1) shaded Tabitha Peterson of the U.S. (7-5) 6-5; and Sweden's Anna Hasselborg rolled to a 6-1 victory over Germany's Daniela Jentsch (5-6).
RCF's Alina Kovaleva (9-2), Scotland's Eve Muirhead (6-4), Denmark's Madeline Dupont (5-5), South Korea's Eunjung Kim (5-6), China's Yu Han (4-6), Anna Kubešková of the Czech Republic (3-7), Italy's Stefania Constantini (2-9) and Estonia's Marie Turmann (1-9) all had byes on Thursday afternoon.
The 2021 LGT World Women's Curling Championship continues with Thursday's final draw, at 9 p.m. (all times Eastern).
Live scoring, standings and statistics for the 2021 LGT World Women's Curling Championship are available at worldcurling.org/events/wwcc2021?pageType=results
The World Curling Federation announced Thursday that broadcast crews will be back on Friday afternoon. You can read the full news release by CLICKING HERE.
This story will be available in French as soon as possible at www.curling.ca/category-all-posts-fr/?lang=fr