Onto the playoffs!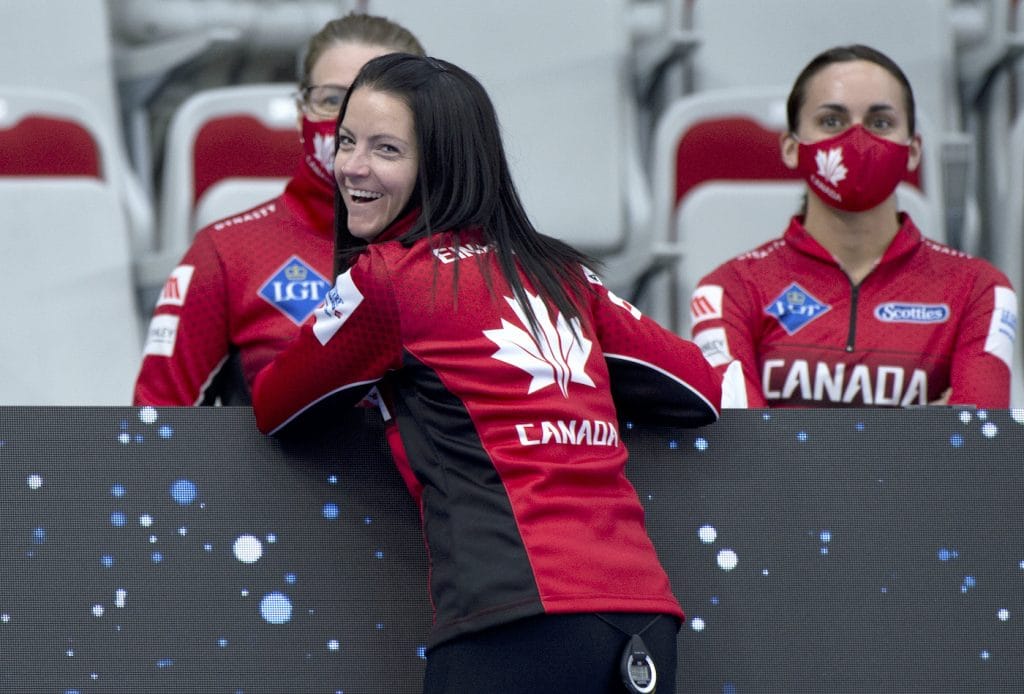 Canada assured of spot in playoffs and Olympics berth
Team Canada will continue its quest to win gold at the 2021 LGT World Women's Curling Championship, presented by BKT Tires, it was confirmed on Friday afternoon at WinSport Arena at Canada Olympic Park.
The combination of Canada's 6-4 win Friday morning over China's Yu Han, followed by Switzerland's Silvana Tirinzoni (11-1) defeating Germany's Daniela Jentsch 8-3 on Friday afternoon, clinched a top-six finish for skip Kerri Einarson, vice-skip Val Sweeting, second Shannon Birchard, lead Briane Meilleur, alternate Krysten Karwacki, team coach Heather Nedohin and national coaches Elaine Dagg-Jackson and Renee Sonnenberg.
It also secured a berth for Canada in the women's curling field for the 2022 Winter Olympics in Beijing.
Team Canada (7-6) will be in action on Saturday at 11 a.m. (TSN/RDS2; all times Eastern) in the playoff qualification round. The winners of the two qualification round games (third place vs. sixth place; fourth place vs. fifth place) will advance to the semifinals — either at 5 p.m. or 9:30 p.m.
Switzerland (11-1) and RCF's Alina Kovala (11-2) have clinched semifinal berths based on their one-two finish in the round-robin standings.
Sweden's Anna Hasselborg (9-3) locked up third place with a 9-5 win over Italy's Stefania Constantini (2-11) on Friday afternoon.
Denmark's Madeleine Dupont (7-5), who secured a playoff berth with a win earlier on Friday, can clinch fourth place with a win in her final game Friday night against the Czech Republic's Anna Kubešková (3-9).
The combination of wins by Switzerland and South Korea's Eunjung Kim (7-6), who defeated the Czechs 7-4 on Friday afternoon, landed Tabitha Peterson of the U.S. (7-6) into the playoffs. Even though Scotland's Eve Muirhead (6-6), South Korea, Denmark, the U.S. and Canada could finish with 7-6 records, Denmark, Canada and the U.S. come out on top in the various tiebreaking scenarios.
The seedings and pairings for the qualification-round games won't be set until after the completion of the final round-robin draw, which is set for 9 p.m. Friday.
The winners of Saturday's semifinals will play for gold Sunday at 3 p.m., while the semifinal losers will play for bronze Sunday at 10:30 a.m.
Live scoring, standings and statistics for the 2021 LGT World Women's Curling Championship are available at worldcurling.org/events/wwcc2021?pageType=results
TSN and RDS2 will provide complete coverage of all Team Canada games, as well as all playoff rounds, at the 2021 LGT World Women's Curling Championship. CLICK HERE for the complete schedule.