Team Canada eliminated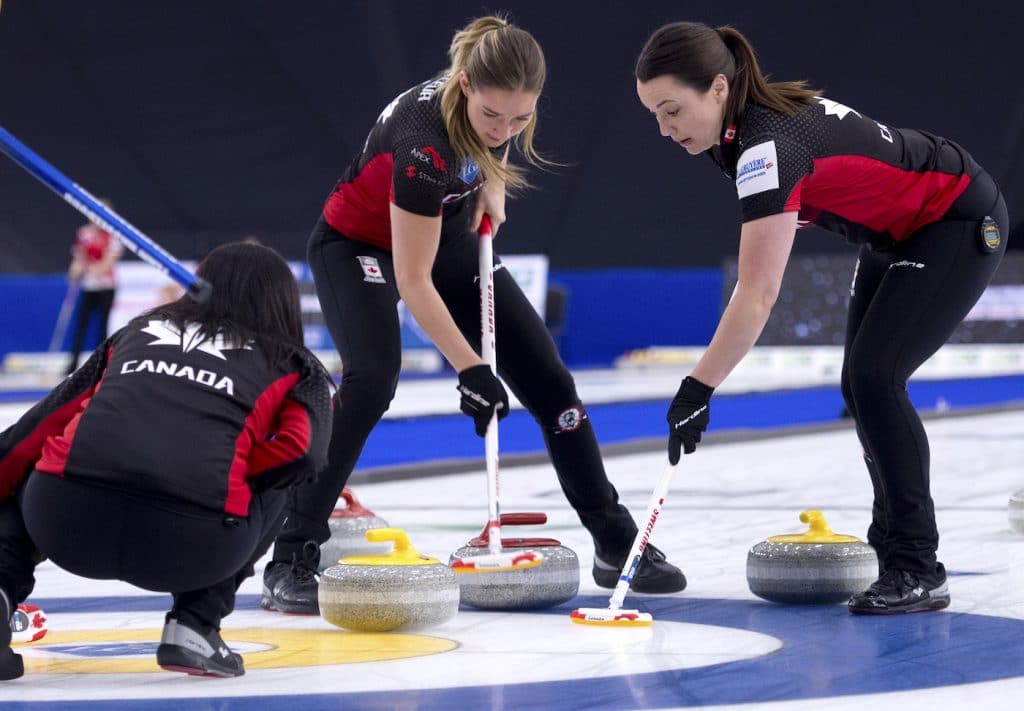 Canada comes up short in playoffs at World Women's
Canada's Kerri Einarson team couldn't keep up with a red-hot Swedish team skipped by Anna Hasselborg on Saturday morning at the 2021 LGT World Women's Curling Championship, presented by BKT Tires.
Shooting a collective 91 per cent as a team, Sweden rolled to an 8-3 win over Canada in the qualification round at WinSport Arena at Canada Olympic Park in Calgary.
The loss eliminates Einarson, vice-skip Val Sweeting, second Shannon Birchard, lead Briane Meilleur, alternate Krysten Karwacki, team coach Heather Nedohin and national coaches Elaine Dagg-Jackson and Renee Sonnenberg.
Sweden, meanwhile, advances to a Saturday night semifinal at 9:30 p.m. (all times Eastern) against RCF's Alina Kovaleva, who finished second in the 14-team round-robin standings and received a bye to the semi.
"Disappointed," said Einarson. "I had a really good feeling going into that game. We just got behind the 8-ball a little early. We just needed to bail ourselves out, and we just weren't as sharp as we have been."
The teams traded single points early, but the Swedes would take control with deuces in the third, fifth and seventh ends, while forcing Canada to take single points in the fourth and sixth ends.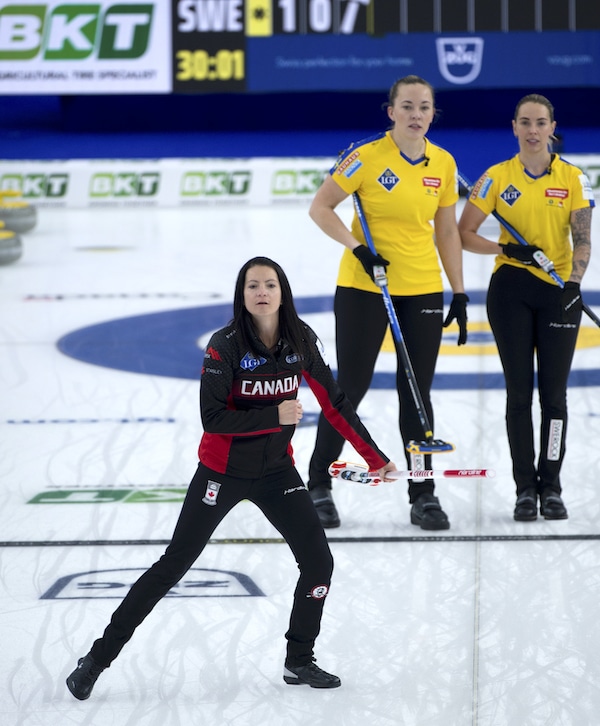 The shot that essentially ended the game after eight was typical of the morning — Canada had two stones partially buried in the eight-foot circle, but Hasselborg made a wonderful runback double takeout to eliminate the threat and sit two. Einarson couldn't follow with a double-takeout to score one, and Canada conceded after the Swedish steal.
"We struggled a bit early, and they just ran away and made everything after that," said Sweeting. "We left it all out there, we fought hard. It wasn't the game that we wanted; we kept trying to make shots and figure it out, but it just wasn't our morning."
It was a tough end to what had been a memorable run by the Canadians, who recovered from a 1-5 start to win six of their final seven games to make the playoffs and lock up a berth for Canada in the 2022 Winter Olympics women's curling field.
It was a long stretch in the bubble for the Einarson team, who won the 2021 Scotties Tournament of Hearts in February, then returned three weeks later to play in the Home Hardware Canadian Mixed Doubles Championship, presented by Nature's Bounty (in which Einarson prevailed with partner Brad Gushue), and then went on to play in two Grand Slam events (winning the Players' Championship) followed by the World Women's championship.
"It's been absolutely amazing," said Einarson. "So grateful for this opportunity, to be able to even play with everything happening in this world right now. We're really thankful. We've had a lot of great success here, and we can't be disappointed. We fought extremely hard. A lot of teams might not come back from a 1-and-5 (start), but never quit. I'm so very proud of my teammates.
"I've learned so much about myself and my teammates. This is our very first time on the world stage, and we became a tight-knit family in here. We'll just grow from it and learn from this experience. I'm so excited to see what's next for us."
The efforts of the Canadian team did not go unnoticed by Team Sweden coach Wayne Middaugh, who played in the bubble himself at the 2021 Tim Hortons Brier, presented by AGI.
"I'd like to congratulate them," said Middaugh. "I saw a ton of heart out of Team Canada. With the tough start they had, and turning it around and grinding it out, right to the last moment of their last game. To be able to come back after a tough start like that, playing non-stop from the Scotties to the mixed doubles to the Grand Slam events to the world championship? Wow, I can't imagine it as a curler. Kudos to the entire team for grinding and never giving up. They're a fantastic representative for Canada."
Einarson's season isn't done just yet. Early next week, she and Gushue, along with coaches Nedohin and Scott Pfeifer, are heading to Aberdeen, Scotland, for the 2021 World Mixed Doubles Championship, beginning on May 17.
In the other qualification round game on Saturday, Tabitha Peterson of the United States shaded Denmark's Madeleine Dupont 8-7.
The U.S. will play Switzerland's Silvana Tirinzoni in the other semifinal, at 5 p.m. Saturday.
The semifinal winners will play for the gold medal Sunday at 3 p.m., with the losers battling for bronze Sunday at 10:30 a.m.
This concludes Curling Canada's coverage of the 2021 LGT World Women's Curling Championship. Further updates will be available at the event website, worldcurling.org/events/wwcc2021/
Live scoring, standings and statistics for the 2021 LGT World Women's Curling Championship are available at worldcurling.org/events/wwcc2021?pageType=results
TSN and RDS2 will provide complete coverage of all playoff games at the 2021 LGT World Women's Curling Championship. CLICK HERE for the complete schedule.
This story will be available in French as soon as possible at www.curling.ca/category-all-posts-fr/?lang=fr