Hub City All-Star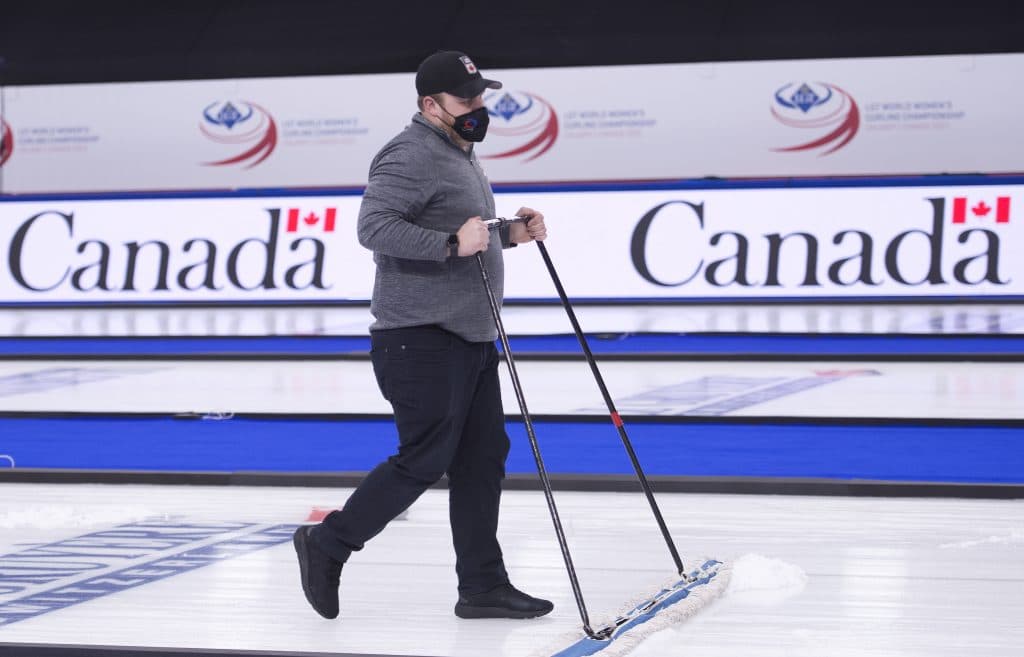 Behind the scenes, Ice Technician Jon Wall Stands in as integral part of the Calgary Bubble
There's an old adage that surmises that they don't make quite things like they used to.

Sure, your car may not last as long as it did 50 years ago and your TV may be rendered obsolete within six months of purchasing it, but among a many great number of things, a steady "can do" attitude never expires.

And when it comes to making the Calgary hub city bubble a success, a can do attitude isn't just an asset. It's a compulsory state of mind.

A select few members of the Calgary bubble have put their home lives on hiatus to enter the bubble, sometimes for months at a time, to be the boots on the ground executing the grueling logistical tasks required to put on an event.

Or in the case of the hub city bubble, seven of them consecutively. 

None know this experience better than a group which have been deemed the "bubble long haulers". These are people who are at the crux of ensuring the Calgary bubble is successful. No returning home to see loved ones between the events, no leaving the bubble whatsoever. These folks have lived and breathed the bubble life longer than anyone.

This is hardly a short order but there's nothing that can't be done without a little grit, so says Jon Wall.

Wall is a member of Curling Canada's ice technician team and the longest tenured member of the aforementioned bubble long haulers. Jon arrived at the bubble prior to the 2021 Scotties Tournament of Hearts in early February to install the ice and will be one of the final members of the bubble to leave.

It will mark 90+ days in the Calgary bubble; away from home and his loved ones.

"I'm no hero – the work needs to get done and it's my job to get it done," said Wall. "Folks in the Canadian Armed Forces have it much harder. They're the ones who deserve praise."

Wall, a native of Horton Township nestled in the west side of the Ottawa valley, is already one of Canada's best ice technicians at the tender age of 33 and has had an impact on each of the six bubble events. Alongside Curling Canada's Chief Ice Technician Greg Ewasko and other members of the Curling Canada ice tech team, Wall has been working diligently to ensure world-calibre ice conditions for the athletes who enter the bubble.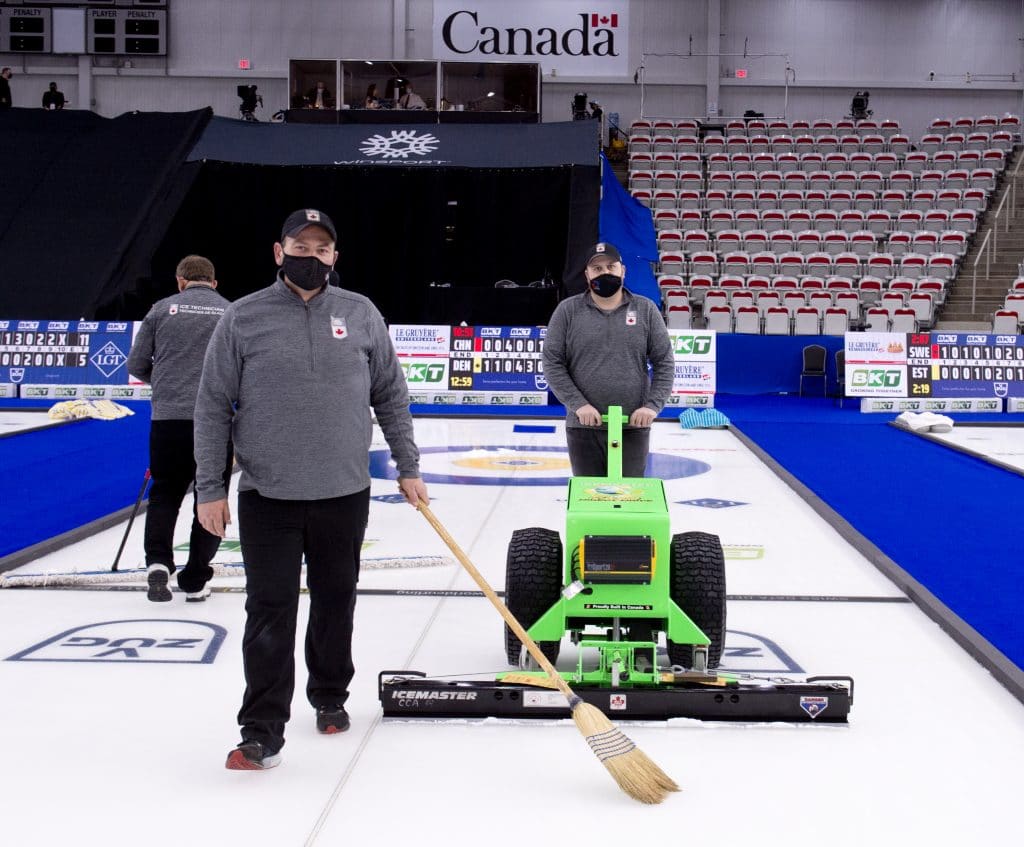 "It's a challenge," said Wall. "Every building is a little different when you're making ice and WinSport Arena was a tricky building. The pressure is on when we're talking about a Scotties, Worlds or (Tim Hortons) Brier because the athletes expect great conditions."

Wall and Ewasko did not work alone. With each event, additional ice technicians would enter or exit the bubble to take on the herculean task that comes with a fresh install for each event. Wall credits the efforts of his team for making the process look simple.

"We are all Ice Technicians, but the job is much more than that. There are a lot of extra tasks that come with creating championship calibre ice in an arena that you don't face when making ice in your home club. We lay boards and set up the foaming edging just as an example. All that installation needs to be removed at the end of the event too."

Knowing that the job cannot be done alone, Wall insisted that the entire ice crew for each event be mentioned to ensure full credit is distributed evenly.

They are:

2021 Scotties Tournament of Hearts Crew
Greg Ewasko – Manitoba
Mark Shurek – Manitoba
Darren Gress – Saskatchewan
Neil Gargul – Quebec
Ron Cutting – Alberta
Audra Lindsey – Alberta
Don Powell – Ontario

2021 Tim Hortons Brier presented by AGI Crew
Greg Ewasko – Manitoba
Darren Gress – Saskatchewan
Neil Gargul – Quebec
Ron Cutting – Alberta
Rick Allen – Ontario
Rebecca Duck – Ontario

2021 Home Hardware Canadian Mixed Doubles presented by Natures Bounty
Greg Ewasko – Manitoba
Darren Gress – Saskatchewan
Neil Gargul – Quebec
Ron Cutting – Alberta
Rick Allen – Ontario
Rebecca Duck – Ontario

BKT Tires & OK Tires World Men's Curling Championship
Greg Ewasko – Manitoba
Matt Rankine – Manitoba
Dave Merklinger – BC
Mike Merklinger – BC
Eldie Benson – Ontario
Wayne Cubbon – Saskatchewan

Grand Slam of Curling Events
Mark Shurek – Manitoba
Dave Merklinger – BC
Mike Merklinger – BC
Eldie Benson – Ontario
Joe Mason – New Brunswick
Don Currier – Ontario

LGT World Women's Curling Championship
Greg Ewasko – Manitoba
Mike Merklinger – BC
Ron Cutting – Alberta
Joe Mason – New Brunswick
Don Currier – Ontario
Wall was seen as a workhorse by his fellow ice technicians and would often volunteer himself to work additional hours to ensure the on ice product was the best it could be.

"Once the install is done, the work doesn't stop. We temper the rocks, maintain the ice, and watch the conditions. There isn't much room left in the day for sleeping. Any ice technician knows what I'm talking about."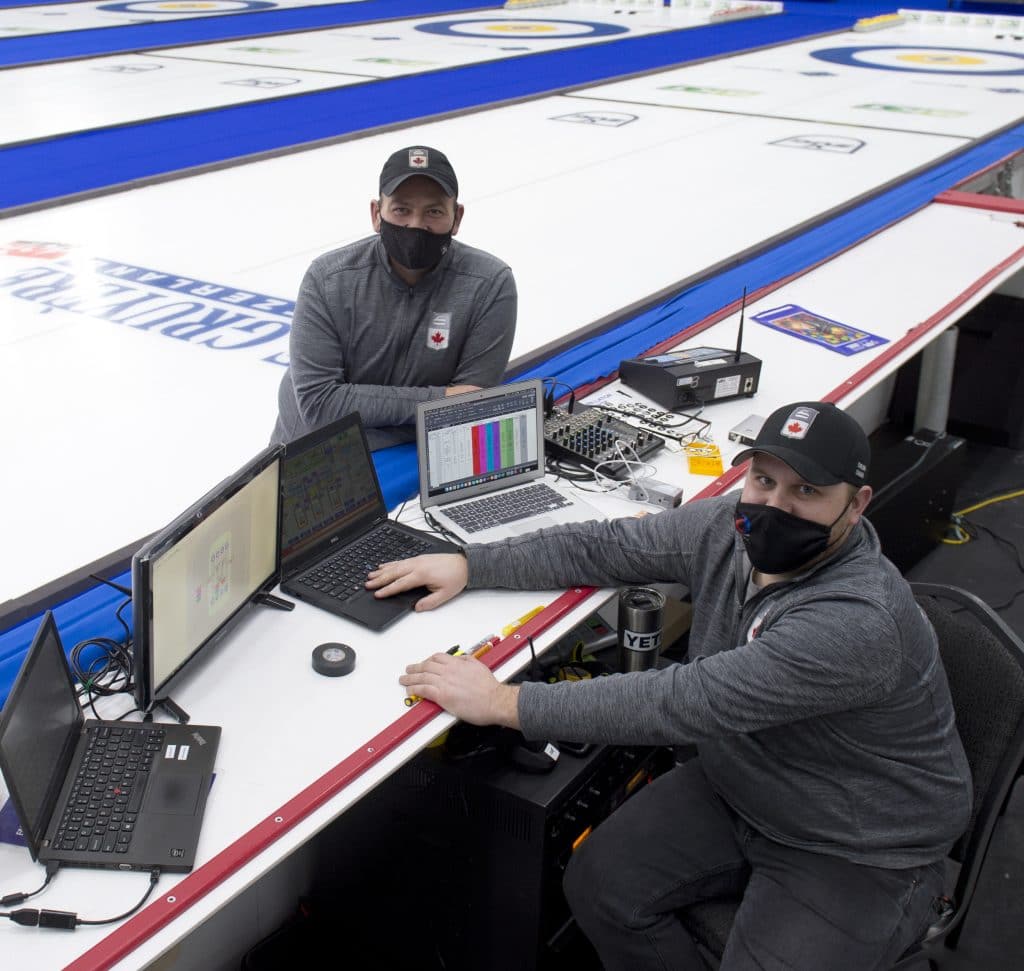 Wall credits his own mental fortitude for a successful, albeit long stint inside the bubble.

"I never once counted the days until I could go home inside the bubble. The work was distracting enough to ensure that I never got bored. Of course, there are times when it gets frustrating or emotional so bubble life is not for everyone, but I'm built for a scenario like this. It's nothing new – just a more extended version of what I do professionally already."

When the frustration would set in, Wall would resort to simplifying his methods as his coping mechanism.

"My job was simple: go to the rink every day. Once you're there, you really have no time to think about anything else. It's just 'go' time, all the time. At least I was never stuck in my room or stuck walking around in the parking lot. I got to work through it all and that kept me going."

A sense of community within the bubble would also help Wall endure the long hours.
"When you would cross paths with other members of the bubble, they'd ask you 'how are you holding up' and show concern. But it was always just another day. We're busy. You don't really get a chance to think about anything else. It helps you stay focused for the entire stay."

Wall also took his time in the bubble to refine some of his leadership skills among his fellow ice technicians, often leading by example.

"When we'd get down to the big days of the event, you have to take stock of your crew and think about who is tired and who is fresh. You can always try to take naps between draws to catch up on sleep, but it doesn't always work that way. As one of the main guys, you have to take ownership of 'the bad shifts' – the overnighters and the physically demanding shifts."

Being battle-hardened through years of ice technician experience has made Wall more cognizant of balancing the needs of his crew and getting tasks completed efficiently.

"I've done 29 Slam events and plenty of Curling Canada events. I can think of more than half where we were working on no sleep. You'd look up at the clock and wonder if the hours were a.m. or p.m. It's no different in the bubble, so you really have to take into account the stress of bubble life when managing your crew. Greg (Ewasko) has done it; (Dave Merklinger) has too. Same with Mark (Shurek). There are plenty of work horses among us and we know what it takes because we've been there."

Despite the rigour that Wall faced within the bubble, he ensures curling fans all over the world that it is a privilege to be trusted with the task of making ice within the hub city bubble.

"You think about all that time away from home and you wonder: 'Why am I doing this?' At the end of the day, we all do it for the love of the game. Anyone who works in curling full time knows what I mean; whether it's media, broadcast, behind the scenes or even volunteers. We do it to ampliphy the sport of curling and to help bring entertainment or a little piece of familiarity to those watching at home during this pandemic. I'm not speaking on just my behalf here, either. I'm speaking for every other member of the bubble who sacrificed entire portions of their lives to deliver curling to folks at home. We do it for the love of the game."

Undaunted by the herculean task that will soon be complete for Wall, he has no plans on slowing down.

"Once I get home, I'll probably take a few weeks to relax, but I'll be back at it in the summer working construction. I say that I'll take a few weeks off now, but we'll see how that ends up," he concludes jokingly.

Wall's story, while being a truly unique set of circumstances, is all but one of the many that can be told from the bubble. His ability to remain focused on the task at hand, prop up his peers and fellow staff and lead by example are universal traits employed by a number of bubble residents who strive to deliver the best possible product to athletes, sponsors and to you, the curling fans.

If the hill seems too tall to climb, or a task too daunting to ever see success, just think about Jon Wall and his "can do" attitude.

Because as Wall says: "Dig deep, don't quit and give it a little elbow grease, and you'll never be disappointed with the outcome."