On a roll!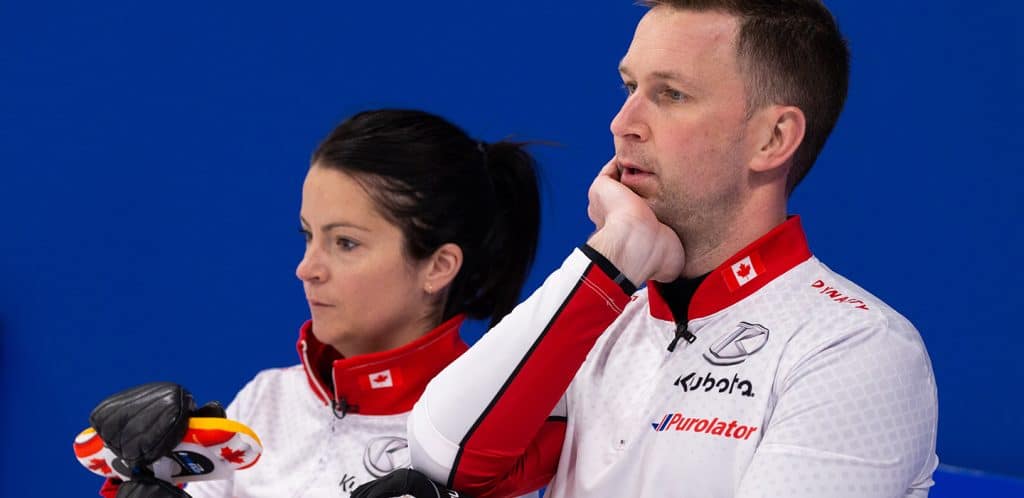 Canada has a two-win Tuesday at 2021 World Mixed Doubles Championship
Canada's Kerri Einarson and Brad Gushue continue to sit at the top of the standings following a two-win day at the 2021 World Mixed Doubles Curling Championship on Tuesday in Aberdeen, Scotland.
Einarson (Camp Morton, Man.), Gushue (St. John's, N.L.) and coaches Scott Pfeifer and Heather Nedohin picked up their second win of the day at Curl Aberdeen, improving to 3-0 in Pool A with a 7-5 win against Hungary's Dorottya Palancsa and Zsolt Kiss. After Canada's second game of the day, Einarson and Gushue are tied with Czech Republic and Scotland in the standings.
"It was much more of a textbook game and I thought we played really well. But even though we played it real well, still textbook, it's still real stressful in the last end of mixed doubles. There's still so much that can happen and there's no lead that's really comfortable," Gushue said.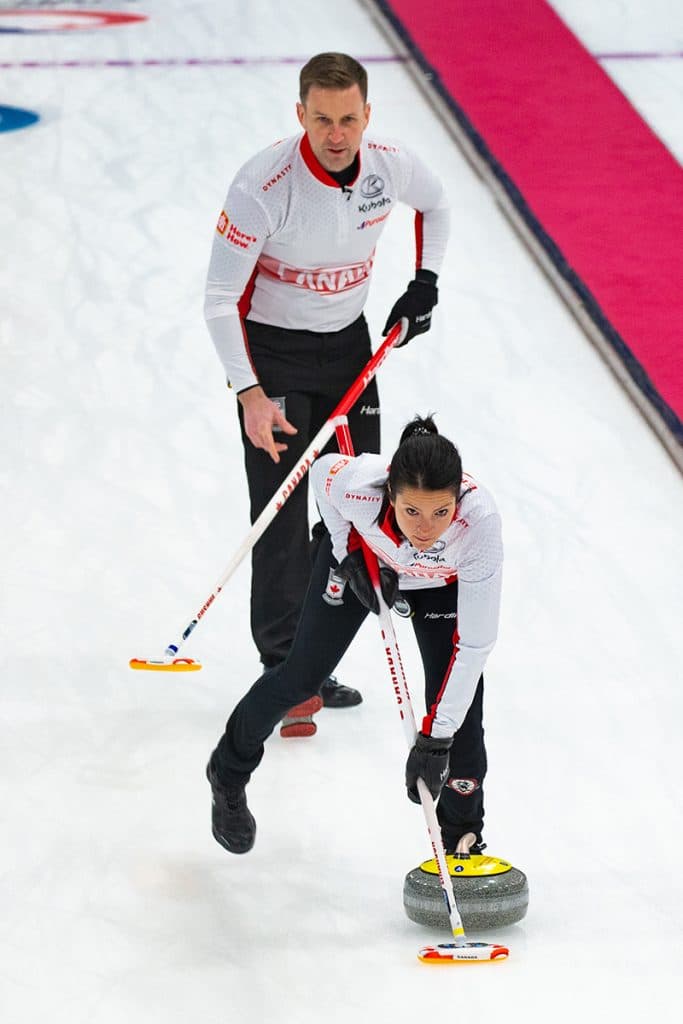 The teams chugged along at a two-point pace over the first three ends of the game, but momentum swung to Canada in the fourth end with a steal of one. Hungary's Kiss made a brilliant runback double that had the potential to continue the trend of scoring another deuce, but he over-curled on his next shot, and that allowed Canada to weld two stones onto the button. That forced Hungary to give up a steal of one and provide Canada with a 5-2 lead.
From that point on, Einarson and Gushue outplayed Hungary for the remainder of the game.
As mixed doubles was coming into its own as a discipline before being added to the Olympics, Hungary's duo of Palancsa and Kiss were the golden standard in the sport. Palancsa and Zsolt debuted at the 2013 World Mixed Doubles Curling Championship in the best way possible. The Hungarian team defeated Sweden in 2013 to win gold medals. Palancsa was just one month away from celebrating her 18th birthday.
Two years later, in 2015, they repeated as champions by once again defeating Sweden. However, the pair has been unable to achieve that pinnacle since curling nations had amped up their resources to support mixed doubles curling when it debuted at the Olympic Winter Games in 2018.
Palancsa and Kiss were forced to take one in the fifth end, and Canada increased the lead in the sixth by scoring on an open draw for two. Hungary utilized a power play and managed to get two points, but this left Canada with a two-point lead, with the hammer and a power play in the final end. Hungary had a difficult angle-raise into the house and needed to sit two, but the team missed, and Canada didn't need to throw its last shot.
The Canadians played their best collective game so far at the event with Einarson finishing 82 per cent and Gushue at 85. Both were personal bests for each player, and it's a positive sign the team is getting more comfortable with the rocks and ice as it drives for a spot in the playoffs.
"I think we're getting better each game and just trying to learn the ice and the paths and figure it out," Einarson said.
Canada's next game is on Wednesday against Australia's Tahli Gill and Dean Hewitt (0-3) at 4 a.m (all times ET), and South Korea's Ji Yoon Kim and Si Woo Moon (1-2) at 11 a.m., which will be broadcasted live on TSN.
TSN/RDS 2, the official broadcast partners of Curling Canada's Season of Champions, will provide live coverage of select Canada round-robin games, in addition to all playoff games. CLICK HERE for their complete broadcast schedule.
For Team Canada updates, go to www.curling.ca. Follow us on Twitter, @curlingcanada.
For live scoring, standings and team lineups from the 2021 World Mixed Doubles Curling Championship, go to https://worldcurling.org/events/wmdcc2021
The French version of this story will be posted as soon as possible at www.curling.ca/?lang=fr