Scotland tops Canada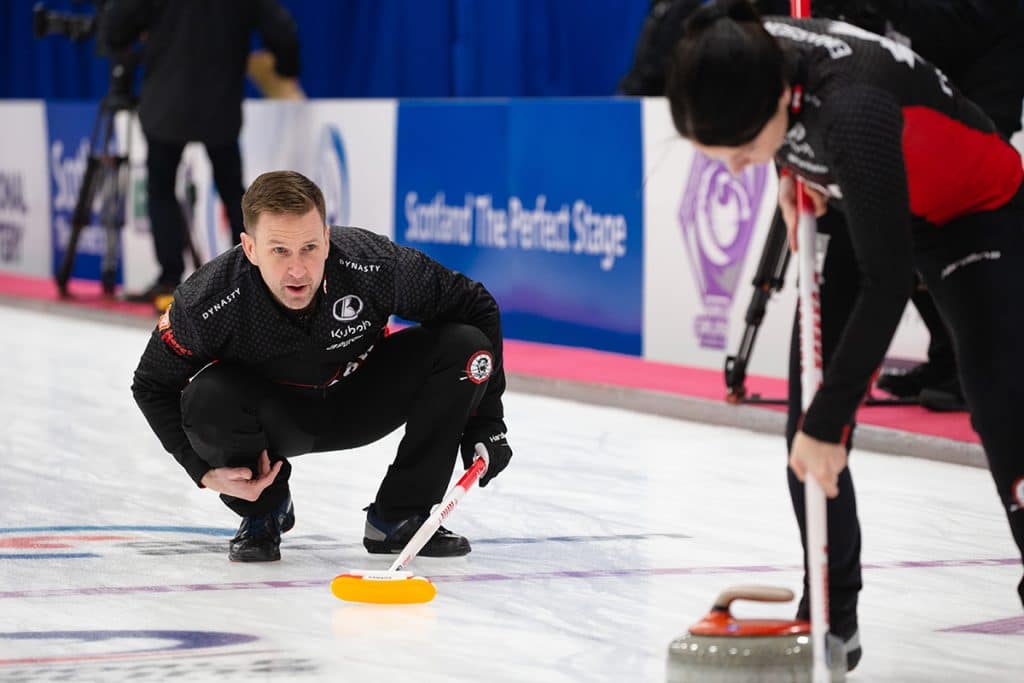 Canada unable to come back from early deficit against Scotland at 2021 World Mixed Doubles Curling Championship
Canada attempted a comeback rally but fell short in its effort against Scotland at the 2021 World Mixed Doubles Curling Championship on Thursday in Aberdeen, Scotland.
Canada's Kerri Einarson (Camp Morton, Man.), Brad Gushue (St. John's, N.L.) and coaches Scott Pfeifer and Heather Nedohin, found themselves in an early deficit that they couldn't overcome. Scotland's Jennifer Dodds and Bruce Mouat defeated Canada 8-5 at Curl Aberdeen.
Scotland improves to 6-1 after the win and gives Dodds and Mouat a clear path to a semifinal bye in the playoffs as they now own the head-to-head tiebreaker with Canada. Dodds plays second on Eve Muirhead's women's team, while Mouat is most recently known for his success in Calgary's hub city by earning the silver medal at the world men's championship and winning two Grand Slam of Curling events.
On the other hand, Canada drops to 5-2 and is tied for second place in Pool A with Italy. As an added benefit, Canada owns the head-to-head tiebreaker over Italy. The top three teams will advance to the playoffs and earn their nation a spot in the mixed doubles discipline at the 2022 Olympic Winter Games in Beijing. 
"It was a tough start for Team Canada. We got caught on speeds and a few paths early in the game, giving up three and falling quickly behind," said coach Pfeifer. "Definitely had some chances throughout the game to catch up but couldn't quite bring it back to even."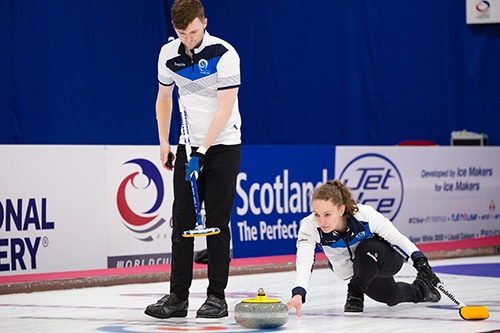 Canada found itself scrambling as early as the first end against Scotland. Einarson attempted a thin double on her final shot, but it over curled and missed the target. The miss allowed Scotland to score three points early in the game. Adding a bit of insult to injury, Scotland stole another point in the second end. Canada had an angle-raise attempt for two – or even three – points and just missed.
The teams exchanged two points in the third and fourth ends, with Scotland taking a 6-2 lead at the fourth-end break.
Feeling a bit of urgency, Einarson and Gushue elected to use the power play in the fifth end, which worked out very well for the Canadians. Canada was sitting first and second shot behind cover on Scotland's final throw. Dodds attempted a triple but it didn't curl enough, allowing Canada to hit three and only trail by one point.
The momentum continued to swing towards Canada in the sixth end when Einarson and Gushue forced Dodds and Mouat to a single point. Scotland had a tricky triple-tap for two, but it nudged their second shot stone off the back button and out of scoring contention.
However, Scotland stopped any form of Canadian comeback in the seventh end. Canada was unable to orchestrate a multi-point end and gave up a steal of one after missing a paper-thin peel shot for a chance to score two. Scotland finished the game by running Canada out of rocks in the final end.
Canada finishes the round robin on Friday against Zuzana Paulova and Tomas Paul of the Czech Republic (4-3) at 7:30 a.m. (all times ET), followed by RCF's Anastasia Moskaleva and Aleksandr Eremin (4-3) at 2:30 p.m.. Both games will be broadcasted live on TSN.
TSN/RDS 2, the official broadcast partners of Curling Canada's Season of Champions, will provide live coverage of select Canada round-robin games, in addition to all playoff games. CLICK HERE for their complete broadcast schedule.
For Team Canada updates, go to www.curling.ca. Follow us on Twitter, @curlingcanada.
For live scoring, standings and team lineups from the 2021 World Mixed Doubles Curling Championship, go to https://worldcurling.org/events/wmdcc2021