On to the bronze-medal game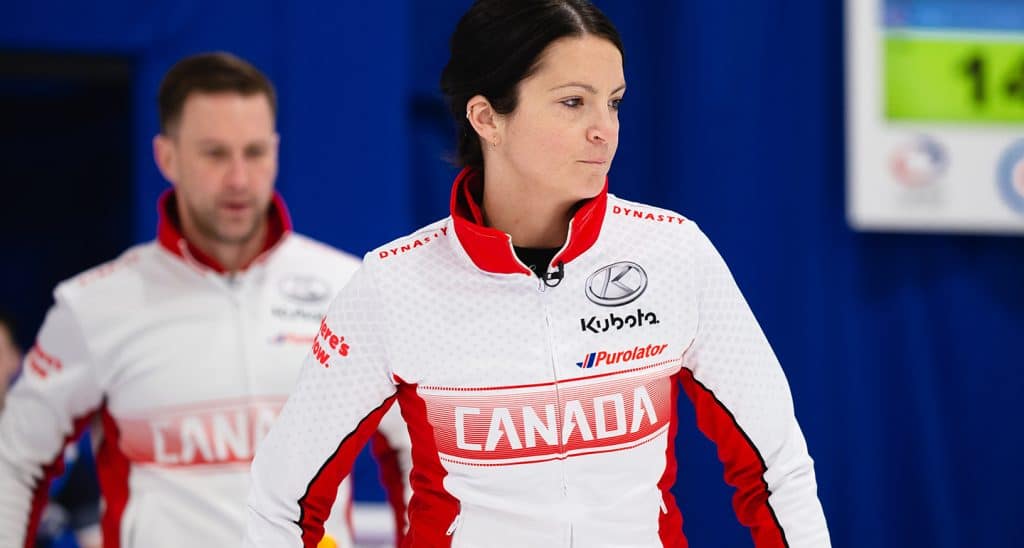 Canada falls short during re-match with Scotland in World Mixed Doubles Curling Championship semifinal
Canada lost its semifinal bout against Scotland at the 2021 World Mixed Doubles Curling Championship on Saturday and will play in the bronze-medal game tomorrow in Aberdeen, Scotland.
Kerri Einarson (Camp Morton, Man.), Brad Gushue (St. John's, N.L.) and coaches Scott Pfeifer and Heather Nedohin lost to Scotland 7-4. It is the second time Canada lost to the team represented by Jennifer Dodds and Bruce Mouat at Curl Aberdeen.
In the other semifinal, 2018 Olympic bronze-medallists Kristin Skaslien and Magnus Nedregotten of Norway shocked the previous unbeaten Swedish duo of Almida de Val and Oskar Eriksson by a score of 7-6. Norway stole a point in the last end and advance to the final against Scotland at 10 a.m. (all times ET).
Canada will take on Sweden in the bronze-medal game at 5 a.m. Both games will be broadcasted on TSN.
"We'll have an extremely tough bronze-medal game against Sweden, but we're set on doing everything we can to finish this most unique curling season on a positive note," said coach Pfeifer. "Thanks to Canada for all your support, we can hear you all the way over here."
In the final end Canada had an opportunity to set up a big score, but a draw from Gushue was heavy and created a pocket. Mouat drew into it and made it very difficult for Canada to score more than one. Dodds put up a guard, forcing Einarson to slip by another guard and hit a narrow piece of a Canadian rock. It was good for one, but short of the two needed to tie the game.
"It was an incredible effort put in by Brad and Kerri today. Despite being down by multiple points we fought back to have a chance in the final few ends of both games," Pfeifer said.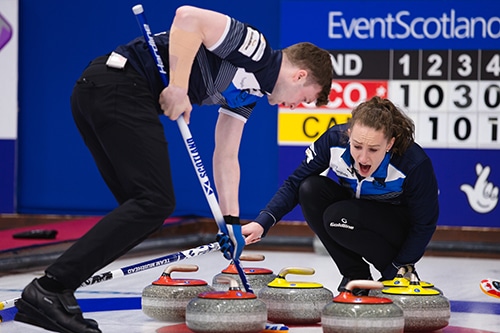 Canada forced Scotland to one point in the opening end. Einarson played a draw to the back four-foot and it curled just enough behind cover. Dodds had a double for Scotland that could have resulted in a score of two, but her shot didn't curl enough and jammed on the back for a single point.
Scotland nearly had Einarson and Gushue in trouble during the second end with a few Scottish stones protected in the four-foot. Gushue played a runback that opened the end up and had Scotland's final shot not slide too far into the four-foot, Canada would have been looking at giving up at least a point. The miscue allowed Einarson to play a hit for a single point.
Dodds and Mouat took the first big lead of the game in the third end. Einarson had a golden opportunity to freeze her shot onto the button for a potential steal. However, the rock unexpectedly stopped light and over curled into a guard giving Scotland a draw for three.
Canada was forced to one after solid shot-making from Dodds in the fourth end. She played a precise tap into the button that was just enough for second shot. Einarson had a thin slice attempt that would have sent granite flying for a multi-point end, but the rock didn't curl up quite enough.
In the fifth end, Canada faced an interesting decision of either playing a tap and attempt to steal or guard and force Scotland to one. The Canadians opted for a guard to prevent a double. Dodds responded by nearly making an impeccable draw to the button for two, but it was short. Scotland was held to one.
Canada used its power play in the sixth end for a deuce. Scotland attempted a slash double on its final shot and missed the back stone on the way out. Einarson responded by cooly drawing to the button for two and trailed by one.
Scotland replied with its own power play in the seventh end, hoping to put the game out of reach. Late in the end the house looked quite empty with one Canadian corner guard a stone of each colour off to the wings, but not completely buried. Einarson hit the Scottish stone and rolled across the house to sit two and Dodds had an open draw to score one.
TSN/RDS 2, the official broadcast partners of Curling Canada's Season of Champions, will provide live coverage of select Canada round-robin games, in addition to all playoff games. CLICK HERE for their complete broadcast schedule.
For Team Canada updates, go to www.curling.ca. Follow us on Twitter, @curlingcanada.
For live scoring, standings and team lineups from the 2021 World Mixed Doubles Curling Championship, go to https://worldcurling.org/events/wmdcc2021