Bubble Wrap!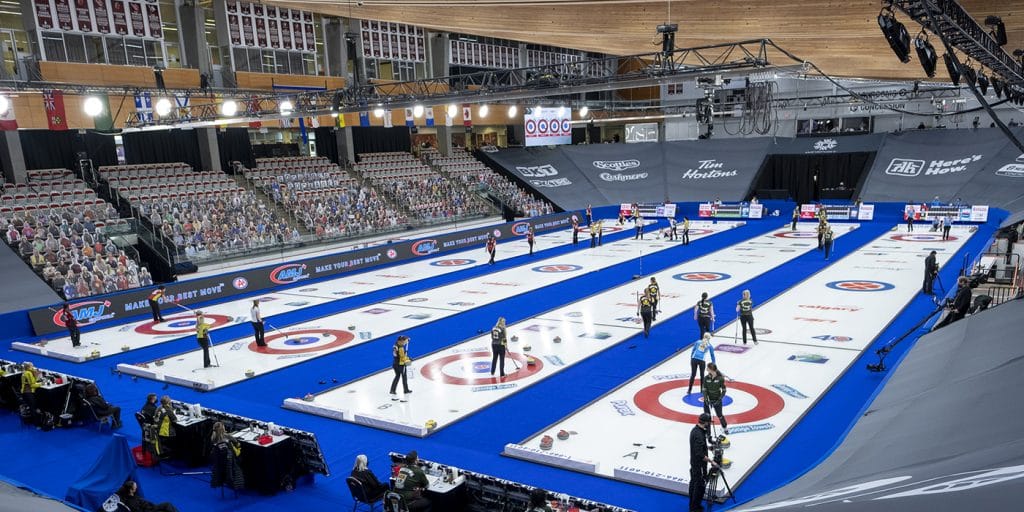 As a new curling season dawns, Curling Canada Board of Directors and operations staff reflect upon what made the Hub City Bubble successful
With a full season of curling at our doorstep, Curling Canada is once again preparing for a full itinerary of events featuring Season of Champions events and Canadian Championships; the likes of what curling fans were used to seeing in a pre-pandemic world. What feels like a return to normalcy is a more than welcome change of pace from the stresses and adjustments that were required to host a modified 2020 season inside the Calgary Hub City Bubble. 
Looking back, we may never take a season of curling for granted again but the indication of "normal" curling's return doesn't detract from how wildly successful the Calgary Hub City Bubble truly was. By the numbers, Curling Canada's Hub City Bubble in Calgary was Canada's largest and most successful athletic bubble.
Over 90 days of competition and five new Canadian/World champions were crowned while 209 volunteers contributed 10,870 hours of their time working alongside athletes, staff and health officials to ensure a successful and safe bubble. Thanks to Tim Hortons, more than 14,000 cups of coffee were consumed in the bubble alongside 9,852 donuts, 4,476 muffins, 6,636 cookies and 8,618 litres of water.
And while the success of the bubble cannot be truly encapsulated by metrics alone, it can be measured in the amount of hope it inspired by bringing live curling back into our homes during the COVID-19 pandemic.
The execution of the Calgary Hub City Bubble will not be a small appendix in the annals of history either; the hub city will have proven to be one of the greatest feats in curling ever. Taking on unprecedented conditions and a laundry list of unknowns, Curling Canada successfully produced five world-calibre events, with an additional two Grand Slam events piggybacking on the planning and execution of the hub city.
It goes without saying that without the support and vision of Curling Canada's Board of Directors, the hub city bubble would not have been possible. Much of the risk of planning a large-scale athletics bubble fell on the shoulders of the board of directors and it was a challenge they did not shy away from, says board chair Amy Nixon.
"The Bubble conversations were really about risk vs. opportunity," said Nixon. "The Board was, as it should be given its role, concerned about understanding the financial and reputational risks, the safety and well being of our staff, volunteers, and the players and their support teams was paramount. We believed that there would be great interest amongst the fans given the pandemic reality that many people were facing."
Balancing the needs of fans and athletes weighed heavily on the Board's mind as well, where striking a balance between both was deemed paramount.
"We believed that there would be great interest in the events amongst the fans given the pandemic reality that many people were facing. We were mindful of the timing of the Olympic qualifying and the need to provide the high performance teams with some aspect of competition in 2021."
Nixon was aware of the herculean nature of the project, and while the Board approved and incurred much of the risk surrounding the hub city's execution, she credits Curling Canada staff for their efforts.
"I am sure that the employees had much more to contemplate on a daily basis than the Board did. There was no doubt that there were some moments of doubt where we had test results that required further information/exploration. We were always keenly aware of the need to provide very careful consideration to the safety of all those involved on the ground in Calgary."
Nixon herself was part of the volunteer corps that was essential to the successful execution of the bubble, despite how different it felt from a regular championship.
"I was a volunteer statistician during the Hub City in various events," she said. "I scored the Scotties final game and I remember both observing the eerie feeling of a win that big in such a quiet building, but also the feeling of fierce pride in that moment that our operations team had managed to get the players and competition to that moment without any serious health impacts."
Nixon also extends her gratitude for a successful bubble to many others on behalf of the Curling Canada Board of Governors.
"There are so many people who deserve heaps of credit who were on the ground. Danny Lamoureux, Kyle Jahns, Al Cameron, Nolan Thiessen, Danielle Inglis and the countless volunteers who gave their time and energy in a challenging time and environment. Katherine Henderson as well for championing her team's ideas and planning. No doubt in my mind that as the CEO, she deserves definite kudos. Shannon Kleibrink from Curling Alberta who spent much of the months of the bubble in the arena and coordinating volunteer schedules, among other (multiple) duties as assigned. Many of my board colleagues invested significant amounts of time in the concept and the meetings required. No one less than both of our former Chairs of the Board whose tenures overlapped from concept approval to completion: John Shea and Mitch Minken."
2021 Scotties Tournament of Hearts Champion Val Sweeting experienced the bubble first hand over multiple events and expressed her gratitude for an opportunity to play as well.
"It meant so much to be able to play here. It took a ton of people, a ton of organizers," said Sweeting. "The Curling Canada crew, Sportsnet, TSN, the World Curling Federation, and the athletes. It was a lot on everybody, but we're still super grateful and it went off really smoothly. There were hiccups here and there, but I think they were all managed really well by the organizers and the athletes. The icemaking crew especially – some of them have been here for a super long stretch. Thank you to everyone for the opportunity."
The execution of the hub city bubble is a testament to the thousands of hours of labour from Curling Canada staff, Alberta Health, ice technicians, volunteers, broadcast staff, and hundreds of athletes. All these components working in syncopation made the Calgary Hub City a complete success.
Odds are we'll never see another bubble again. There won't be any eerily still walks down the sheet in celebration of newly crowned champions, nor will there be any more silence in the crowd from cardboard fans after a top quality shot.
Soon, fans will return to their seats, eager to cheer on their favourite teams and yet there's a subtle beauty having seen curling from a different perspective and knowing that the roaring game will roar once more.