Trials spot on the line!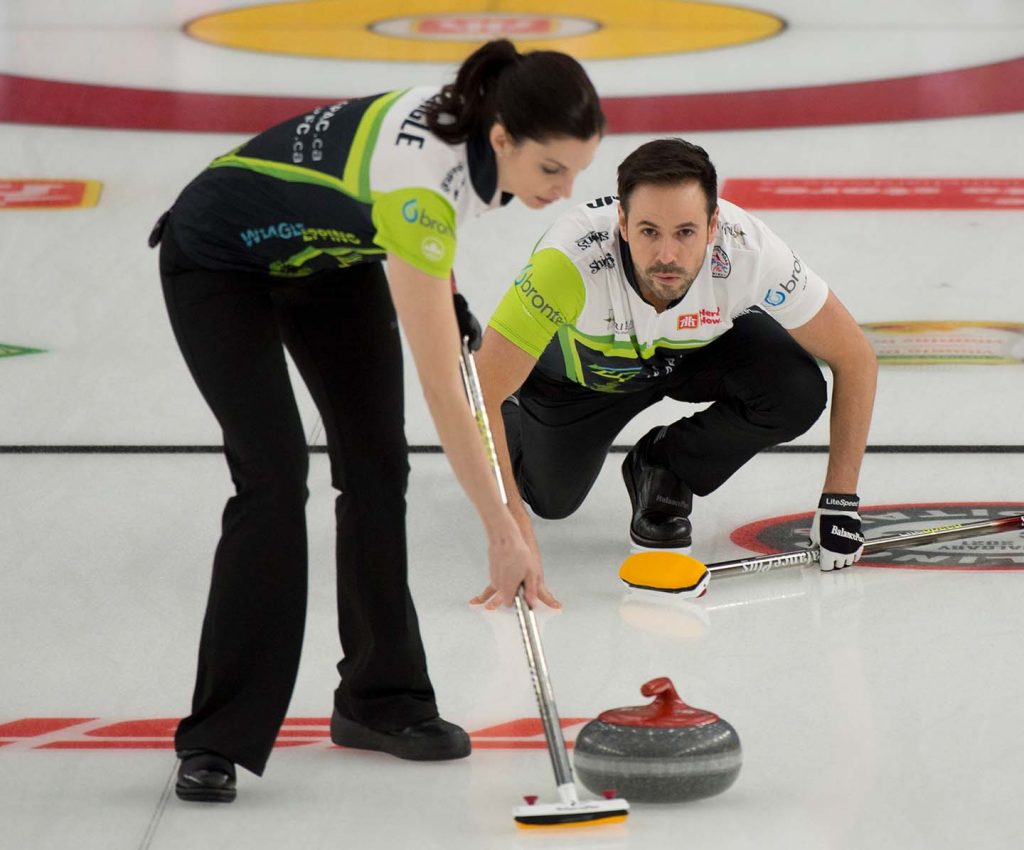 Mixed doubles trials berth headlines this weekend's curling action
Over the past few weeks, competitive curlers across the country have attempted to hit the ground running and take advantage of early-season events. With trials berths on the line in the near future at the Canadian Curling Trials Direct-Entry and Canadian Curling Pre-Trials Direct-Entry Events in Ottawa (which will be live-streamed on Curling Canada's YouTube page) teams have been trying to find mid-season form, even though it's just mid-September.
This weekend, the mixed doubles squads will attempt the same at the Aly Jenkins Mixed Doubles Memorial Bonspiel – but this time, there are spots for the Canad Inns Canadian Mixed Doubles Trials up for grabs.
The Aly Jenkins Memorial in Martensville, Sask., features 36 male-female pairs from across Canada and around the world. The event is named after Aly Jenkins, a competitive Saskatchewan curler, who died in 2019 due to a rare childbirth-related complication at only 30 years old.
The team that wins the event – assuming they are Canadian – will earn a spot in the mixed doubles trials event scheduled for Dec. 28, 2021-Jan. 2, 2022, in Portage la Prairie, Man. If the winner has already qualified, the highest eligible non-qualified top-four finisher will get the berth. There is also $32,000 in prize money.
The pair of Lisa Weagle (Ottawa) and John Epping (Toronto) are among the biggest names in the event. They have yet to qualify for the trials. Nancy Martin (Saskatoon) and Tyrell Griffith (Kelowna, B.C.) are also playing, but they've already earned their spot in Portage on the basis of Canadian Mixed Doubles Ranking (CMDR) points.
Other big names such as Chelsea Carey of Calgary (playing with Tyler Hartung), Michelle Englot of Regina (with Derek Schneider), and Steve Laycock of Saskatoon (with Patty Hersikorn) would all love to punch their ticket to the trials.
Also of note, Tim Hortons Brier stars David Nedohin and Jim Cotter are both playing in this event with their daughters: Alyssa Nedohin and Jaelyn Cotter.
The Aly Jenkins Memorial is streaming live through the new Curling Stadium platform.
In the world of traditional four-player curling, there are three other events to keep an eye on. In Alberta, the Sherwood Park Women's Curling Classic features 16 women's teams including two-time reigning Scotties Tournament of Hearts champion Kerri Einarson (Gimli, Man.), three-time Scotties winner Rachel Homan (Ottawa), and six-time winner Jennifer Jones (Winnipeg). The stacked field is playing for a share of $12,200.
The Mother Club Fall Curling Classic gets underway Thursday, with 10 women's teams and 12 men's teams. 2021 Scotties Tournament of Hearts skips Beth Peterson (Winnipeg) and Mackenzie Zacharias (Altona, Man.) headline the women's event, while 2015 Tim Hortons Brier champion Pat Simmons (Winnipeg Beach, Man.) and 2020 world junior champion Jacques Gauthier (Winnipeg) are notable on the men's side.
In Ontario, the KW Fall Classic gets underway in Waterloo, Ont. Twenty women's teams, and 18 men's teams will fight through a triple-knockout to reach the playoffs. Of note, Thunder Bay Ont.'s Krista McCarville gets her season underway, while Woodstock Ont.'s Hollie Duncan tries to make it back-to-back wins after taking last week's title in Oakville.
For scores and live stream links (when available), click here.