Early win for St-Georges!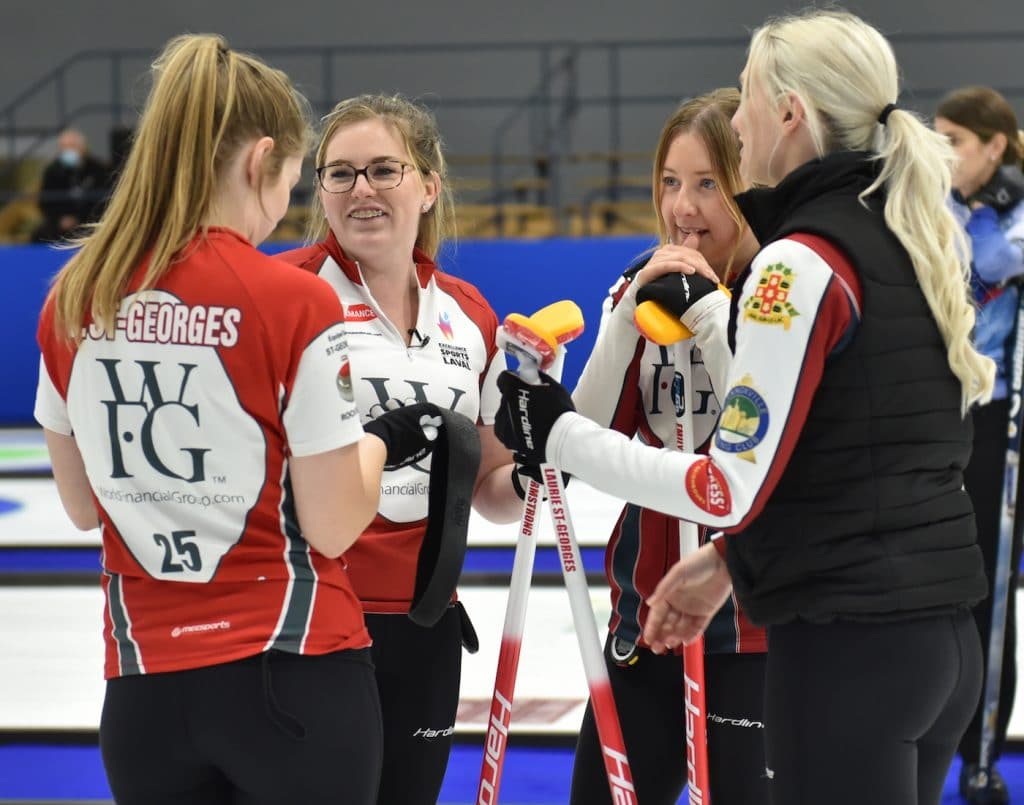 Team St-Georges picks up where it left off after Scotties success
As every curling fan learned during the 2021 Scotties Tournament of Hearts, Laurie St-Georges and her teammates have always found a way to smile on a sheet of curling ice.
So it was comforting to realize that a summer away from curling had done nothing to change things for St-Georges, vice-skip Hailey Armstrong, second Emily Riley, lead Cynthia St-Georges, alternate Isabelle Thiboutot and coach Michel St-Georges.
In their opening game Wednesday afternoon at the Canadian Curling Pre-Trials Direct-Entry Event at the RA Centre, Team St-Georges had plenty of reason to smile, cruising to an 8-4 win over Team Jill Brothers of Halifax.
The win advanced Team St-Georges, from Laval-sur-le-Lac/Glenmore, Que., to the A-event semifinals of the triple-knockout event, which will decide two entries for the Home Hardware Pre-Trials in late October in Liverpool, N.S.
Team St-Georges gave up a stolen point in the first end to Team Brothers, but never looked back, taking three in the second end and stealing a single in the third. The game was put away for good when St-Georges scored three in the eighth end on a lovely inturn tap through a port.
"First win, and it's a big win," said a smiling (of course) St-Georges. "It was a great game; a lot of opportunities and we played well, we made some big shots at the end. First win is always nice; we're just going to keep trying to stay in the 'A'. "
Representing Quebec at their first Scotties, Team St-Georges became a fan favourite as it raced through preliminary pool play with a 6-2 record; the team would lose all four of its Championship Pool assignments, but came away with the experience of knowing it can play with the best teams in the country.
"I think we know that we can make some big shots, and actually stand in with some big teams," said St-Georges, who won the Marj Mitchell Award for sportsmanship at the 2021 Scotties. "But we still have the same mentality; we just want to enjoy the moment, soak it all in, and that's what we're doing. It's a great opportunity for us."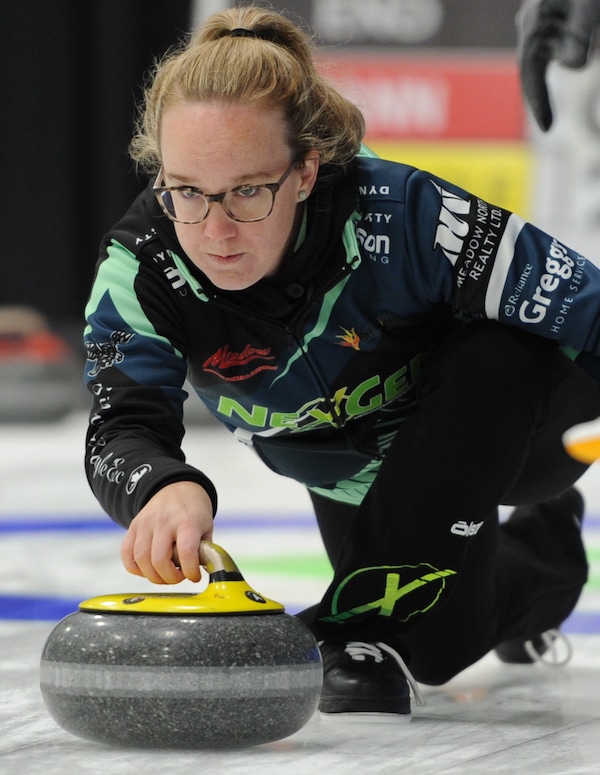 It is indeed; Team St-Georges is one of 27 women's teams left in the country with the chance to represent Canada at the 2022 Winter Olympics in Beijing.
"We were thinking about the 2026 Olympics, but now we're in the 2022 process; it's just incredible," she said. "We're really happy to be here."
If one does the math, it's reasonable to suggest that somewhere in the range of 17 or 18 wins in this event, the Home Hardware Pre-Trials and the Tim Hortons Curling Trials would get Team St-Georges to Beijing. None of them, of course, would be easy wins, but still — is it OK to even think about it?
"It's just too far ahead," protested St-Georges. "Right now I'm just thinking about having a good meal with the girls. We're just taking this rock by rock. And for this first game, it worked. We have a lot of confidence."
In other games, Team Jessie Hunkin (1-0; North Battleford, Sask.) cruised to a 12-2 win over Team Lauren Mann (0-1; Ottawa); and Team Kerry Galusha (Yellowknife) was a 10-4 winner over Team Sarah Wark (Abbotsford, B.C.)
The Canadian Trials and Pre-Trials Direct Entry events complete their opening day Wednesday with a draw at 8 p.m. (all times ET).
Thursday, draws are scheduled for 8 a.m., noon, 4 p.m. and 8 p.m.
Live scoring and standings for the events are available here.
Live streaming for all draws is available on Curling Canada's YouTube page.
This story will be published in French as soon as possible here.