Homeward bound!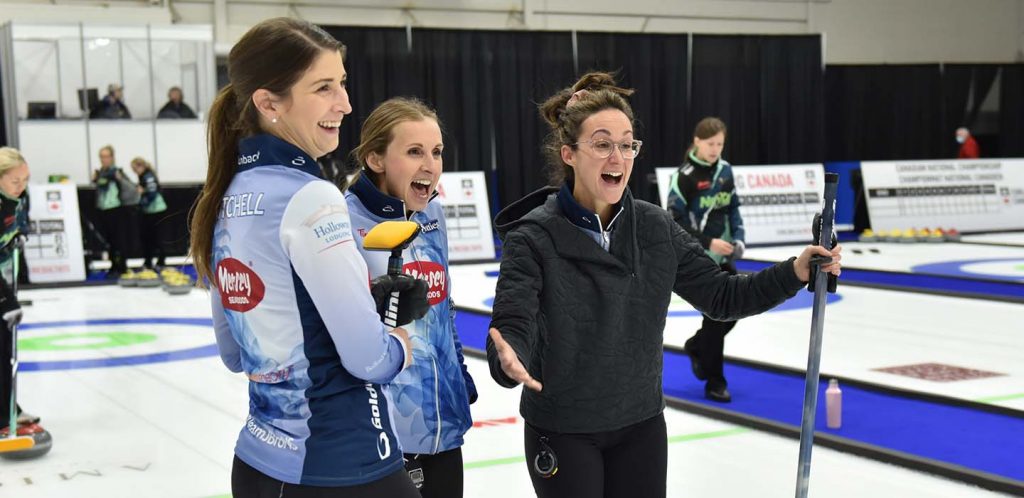 Jill Brothers to compete in her hometown of Liverpool at Home Hardware Curling Pre-Trials
Nova Scotia curling fans now have a women's team to cheer for at the Home Hardware Curling Pre-Trials in Liverpool, N.S.
Jill Brothers (5-2; Halifax) won five games in a row to clinch the final berth available through the Pre-Trials Direct-Entry event at the RA Centre in Ottawa on Sunday afternoon.
"I didn't know how excited I was until we just won and I cried," Brother said.
Skip Brothers, vice-skip Erin Carmody, second Kim Kelly, lead Jenn Mitchell and coach Jeff Wilson defeated North Battleford, Sask.'s Jessie Hunkin (3-3) by a score of 8-6. Sarah Murphy is also part of the team and back home after having a child.
Now, in addition to Jamie Murphy on the men's side, fans will have another local option to cheer on as teams compete for the final two men's and women's spots available for the Tim Hortons Curling Trials, presented by AGI, in Saskatoon, the event that will determine Canada's four-player teams for the Beijing Olympics.
The team was limited in action leading up the event and hadn't played a triple-knockout in a while. Their main goal was to take advantage of playing on arena ice after having limited practice time available at home prior to the event.
For Brothers, the Home Hardware Curling Pre-Trials couldn't literally and figuratively be closer to home as she grew up in Liverpool.
"It literally is my home town. I started curling at the Liverpool Curling Club at nine years old. I was just there two months ago with my kids and they were getting their photos taken outside of the arena that we're playing at. There's a skate park in the back and my mom still lives six minutes away from that arena. Can you get any more local?" Brothers said.
She's also had success in Liverpool, winning provincial mixed and Scotties events and is looking forward to the opportunity to compete at home once again.
Hunkin opened the scoring in the first end after being forced into a draw for one and Brothers replied with a draw to the four-foot for two in the second end. Brothers applied pressure in the third and forced Hunkin into playing a pressure draw against three in the third, which Hunkin made with no issues to tie the game two apiece.
In the fourth end, Hunkin attempted a double on a pair of clustered Brothers rocks, but the rock had to curl just a tough more. One of the rocks jammed and it provided Brothers with the opportunity to make a draw for two and double her lead to 4-2.
However, in the fifth Hunkin countered with her own offensive flurry. The Brothers team couldn't hit and roll their rock behind cover and it left Hunkin with a 5-4 lead heading into the fifth-end break.
After blanking the sixth, Team Brothers stuck a three-spot in the seventh end. Hunkin's final draw attempt didn't get the coverage it needed and if left a port open for Brothers to make the draw for a 7-5 lead.
Brothers added to the lead after tucking a counting rock behind a centre guard. Hunkin attempted to follow it in, but it over-curled and wrecked on a guard leaving Brothers with a steal of one.
Hunkin was forced into a single and then was just light on a necessary draw in the final end to count two.
The Canadian Trials Direct-Entry events continue on Sunday with draws at 1:30 p.m., 3 p.m. and 8 p.m. (if necessary) (all times ET).
For playoffs and rankings scenarios associated with the men's Trials Direct-Entry event, click here.
For playoffs and rankings scenarios associated with the women's Trials Direct-Entry event, click here.
For the men's Pre-Trials Direct-Entry tournament bracket, click here.
For the women's Pre-Trials Direct-Entry tournament bracket, click here.
Live scoring and standings for the events are available here.
Live streaming for all draws is available on Curling Canada's YouTube page.
This story will be published in French as soon as possible here.