Team Bottcher to play for berth!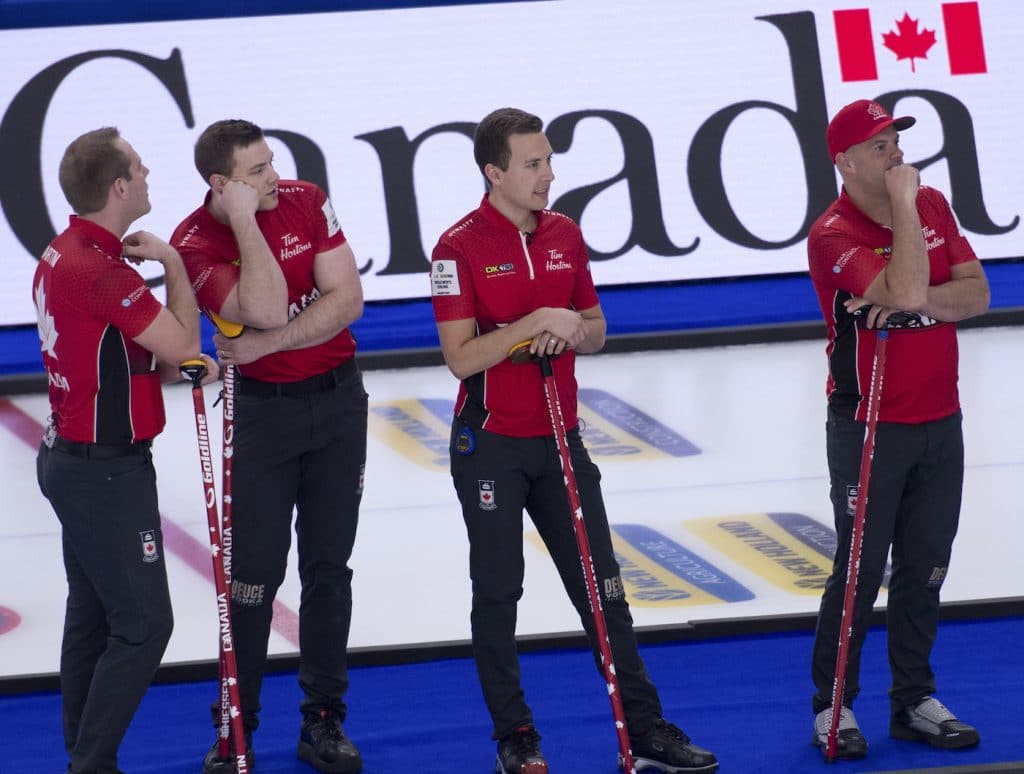 Team Bottcher to play Brazil, Mexico in Americas Zone Challenge
Reigning Tim Hortons Brier champions Team Brendan Bottcher will be tasked with earning a World Men's Championship berth for Canada, it was announced today.
Bottcher, backed up by vice-skip Darren Moulding, second Brad Thiessen, lead Karrick Martin and coach Don Bartlett, will take on teams from Brazil and Mexico in the Americas Zone Challenge, scheduled for Oct. 29-31 at the Lacombe (Alta.) Curling Club.
The event will be a double round-robin format with no playoffs, and the winning country will qualify for the 2022 World Men's Curling Championship, scheduled for April 2-10 in Las Vegas.
"Obviously, this is an important event for Canada, and we take that opportunity to wear the Maple Leaf very seriously, so we are already preparing for this event," said Bottcher. "We have nothing but respect for any team that steps onto the ice to represent their country, and I know Mexico and Brazil will be bringing their best to Lacombe, so we will have to be ready."
Team Bottcher won the Tim Hortons Brier, presented by AGI, last March in the bubble in Calgary, and will return to the Tim Hortons Brier as Team Canada for the 2022 edition in Lethbridge, Alta.
Team Bottcher also will be competing at the Tim Hortons Curling Trials, presented by AGI, Nov. 20-28 in Saskatoon.
Canada has competed in every world men's championship since the event was inaugurated in 1959, and has won a leading 36 gold medals. Brazil and Mexico, meanwhile, are attempting to qualify for their first world men's championship.
The Americas Zone has two guaranteed berths into world men's and women's championships; the U.S. is guaranteed a berth into the men's worlds as the host team, meaning Canada can be challenged by other countries in the zone for the right to attend the world championship.
It's only the second time Canada has participated in the Americas Zone Challenge. In 2018 — again with Las Vegas hosting the worlds — Brazil challenged Canada, and Canada's Glenn Howard swept a best-of-five series from Brazil to earn Canada its berth, winning by scores of 15-1, 8-3 and 6-3.
It will be Brazil's seventh time competing in the Americas Zone Challenge and Mexico's second.
Brazil's lineup will consist of skip Marcelo Mello, vice-skip Ricardo Losso, second Gilad Kempenich, lead Filipe Nunes and alternate/coach Henrique Kempenich.
Mexico's team will feature skip Jesus Barajas; vice-skip Ramy Cohen, second Christopher Barajas and lead Alex Sánchez.
In the most recent Americas Zone Challenge, in November 2019 at Eveleth, Minn., Greg Persinger's U.S. team swept the double round-robin with a 4-0 record while Mexico posted a 2-2 record and Brazil was winless.
In previous years, Brazil had challenged the U.S. four times — in 2017, 2015, 2010 and 2009 — and has never won a game, being swept 3-0 in best-of-five series all four times
The schedule of games looks like this (all times Mountain):
Oct. 29 — 7 p.m., Canada vs. Brazil
Oct. 30 — 9 a.m., Brazil vs. Mexico; 2 p.m. Canada vs. Mexico; 7 p.m. Canada vs. Brazil
Oct. 31 — 9 a.m. Brazil vs. Mexico; 2 p.m. Canada vs. Mexico
Ticket details will be available on the Lacombe Curling Club website.