Gearing up for Trials!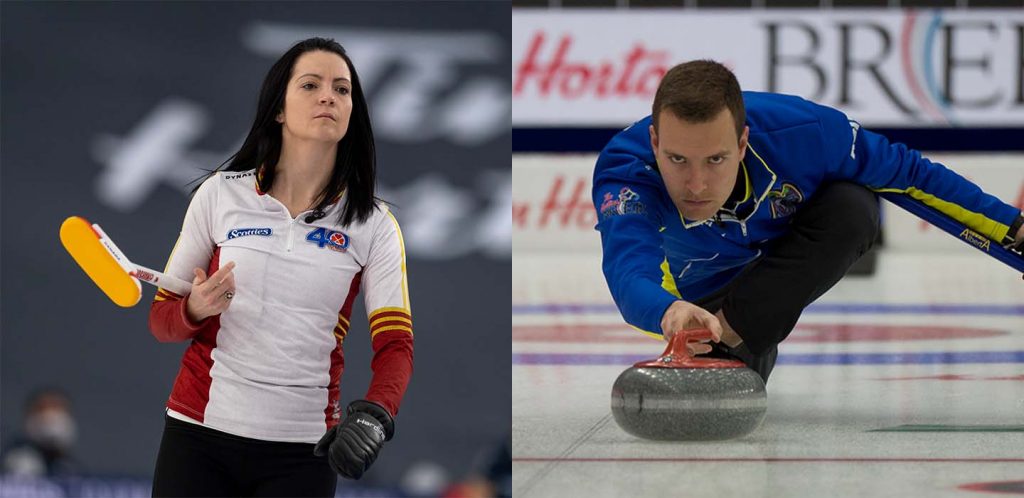 Curling teams prepping for Olympic runs this weekend
With curling trials and pre-trials events just weeks away, every top team in the country is playing a few final events, trying to find top form. With major events happening all over the map, this weekend features some of the biggest and most lucrative bonspiels of the season. And almost everybody is playing.
Starting in Toronto, the Stu Sells Tankard gets underway at the High Park Club with two 24-team fields, one for each gender, each competing for a share of $50,000. On the men's side, Brad Gushue (St. John's, N.L.) and John Epping (Toronto) have their spots booked at the 2021 Tim Hortons Curling Trials, presented by AGI, while Jason Gunnlaugson (Morris, Man.), Glenn Howard (Penetanguishene, Ont.), Tanner Horgan (Kingston, Ont.), Pat Ferris (Grimsby, Ont.), Paul Flemming (Halifax) and Mike Fournier (Dollard-des-Ormeaux, Que.) are all preparing for the Home Hardware Curling Pre-Trials.
In the Stu Sells Tankard's women's event, the field is equally tough featuring Hollie Duncan (Toronto), Kerry Galusha (Yellowknife, N.W.T.), Jacqueline Harrison (Dundas, Ont.), Danielle Inglis (Mississauga, Ont.), Jestyn Murphy (Mississauga, Ont.), and Mackenzie Zacharias (Altona, Man.) – all of whom are playing in the upcoming 2021 Home Hardware Pre-Trials.
Moving west to Swift Current, Sask., the IG Wealth Management Western Showdown features a stacked field of men's teams, four of whom will be playing for the Maple Leaf at the Trials. Brendan Bottcher (Edmonton), Matt Dunstone (Regina), Brad Jacobs (Sault Ste. Marie, Ont.), and Kevin Koe (Calgary) give the 24-team event plenty of star power, but Pre-Trials contenders such as Colton Flasch (Saskatoon), Jeremy Harty (Calgary), and Pat Simmons (Winnipeg Beach, Man.) look to give them a run for their money – which happens to be a $50,000 purse.
Moving west from there, one of the biggest events of the women's season is underway in Calgary at the Curlers Corner Autumn Gold. All seven teams currently qualified for the Tim Hortons Trials will be in contention in a field that also includes some top international entries. The purse there is $44,000.
Rachel Homan (Ottawa), Kerri Einarson (Gimli, Man.), Tracy Fleury (East. St. Paul, Man.), Jennifer Jones (Winnipeg), Laura Walker (Edmonton), Casey Scheidegger (Lethbridge, Alta.), and Kelsey Rocque (Edmonton) headline the Canadian entries in a 32-team event that also includes Scotland's Eve Muirhead, South Korea's Unchi Gim, Germany's Daniella Jentsch, and USA's Jamie Sinclair and Tabitha Peterson.
Check out curlingzone.com for scores, standings, and streaming options.