Back in the bright lights!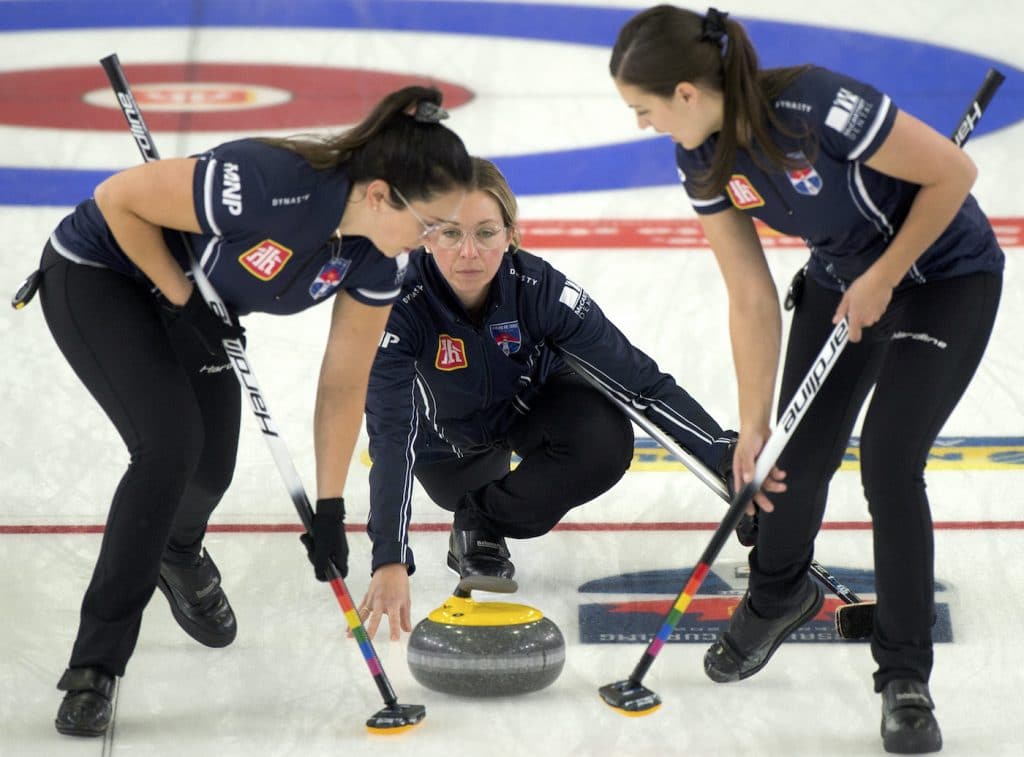 Team McCarville prevails in Home Hardware Pre-Trials opening game
Officially, it had been 611 days since Krista McCarville and her popular team from Thunder Bay, Ont., had played a significant 10-end curling game on arena ice.
To her fans, of course, it seemed like forever.
But even with that COVID-forced absence from national curling events, Team McCarville continues to prove it can play with the very best teams in the country, a point it proved again Monday night at Queens Place Emera Centre in Liverpool, N.S., in opening-draw action of the 2021 Home Hardware Canadian Curling Pre-Trials.
McCarville, backed by by vice-skip Kendra Lilly, second Ashley Sippala, lead Sarah Potts and coach Rick Lang, scored back-to-back deuces in the fifth and sixth ends en route to a 7-5 win over Team Jestyn Murphy (0-1; Mississauga, Ont.).
It was, suffice it to say, a delightful way to return to the national curling scene for a team that had been mostly idle since Feb. 22, 2020 at Mosaic Place in Moose Jaw, Sask.
"I guess it was the Scotties (losing the Page 3-4 playoff to Ontario's Team Rachel Homan)? A year and a half ago? Almost two years ago?" recalled McCarville, a past silver- and bronze-medallist at the Scotties Tournament of Hearts. "We were in a bonspiel around a month ago, but it's not the same intensity as playing in the Pre-Trials or the Scotties. I missed it so much. It's why I'm back playing.
"It's a different feeling being out here. The bonspiels, you want to do well, but there's not as much pressure; the nerves aren't the same when you're in a bonspiel. To be out there, with the lights, the stands, the atmosphere of being in an arena, it's always super exciting to play in. This is why we curl."
As the reigning Northern Ontario champs, Team McCarville could have played in the 2021 Scotties in the bubble in Calgary, but the team made the choice to stay at home, citing the travel and quarantine restrictions brought about by COVID-19.
"It was tough," conceded McCarville. "I know I made the right decision for my family and for my teaching job. But it's tough watching, knowing that we could have been there playing. But I think we made the right choice as a team."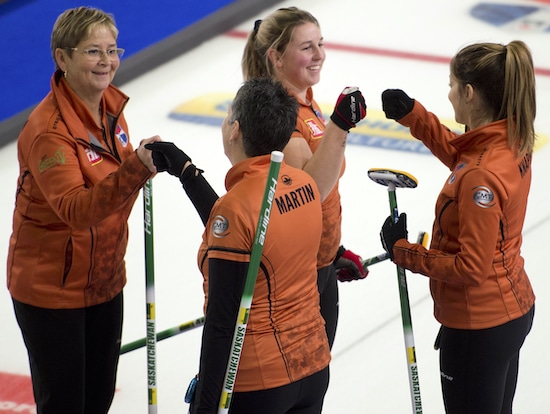 The team will certainly be a favourite to win the Northern Ontario title later this season and have the opportunity to play in a hometown Scotties in late January at the Fort William Gardens in Thunder Bay.
Of course, the opportunity to represent Canada at the Olympics might get in the way; McCarville has experience with the Pre-Trials grind, having played in all three previous editions (2009, 2013, 2017) and having qualified twice for the Tim Hortons Curling Trials via that route ('09, '17).
So that confidence from past success is on the team's side, as is the fact that the full lineup is back together for the first time in a few seasons.
"It's been a few years since we've had our full team together," said McCarville. "Ashley had her baby, and then Sarah had her babies (twins), and then a year off for COVID. So it's been a while, and it feels really good to be back together again."
In other first-round women's games on Monday night, Team Corryn Brown (1-0; Kamloops, B.C.) stole two in the fifth end and three more in the sixth in a 9-4 triumph over Team Beth Peterson (0-1; Winnipeg); Team Mackenzie Zacharias (1-0; Altona, Man.) cracked a three in the 10th end for an 8-7 win over Team Suzanne Birt (0-1; Montague/Cornwall, P.E.I.); and Team Sherry Anderson (1-0; Martensville, Sask.) shaded Team Hollie Duncan (0-1; Woodstock, Ont.) 7-6).
The 2021 Home Hardware Pre-Trials will continue Monday with a draw at 9 p.m., while Tuesday draws are scheduled for 8 a.m., noon, 4 p.m. and 8 p.m. (all times Atlantic).
Live scoring, standings and statistics for the 2021 Home Hardware Pre-Trials are available at www.curling.ca/scoreboard/
Round-robin games are being streamed on Curling Canada's YouTube channel, while TSN/RDS2 will cover the closing weekend. CLICK HERE for the broadcast schedule.
This story will be available in French as soon as possible at www.curling.ca/2021pretrials/nouvelles/?lang=fr