Familiar feelings for Team Tardi!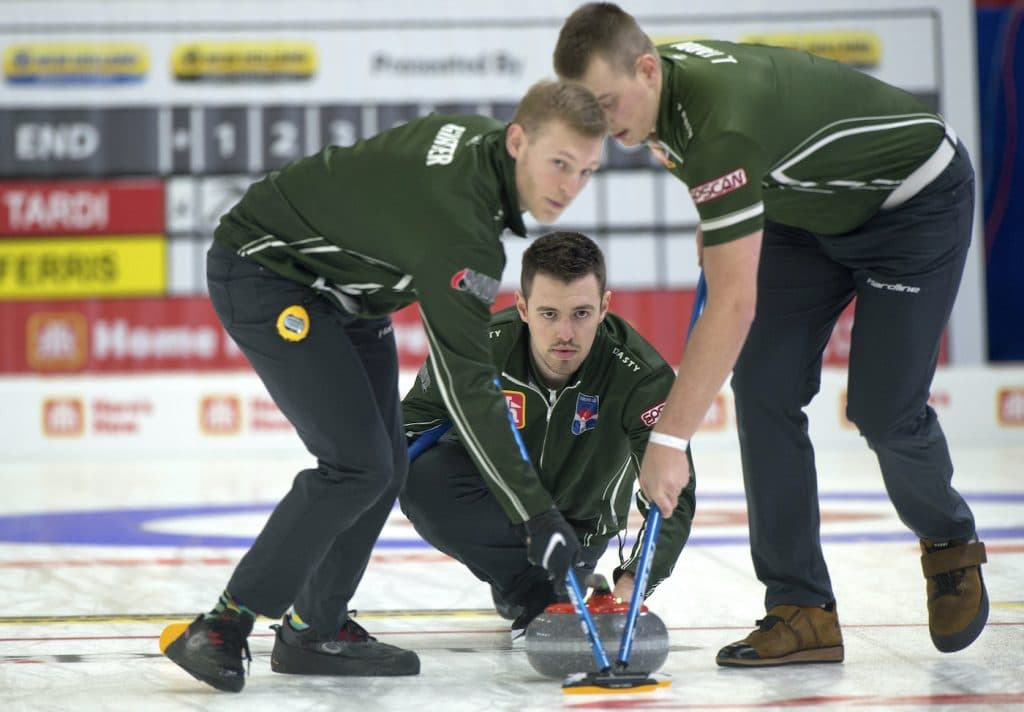 Return to Liverpool brings out good vibes for Team Tardi at Home Hardware Pre-Trials
It didn't occur to Tyler Tardi before the game that he was stepping onto a sheet of ice where something pretty spectacular happened two and a half years ago.
It's well-known, of course, that Tardi's Canadian team won the men's gold medal at the 2019 World Junior Curling Championships at Queens Place Emera Centre in Emera Centre.
But that gold-medal final took place on Sheet C. Wednesday afternoon Tardi's unbeaten men's team from Langley, B.C., was playing Team Pat Ferris (Grimsby, Ont.) on Sheet A at the 2021 Home Hardware Canadian Curling Pre-Trials, presented by New Holland — the first appearance on the outside sheet since those World Juniors. That was a Draw 7 game against Germany's Sixten Totzek, and it produced one of Tardi's finest moments — a stunning in-off takeout to score four in the 10th end and turn an 6-4 deficit into a walk-off 8-6 victory that kept Canada's playoff hopes alive (CLICK HERE to see the shot).
"I definitely remember that one," said a chuckling Tardi, moments after he, vice-skip Sterling Middleton, second Jason Ginter, lead (and brother) Jordan Tardi and coach (and dad) Paul Tardi defeated Team Ferris (0-2) 9-5 to improve to 3-0. "That was quite a whirlwind game against Germany. Holy smokes, what a finish that game was."
"Oh, yeah. Down two, coming home — they played a really good game and we were struggling a bit," added Middleton. But we made eight good shots in the last end, and Tyler made a really good in-off on the last one."
Having to cross the country to play in the Home Hardware Pre-Trials might have been a daunting prospect for the B.C. team, but returning to the familiar surroundings of Liverpool was worth it for Tyler Tardi and Middleton, the holdovers from that junior team.
"It's hard not to think back to those times when we won the World Juniors," said Tardi. "The memories came back pretty quick the moment we stepped in here. It definitely helps with the motivation and belief that we can do it again."
Against Team Ferris, the Tardi crew found itself down 3-2 through three ends, but would bounce back with a deuce in the fourth, and then a crushing four in the seventh end to take control. The result left Team Tardi and Team Colton Flasch (Saskatoon) tied for top spot in Pool B with 3-0 records.
"We have work to do for our (playoff positioning), but happy to be 3-and-0, obviously," said Tardi. "Going into this event, you know you're going to have to play well. These are the top teams in Canada aside from the teams already in the Trials. So, happy with how it's been going so far."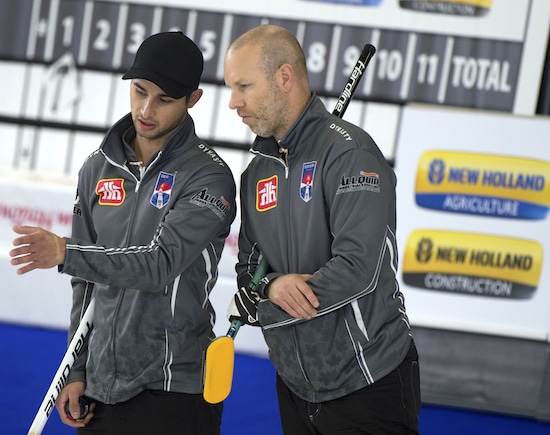 "We're feeling good," added Middleton. "We're very familiar with the area, the arena, and just looking to gain some momentum going into the next couple games."
In other Draw 8 games on Wednesday afternoon, Team Flasch was an 8-4 winner over Team Sean Grassie (0-2; Winnipeg); Team Braden Calvert (1-2; Winnipeg) turned back Team Paul Flemming (1-2; Halifax); and Team Pat Simmons (1-2; Winnipeg) needed an extra end to defeat Team Mike Fournier (1-2; Dollard-des-Ormeaux, Que.) 8-7.
In men's play on Wednesday morning, Team Tanner Horgan (3-0; Kingston, Ont.) was a 5-4 winner over Team Vincent Roberge (0-2; Saint-Romuald, Que.); and Team Jason Gunnlaugson (3-0; Morris, Man.) downed Team Karsten Sturmay (1-1; Edmonton) 12-7.
In women's games Wednesday morning, Team Kerry Galusha (1-1; Yellowknife) beat Team Penny Barker (1-2; Moose Jaw, Sask.) 7-5; and Team Krista McCarville (3-0; Thunder Bay, Ont.) knocked off Team Beth Peterson (0-3; Winnipeg) 12-7.
After the round robin, the top three teams from each pool advance to the playoffs beginning on Saturday. The first- and second-place teams cross over and meet in the first round of the A-side playoff bracket. The winners of each game meet in the A-side final for the first opportunity to qualify for the Tim Hortons Canadian Curling Trials, presented by AGI.
The losers of the first-round A-side games drop into the B-side playoff bracket and will play the third-place teams. The winners of the two games meet, with the winner taking on the A-side final loser for the last Tim Hortons Curling Trials berth.
The 2021 Home Hardware Pre-Trials will continue Wednesday with draws at 4 p.m. and 8 p.m. (all times Atlantic).
Live scoring, standings and statistics for the 2021 Home Hardware Pre-Trials are available at www.curling.ca/scoreboard/
Round-robin games are being streamed on Curling Canada's YouTube channel, while TSN/RDS2 will cover the closing weekend. CLICK HERE for the broadcast schedule.
This story will be available in French as soon as possible at www.curling.ca/2021pretrials/nouvelles/?lang=fr