Still in the chase!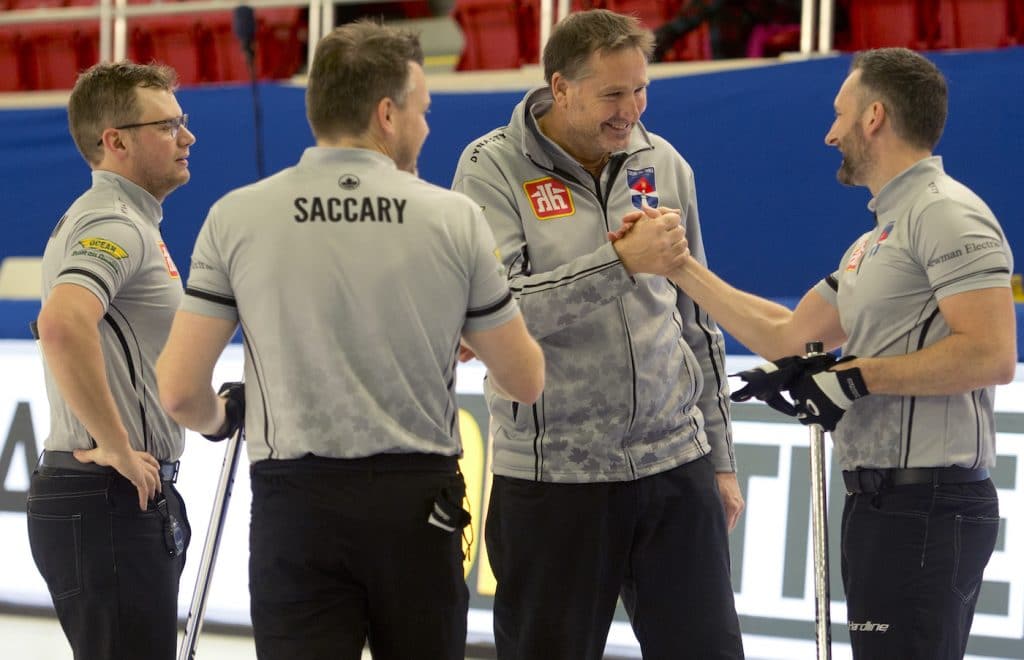 Team Flemming has Nova Scotia crowd on his side at Home Hardware Pre-Trials
Playing before the biggest crowd of the week at Queens Place Emera Centre in Liverpool, N.S., Halifax's Team Paul Flemming gave those Nova Scotia fans something to cheer about.
The veteran skip, backed up by vice-skip Scott Saccary, second Ryan Abraham, lead Phil Crowell and alternate Kevin Oullette, kept his playoff hopes alive Friday afternoon at the 2021 Home Hardware Canadian Curling Pre-Trials, presented by New Holland, with an entertaining 9-6 win over Team Tyler Tardi (4-2; Langley, B.C.).
With the victory, Team Flemming improved to 3-2 and can all but guarantee a spot in the six-team playoffs with a victory in its final round-robin game, later on Friday (8 p.m. AT) against Team Colton Flasch (4-1; Saskatoon).
Still to be sorted out are the pre-game Last Shot Draw standings that may play a role in breaking ties in the standings (head to head results are the first tiebreaker, followed by the Last Shot Draw standings).
But Flemming's team, with a win over Team Calvert, is in a favourable position in most of the tiebreaker scenarios and is riding high after the victory over Team Tardi.
"It was huge," said Flemming, a veteran of 10 Tim Hortons Briers representing Nova Scotia. "We feel really good; it was a huge win, and we knew that going in. We had a really nice draw to the button to get hammer, and got a really nice deuce (in the first end). And then it was just one of those games that was back and forth, back and forth. And that three just came out of nowhere in the ninth."
The three came on a perfectly executed runback takeout by Flemming, who then played a perfect pair of shots in the 10th to snuff out any shot at a game-tying deuce from Team Tardi.
"This is kind of where we scripted it up to be — a minimum three-and-two at this point, and now that game against Flasch tonight means a lot," said Flemming. "And it does. It's a huge game, and that's all we can ask for."
Flemming — always considered one of the class guys in the sport of curling — made sure to throw some praise to his former teammate Jamie Murphy, who prior to last season made the decision to step away from curling to focus on family and career.
"This is special. And I really want to share it with Jamie Murphy, too, our long-time skip," said Flemming. "He had to make that commitment in his life to step back (from curling), but he's still with us. Without him, we wouldn't have had the (Canadian Team Ranking System) points to get where we are. So it's a shared victory with him, for sure."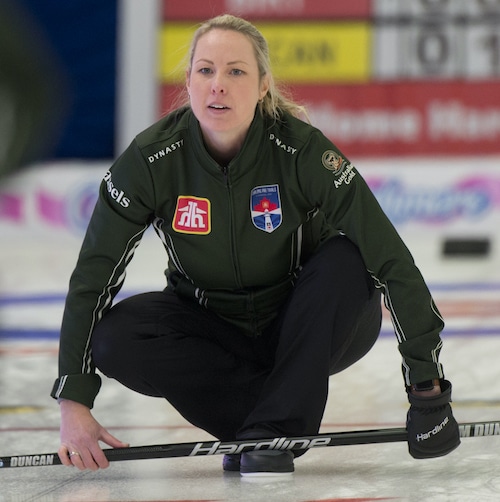 In other Friday afternoon action, Team Glenn Howard (4-1; Penetanguishene, Ont.) locked up a playoff spot with a 6-3 win over a stubborn Team Sean Grassie (0-5; Winnipeg); and Team Pat Ferris (1-4; Grimsby, Ont.) stole six points after the fifth-end break to beat Team Braden Calvert (2-3; Winnipeg) 10-4.
In Friday morning men's games, Team Pat Simmons (3-2; Winnipeg) cruised to a 10-1 win over Team Karsten Sturmay (2-3; Edmonton); Team Mike Fournier (Dollard-des-Ormeaux, Que.) rolled to an 11-4 win over Team Jason Gunnlaugson (4-2; Morris, Man.); and Team Vincent Roberge (Saint-Romuald, Que.) toppled Team Jeremy Harty (0-5; Calgary) 10-3.
In women's action on Friday afternoon, Team Mackenzie Zacharias (4-2; Altona, Man.) nailed down a playoff spot with a 6-3 win over Team Jill Brothers (1-5; Halifax); while Team Hollie Duncan (3-3; Woodstock, Ont.) stayed mathematically alive with a 6-5 win over Team Suzanne Birt (3-3; Montague/Cornwall, P.E.I.). Team Birt already has its playoff berth.
In morning women's play, Team Jacqueline Harrison (4-1; Dundas, Ont.) locked up a spot in the playoffs with a 9-6 win over Team Kerry Galusha (1-4; Yellowknife); and Team Jestyn Murphy (1-4; Mississauga, Ont.) downed Team Beth Peterson (1-4; Winnipeg)
After the round robin, the top three teams from each pool advance to the playoffs beginning on Saturday. The first- and second-place teams cross over and meet in the first round of the A-side playoff bracket. The winners of each game meet in the A-side final for the first opportunity to qualify for the Tim Hortons Canadian Curling Trials, presented by AGI.
The losers of the first-round A-side games drop into the B-side playoff bracket and will play the third-place teams. The winners of the two games meet, with the winner taking on the A-side final loser for the last Tim Hortons Curling Trials berth.
The 2021 Home Hardware Pre-Trials will continue Friday with draws at 4 p.m. and 8 p.m. (all times Atlantic).
Live scoring, standings and statistics for the 2021 Home Hardware Pre-Trials are available at www.curling.ca/scoreboard/
Round-robin games are being streamed on Curling Canada's YouTube channel, while TSN/RDS2 will cover the closing weekend. CLICK HERE for the broadcast schedule.
This story will be available in French as soon as possible at www.curling.ca/2021pretrials/nouvelles/?lang=fr